The Thai baht could decline as lending rates remain low due to deflation and weak consumer spending. The Thai baht has traded sideways against the Japanese yen since last fall.
In June, the Thai lending rate was held at 1.5%, unchanged from the previous meeting, and in line with estimates. Since 2011, the lending rate has been cut by over 200 basis points, from 3.5%, to current levels, seen below. Sluggish economic activity continues to warrant low lending rates.
"The Thai economy recovered at a pace close to the assessment at the previous meeting.

Economic momentum in the first four months of 2015 softened due to sluggish private consumption and continued contraction in exports, as a result of a slowdown in the Chinese and Asian economies and a shift in global trade structure," according to Trading Economics.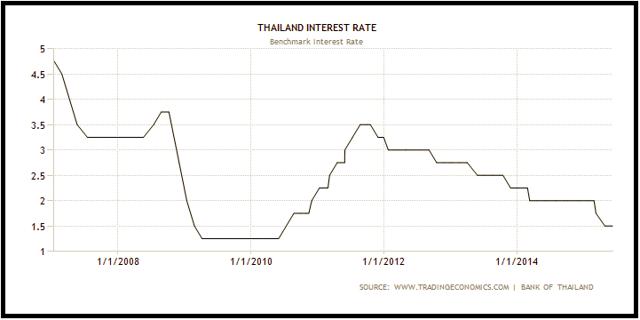 Deflation continues to weigh on policymakers' minds, keeping lending rates low. In May, the inflation figure came in at an annual pace of -1.27% contraction, down from the previous month's reading of -1.04%, while also missing estimates for -1.12%. Since peaking at over 4.0% in 2012, inflation has fallen to current levels, seen below. Headline inflation continues to be weighed down by low food and energy costs.
"Headline inflation continued to stay in a negative territory due mainly to energy costs and raw food prices.

However, it is expected to pick up in the second half of the year as the base effect of high oil prices begins to wane, coupled with expected rises in oil and raw food prices.

Meanwhile, core inflation was still positive but declined somewhat owing to subdued demand-side pressure," according to Trading Economics.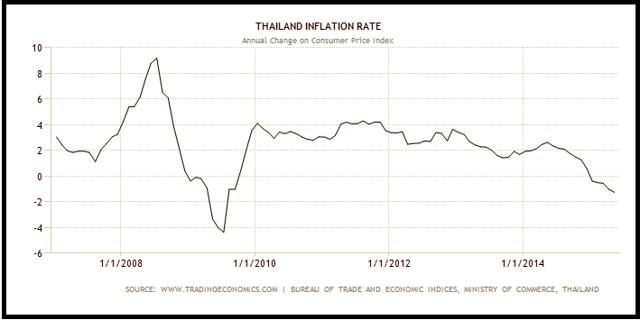 Meanwhile, even with low price measures, consumer spending remains suppressed. In March, the retail sales figure came in at an annual pace of -1.68% contraction, above the previous month's reading of -2.09%. Since peaking at over 50% in 2013, consumer spending drastically declined, seen below. As economic activity has been negatively affected by the slowdown in China, consumer sentiment fell, weighing on consumer spending.
The Thai economy continues to operate below full capacity. Deflation continues to cause policymakers hesitation about raising lending rates. Moreover, consumer spending is declining as economic activity in China, a major trading partner, similarly slows. As the Thai economy continues to slow, its currency should decline further.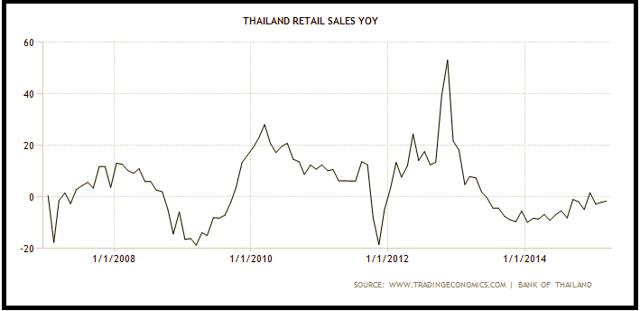 Disclosure: The author has no positions in any stocks mentioned, and no plans to initiate any positions within the next 72 hours. The author wrote this article themselves, and it expresses their own opinions. The author is not receiving compensation for it (other than from Seeking Alpha). The author has no business relationship with any company whose stock is mentioned in this article.