Canadian household debt rose to a fresh all-time high in April above 1.8 trillion. Trustees in bankruptcy are warning that they have never seen so many 2nd mortgages and Home Equity Lines of Credit (HELCO) on Canadian household balance sheets. This chart showing Canadian HELCO debt since 2000 (in red) versus the US (in blue) since 2000 seems to concur.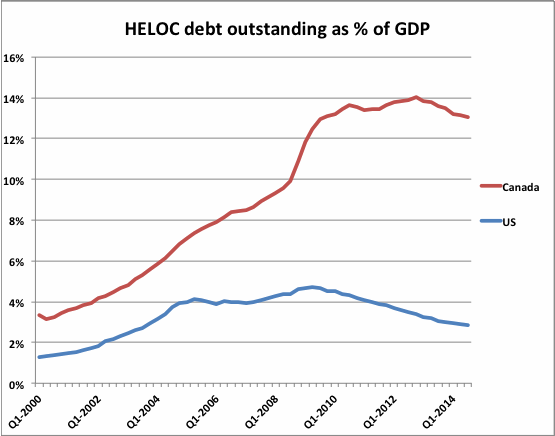 "It's easy, accessible cash at a very cheap price. The banks make it so easy for you to obtain it."
See: The national lust for home equity lines of credit.
Canadians are using their appreciating homes as ATMs (as Americans did in the early 2000′s before their house crash) and the funds being borrowed are not just for home improvements, but in many cases to fund living and lifestyle expenses.
Of course, the Canadian Bankers Association says it's not worried, insisting that Canadians are responsible borrowers and that banks are prudent lenders. (Sure they are…) Bank of Canada, governor Stephen Poloz, acknowledged this morning, that Canadian household debt levels will aggravate the severity of economic downturn in Canada.
'Twas always thus:
"-overconfidence seldom does any great harm except, when, as, and if, it beguiles its victims into debt."

-Irving Fisher, Economist, The debt-deflation theory of Great Depressions, 1933
Disclosure: No positions