Apple (NASDAQ:AAPL) was cofounded by the late visionary Steve Jobs and has completely transformed every industry it operates in. The focus on innovation has made Apple one of the largest and best performing companies in the world. I have recommended option strategies for Apple since 2010 with tremendous results. (For reference, please view the first and other articles in the series to fully understand the strategy and its strong potential returns.) As we enter the post-Jobs era, it is even more important to keep a close eye on your investment and execute care with your trades; since Jobs has passed the company's performance will be under a magnifying glass. Thus far Tim Cook has steered the Apple ship quite well, but in such a dynamic industry, victory can be fleeting.

A brief recap of this week in Apple (Up $22.18 / 5.2%):
This was a phenomenal week for Apple, as the company reported its best quarter ever and witnessed an outpouring of upgrades. The positive news did not stop there, as the new metrics for the company were extremely encouraging. Apple is now the largest computer manufacturer, has the most popular mobile operating system, and has nearly $100B in "true cash" on the balance sheet.
Having said all of that, some investors are scratching their heads wondering why Apple only rose five percent. The PE now stands at 12.7, and is lower than it was before the banner quarter. I understand that many might want to lock in their profits and "take a breather" after the ten percent rise this month, but I still think Apple is a screaming buy. After stripping out the "true cash," Apple's PE is hovering around 10. I have seen this type of multiple compression with companies like Microsoft (NASDAQ:MSFT) and Wal-Mart (NYSE:WMT) in the past, but it is quite rare for such a high-growth company like Apple.
It is astonishing that Apple has achieved so much success and still "only" has eight percent of the global phone market and 24% of the smartphone market. The sky truly is the limit for Apple, and its shareholders and competitors just do not get it. Both Motorola and Research in Motion are perfect examples of how dominant Apple is. While Apple sold 15.4 million iPads in the most recent quarter, Motorola only shipped 200,000. Consumers have made it quite clear that they do not just want tablets, they want iPads. After only one month Apple has already reached my June 2012 price target of $450. My longer-term price target is in excess of $575 based upon modest earnings growth (18%) and a return to a very reasonable 14 PE. For 2012 I can easily envision Apple climbing another 11% to hit $500, but I would not be surprised to see Apple have a minor correction before resuming its climb.
Below I present three possible scenarios and the potential returns for the Apple options. The first scenario represents a negative outlook for Apple, while the final two scenarios are more reasonable. These scenarios are just projections, and there is no guarantee that they will come to fruition. Even if you are optimistic, it is important to generate both positive and negative circumstances in order to stress your assumptions. As a general rule, selling calls with higher strike prices has greater potential return but additional risk of loss due to the lower (or lack of) downside protection. (For more information on the fundamentals of covered calls, consult Investopedia.)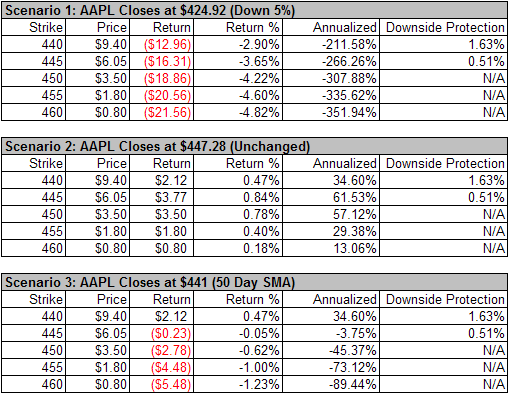 Additionally, if you would like even more information, I have prepared a sensitivity analysis for absolute return and percent returns, respectively. After studying the information above, these two charts make it easy to pick a strike price based on where you believe Apple will close at the end of the week. Estimate where you believe Apple will close and select the strike price with the highest return.

With this information, executing a buy-write on AAPL February 3 (Weekly) 455s is the optimal risk-return strategy. If you are uncomfortable with this strategy I suggest a buy-write 450s or 460s. Even if you are extremely bullish, you can still profitably sell covered calls; Apple is volatile enough that you will have opportunities to repurchase on dips. An alternative approach is to sell out-of-the-money 435 puts and collect the premium without having to purchase the stock outright. Note that if the stock declines to the strike price, you are obligated to buy the stock (or close out the position).
Disclosure: I am long AAPL, GOOG, MMI, and WMT.