Commodity prices are lower across the board with the lone exception being copper, which is up marginally after having fallen below $2.70/pound again. Looking across the metals and energy the markets are set up quite interestingly this morning with many individual commodities trading at or near key levels, which means we could see some very interesting moves during today's session. Gold is at the $1,180/ounce level, WTI Crude trending towards $60/barrel an platinum is just above $1,100/ounce. If copper is our indicator or canary in the coal mine, so to speak, then it appears we are headed lower.
The price action in copper might be right, especially if one considers all of the recent talk about emerging markets and how investors are looking to continue to reallocate funds away from EMs and back into safer areas, excluding longer-term fixed income of course. If that takes place, then we could see the US Dollar Index move higher once again and add further pressure upon commodities...possibly being the straw that breaks commodities at these key levels.
Chart of the Day:
It seems investors bought into the fact that Gulfport Energy's (NASDAQ:GPOR) secondary was in fact a sign of strength as the company's stock actually held up pretty well yesterday and closed higher. The company announced that they had priced the secondary at $43.25/share, so staying above the level in a weak market was quite bullish.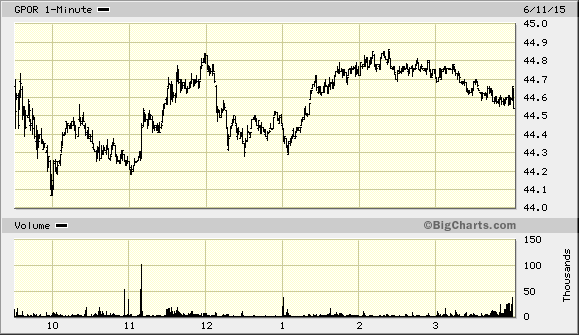 Source: BigCharts
Commodity prices are as follows (at time of submission):
Gold: $1,180.10/ounce, down by $0.30/ounce
Silver: $15.895/ounce, down by $0.065/ounce
Oil: $60.21/barrel, down by $0.56/barrel
RBOB Gas: $2.109/gallon, down by $0.0291/gallon
Natural Gas: $2.787/MMbtu, down by $0.038/MMbtu
Copper: $2.6775/pound, up by $0.0085/pound
Platinum: $1,100.60/ounce, down by $4.60/ounce
Fresh All-Time Lows For Coal Miners
Recently we have discussed how Goldman Sachs and some other analysts have pointed out that short sellers were adjusting their positions in the coal miners, deciding to take profits in the truly beaten down names with little upside remaining (because they were literally penny stocks) and turning their focus instead to the larger coal miners which previously had been viewed as the blue chips. The thinking was that the blue chips would outperform the lower quality names, but since Goldman's rotation call they have taken some big hits.
Two of the names which Goldman was bearish on, Peabody Energy (NYSE:BTU) and Cloud Peak Energy (CLD), hit fresh all-time lows yesterday. Peabody Energy led the way lower as the stock fell over 13% to $2.78/share while Cloud Peak Energy was lower by over 3.50% to close at $5.10/share. While Peabody is already under $5/share, Cloud Peak is very close to breaking through that important level; important because some portfolios and funds are not allowed to own any security below $5/share and a fresh wave of selling could be created if the shares fall below that threshold for an extended period of time. This continues to be an interesting story to watch play out.
Freeport Update
We have been watching copper trend lower now for some time and watching Freeport-McMoRan (NYSE:FCX) shares back off recent highs and towards the area where we would be interested buyers. Yesterday shares made a move to break below $19.80/share, however buyers emerged and we saw sideways, to slightly higher price action the rest of the day. Catching falling knives is never smart, so while we previously stated we wanted to purchase Freeport in the $19/share range, readers should note that the price adjusts downwards as copper, gold and oil prices (in general terms) move lower. With copper appearing set to test $2.60/pound, we are holding off at this time on Freeport-McMoRan and would even stay away from Southern Copper (NYSE:SCCO) until the dust settles.
Disclosure: The author has no positions in any stocks mentioned, and no plans to initiate any positions within the next 72 hours. The author wrote this article themselves, and it expresses their own opinions. The author is not receiving compensation for it (other than from Seeking Alpha). The author has no business relationship with any company whose stock is mentioned in this article.
Additional disclosure: FCX and GPOR have previously been recommended.