In the strive for the U.S. cable consumer Time Warner Cable (TWC) plays a more conservative strategy. Rather than aggressively expanding capital expenditure budgets, the second-largest cable provider sees better value in returning shareholder money as it announced a $4 billion share repurchase program, sending the stock 7% higher after the announcement.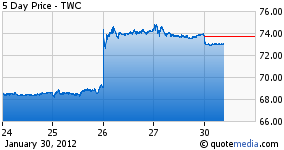 Fourth-quarter earnings
Time Warner Cable announced its results on Thursday. Fourth-quarter earnings were up to $564 million to $1.75 per share compared with $1.09 last year. Revenue was up 4.0% to $5 billion. Full year earnings came in at $1.66 billion or $4.97 per share on revenue just shy of $20 billion.
Returning money to shareholders
Management has decided unlike many other competitors [including Netflix (NASDAQ:NFLX) which just ramped up its capital expenditures budget] to not engage in this investment spree and instead to return cash to shareholders by announcing a $4 billion stock repurchase program, which approximates 17% of all shares outstanding. On top of that it also raised its quarterly dividend to $0.56 per share, which is equivalent to a 3% annual dividend yield and approximates another $700 million payout to its shareholders.
A balanced approach
Time Warner Cable's business is still growing steadily at an annual 4% rate in 2011. It could easily use excess operational cash flows to be directed toward higher revenue growth but it feels there is more value in repurchasing the company's stock.
Still it maintains flexibility to make some targeted acquisitions such that of Insight Communications last August, which will add some 1.25 million customers to its customer base, thereby reinforcing its position as the second largest cable operator behind Comcast (NASDAQ:CMCSA).
Outlook
Time Warner Cable initiated a $5.25-$5.50 target for full year 2012 earnings per share, which is not too ambitious given its strong fourth quarter and the fact that it will repurchase a lot of shares.
If management is able to repurchase $4 billion in shares back at $73 a share the company would be earning $6.15 a share if it is able to make the same amount of money as in 2011. Obviously leverage will slightly increase as the repurchase and dividends will exceed operational cash flows for the full year.
Still the hike in dividends, the repurchase program and positive customer addition numbers for its internet division combined with contained losses at its video segment is promising for the future.
Close valuation gap with Comcast
Obviously Comcast is Time Warner Cable's biggest competitor as it is about two times the size of TWC. Investors value Comcast at roughly 1.3 times annual revenue and 18 times earnings, while Time Warner Cable trades at roughly 1.1 times annual revenue and 14 times earnings. The buyback announcement, a strong final quarter and strong outlook are all drivers to close the valuation gap with Comcast and this week's announcement should provide a strong support for Time Warner Cable's share price for the coming months.
Disclosure: I have no positions in any stocks mentioned, and no plans to initiate any positions within the next 72 hours.