Launching a New Bipolar Plate Technology
Integral Technologies (OTCQB:ITKG) recently announced that it has invented a highly conductive plastic bipolar plate which it will develop into a lightweight, moldable and cost effective battery. We believe the company has four patents pending around this technology. Management believes this represents a significant improvement over existing technology and sizable opportunity. The lead-acid battery market was estimated at $44.7 billion globally in 2014. It is projected to reach $58.5 billion by 2020, according to Future Market Insights, which represents 4.6% CAGR.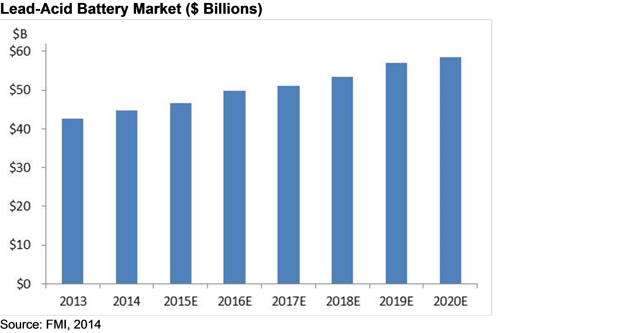 Competitive Advantages
Among the competitive advantages of Integral's technology versus current lead-acid battery technology, according to management, it is more efficient, can produce the same level of energy using a smaller, lighter weight battery and can be molded into different shapes. The company believes its battery innovation underscores the light-weighting benefits of ElectriPlast. The ElectriPlast bipolar plate also streamlines the manufacturing process, reducing the production time, according to the company. In addition, management notes that it increases the flexibility in the forming and molding of the battery, which enables placement in a variety of different locations and applications. The technology is also environmentally friendly, according to Integral.
Slobodan Pavlovic, ElectriPlast's VP of Engineering, discussed the new bipolar plate technology on the company's recent quarterly investor call. He indicated that the battery would be 3x-4x more gravimetrically efficient than current lead-acid batteries, as well as more efficient than lithium-ion batteries.
The company also believes that its bipolar plate is highly cost effective, reflecting high volume processing capability and the elimination of the multiple components that are required to assemble plates made from other materials. Integral expects significant advantages from using plastic instead of metal, as lead corrodes and has a limited lifetime.
According to management, the technology has applications in a variety of sectors including the automotive industry, which is one of the largest end-user markets for lead-acid batteries. The transportation sector accounts for the lions' share of lead-acid battery demand although this is expected to shift somewhat, particularly as use of lead-acid batteries to power grid storage is projected to grow dramatically from a small percentage currently. Integral believes that its battery technology has many other applications, in addition to the automotive sector. Lead-acid batteries are becoming increasingly important to the UPS (Uninterruptible Power Supply Systems) market, for use in communications base stations, medical equipment and electric vehicles.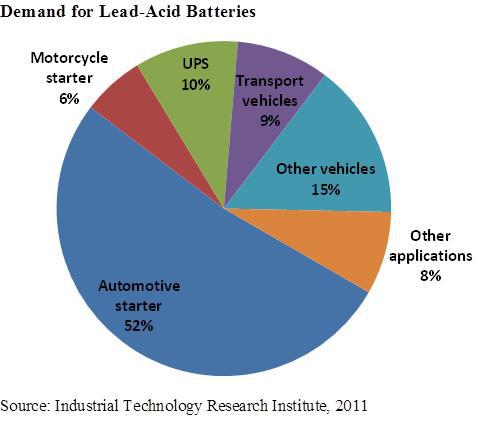 Automotive demand for lead-acid batteries is driven by vehicle production. China is the largest automobile market in the world, with 19 million new vehicles sold in 2012 and 18% per annum growth in 2006- 2012. According to McKinsey, the source of automotive industry profits has changed dramatically over the past few years. McKinsey notes that in 2012, the BRIC markets and RoW accounted for 55% of global automotive industry profits, up from only 30% in 2007. Sales in these markets grew 65%, outperforming growth in Europe, North America, Japan, and South Korea, with more than 50% of the growth coming from China alone. McKinsey forecasts that by 2020, global profits for automotive OEMs could grow by nearly 50%, generated primarily from emerging markets, with China presumably a major contributor to that anticipated growth. Demand for automotive batteries is also forecast to grow significantly in China, according to Johnson Controls (NYSE:JCI). Johnson Controls is a key manufacturer of lead-acid batteries, supplying about 33% of global lead-acid batteries to automotive manufacturers and aftermarket retailers. Integral's partnerships in Asia, including with Hanwha, and expanding presence in the region could position it well as it seeks to grow the battery business, in our view.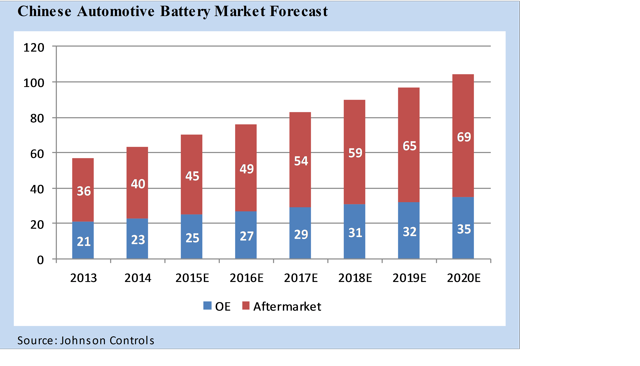 Over the years, consumer electronics have improved in a variety of ways, becoming thinner, lighter, more durable and more sophisticated. The rapid growth in portable smart devices, as well as of electric automobiles, has driven growing demand for battery power. However, despite strides on the consumer electronics and green automotive side, R&D and innovation of battery technology has not kept pace with those advances or with growing demand for power storage.
Structured as a Separate Business Unit: Targeting Direct Investment
As a result, there is considerable focus on the battery industry and the need for innovation has attracted significant investment in recent years. According to Dow Jones VentureSource, from 2003 to 2011 venture capitalists contributed $1.55 billion towards battery R&D. The sector is characterized by high R&D costs, competitive pressures from incumbent manufacturers adhering to existing technologies, the lengthy testing processes mandated by regulators and difficulties bringing new technologies to market. Given the challenges of innovating within the space, several battery startups have had a difficult time. For example, Michigan-based A123 Systems, which produces lithium-ion batteries, was hurt by the slower than expected introduction of electric vehicles, particularly Fisker-Karma, and issues with the Fisker-Karma battery. The company filed for Chapter 11 in 2012. Exide Technologies, a leading manufacturer of lead-acid batteries for transportation and industrial applications, filed for Chapter 11 in 2013 and emerged earlier this year.
Integral does not intend to pursue the battery opportunity independently. Just as it has formulated partnerships for its core business, the company intends to seek partners to help develop and commercialize the battery technology. Towards this goal, Integral's strategy is to create a new battery business unit that will be separate from its main ElectriPlast business. Management believes this structure will allow potential partners to invest directly in the battery business. The company intends to leverage relationships of advisory board members to form partnerships for battery and power storage and has noted that this process is already underway. In fact, management has indicated that it has already garnered interest from some high profile industry participants interested in its technology.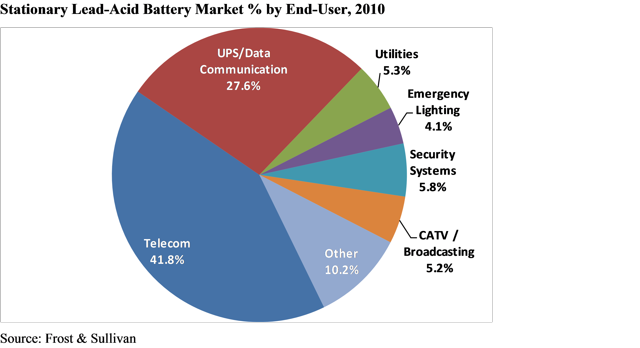 Integral intends to develop large market verticals including aerospace, consumer electronics, power grid storage and Department of Defense government contracting. Demand in the SLA (stationary lead-acid) battery market is also expected to grow.
The SLA battery market was an estimated $4 billion to $4.3 billion in 2010, according to Battery Power magazine. It has been growing steadily, fueled primarily by the telecom and UPS/data communication segments, which are expected to drive further growth. Future Market Insights projects that stationary industrial demand for lead-acid batteries will grow by a CAGR of 8.6% from 2014-2020.
While the company expects that battery partners will focus development efforts primarily on the new battery business, management believes there could be cross-over opportunities for partners to engage with multiple Integral verticals.
The company has recognized revenue from ElectriPlast sales, engineering and licensing over the last three quarters, although it is still fairly minimal, in our view. Nevertheless, we expect revenues from all three sources are likely to ramp substantially over time and the battery opportunity could be significant, in our view. Moreover, the structure of the new battery business could also facilitate a potential spin-off or sale of the unit down the road, depending on the economics.
Disclosure: The author has no positions in any stocks mentioned, and no plans to initiate any positions within the next 72 hours.
The author wrote this article themselves, and it expresses their own opinions. The author is not receiving compensation for it (other than from Seeking Alpha). The author has no business relationship with any company whose stock is mentioned in this article.
Editor's Note: This article covers one or more stocks trading at less than $1 per share and/or with less than a $100 million market cap. Please be aware of the risks associated with these stocks.