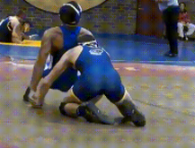 It seems the situation in Greece creates more uncertainty especially over the weekend.
Since things remain stressed there, selling is the order of the day.
Economic data from the U.S. included higher inflation from the PPI which rose to 0.5% vs. 0.4% expected and prior -0.4%. Less Food & Energy the rise was only 0.1% vs. 0.1% expected and prior -0.2%. Much of the rise was in gasoline prices. U of Michigan Consumer Sentiment showed a sharp rise to 94.6 vs. 91.2 expected and prior 90.7. This jump was heavily influenced by "current conditions" which might provide cover for Fed interest rate hikes.
Markets weren't as interested in the data focusing instead on Greece and the weekend ahead. European shares experienced the largest selling while U.S. bonds continued to rally early only to fall later as investors pondered the better Consumer Sentiment data. The dollar remained higher while commodities like oil and base metals struggled.
Obamatrade, as it's currently called, is also facing defeat in the House where democrats are rallying for the defeat. Nancy Pelosi who previously when passing Obamacare stated, "We'll know what's in it once the bill is passed" has reversed course on the trade bill as many legislators from right and left don't like the secrecy regarding it. This may carryover negatively to markets given how it reflects difficulty with DC gridlock for commerce related legislation. The trade bill itself may not be a problem, but the secrecy is.
Leading market sectors higher included: China (NYSEARCA:FXI), Shanghai (NYSEARCA:PEK) and other China related shares.
Leading market sectors lower included: Everything else to one degree or other.
The top 20 market movers by percentage change in volume whether rising or falling is available daily.
Volume increased once again on selling and breadth per the WSJ was negative. Money Flow on the day and week was also negative.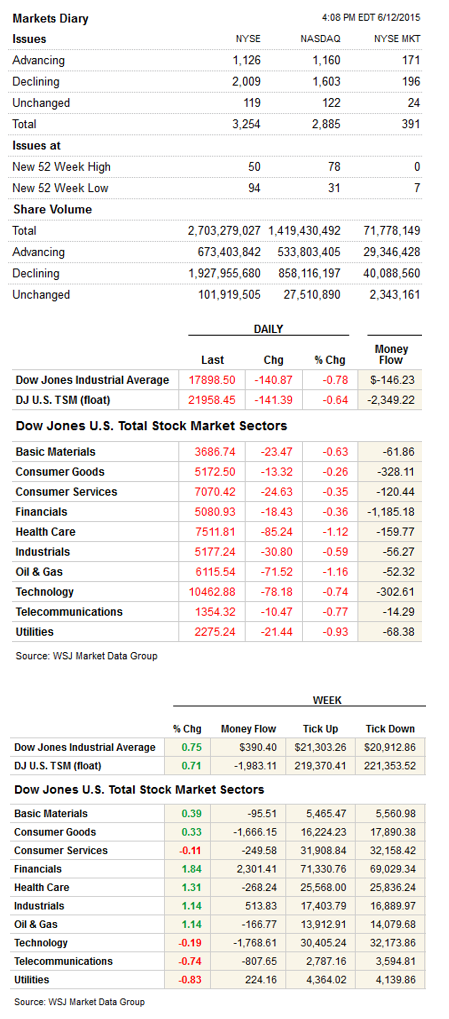 SPY 5 MINUTE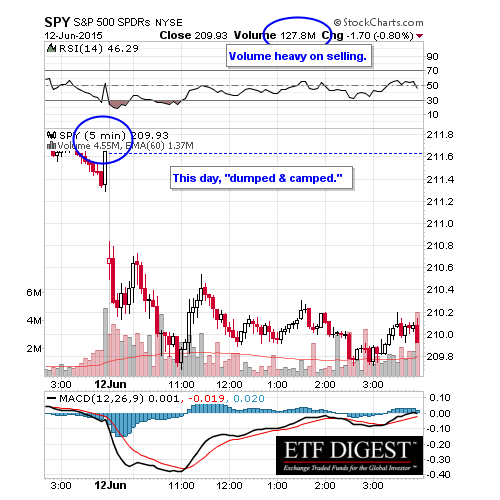 SPY DAILY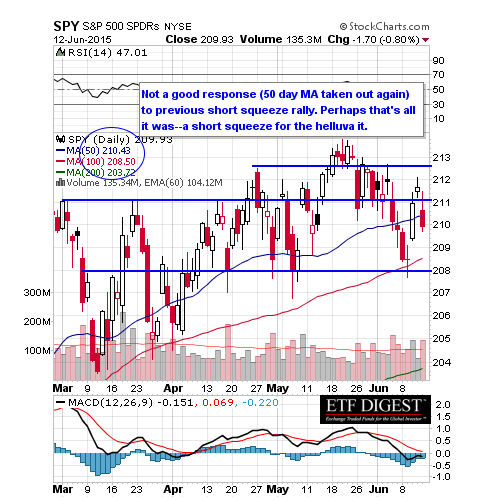 SPX WEEKLY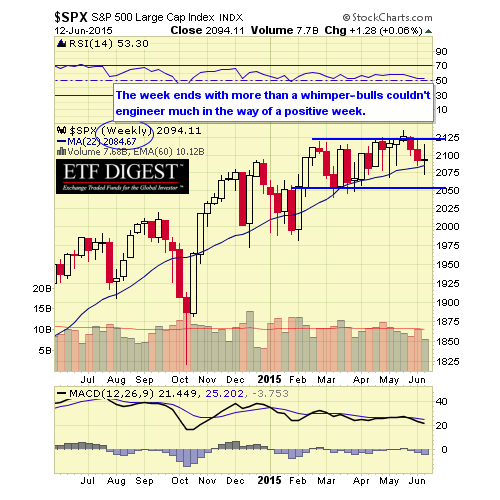 INDU WEEKLY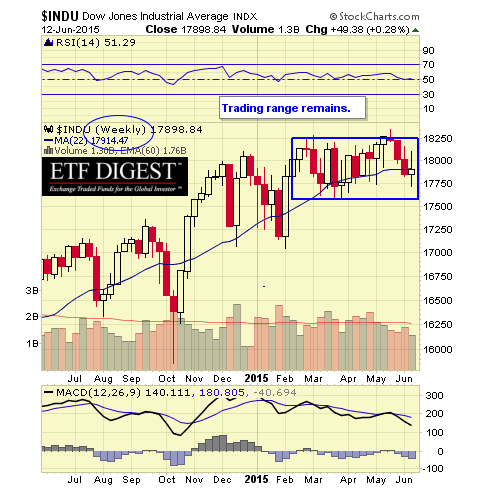 RUT WEEKLY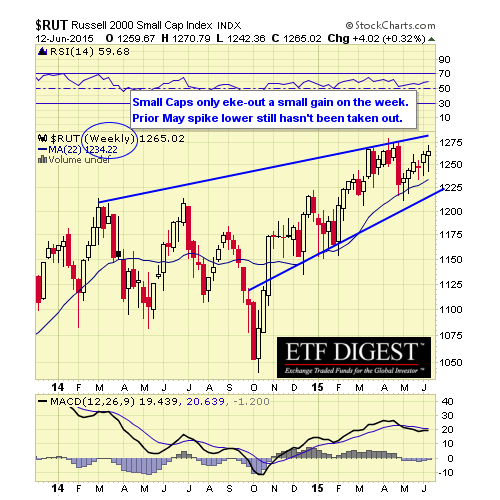 NDX WEEKLY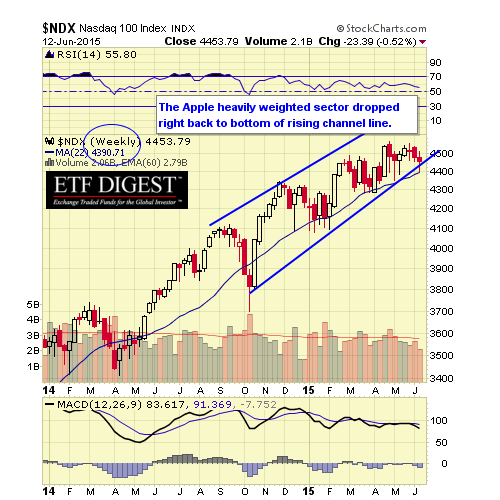 XLB WEEKLY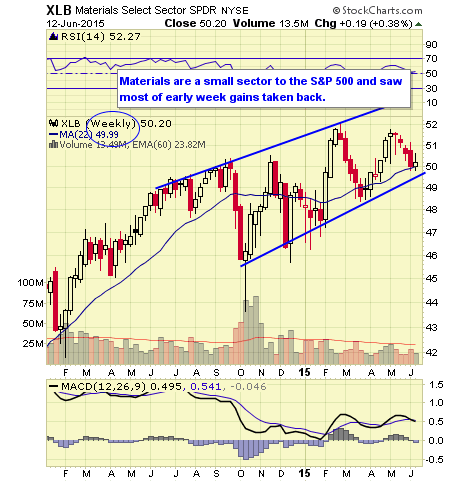 XLF WEEKLY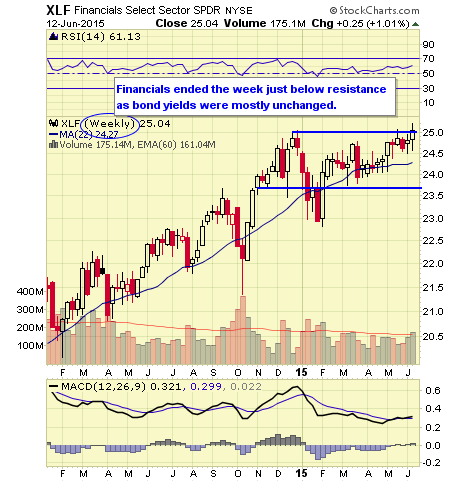 XLE WEEKLY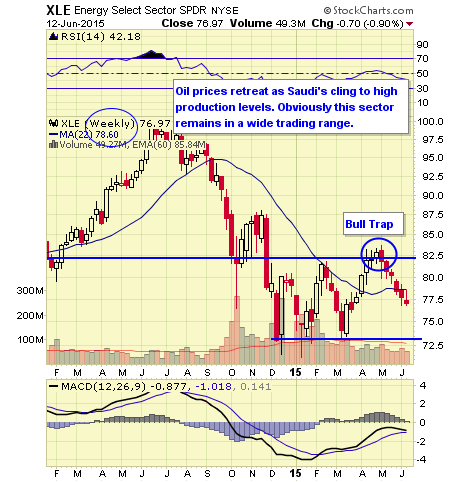 XLI WEEKLY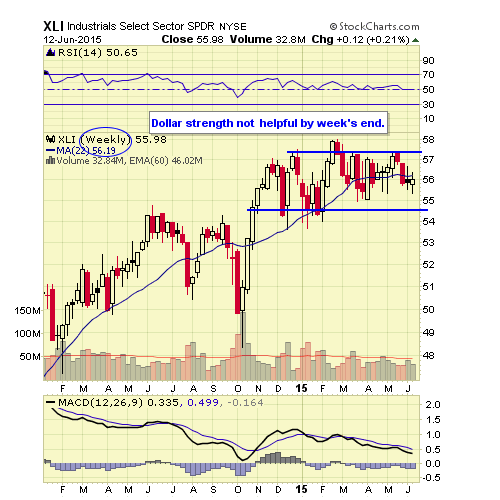 XLP WEEKLY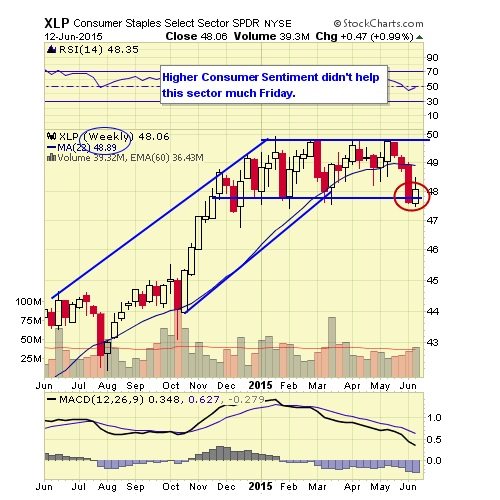 XLY WEEKLY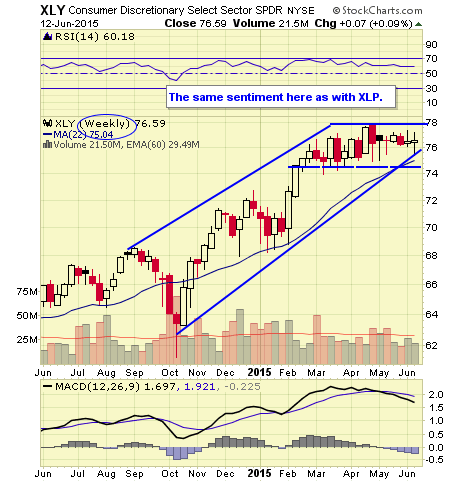 XRT WEEKLY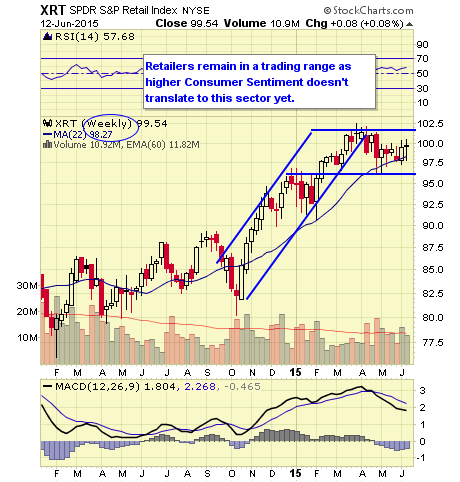 XLV WEEKLY
IBB WEEKLY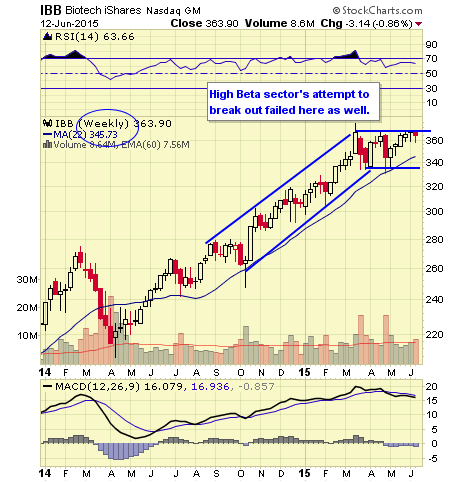 IYR WEEKLY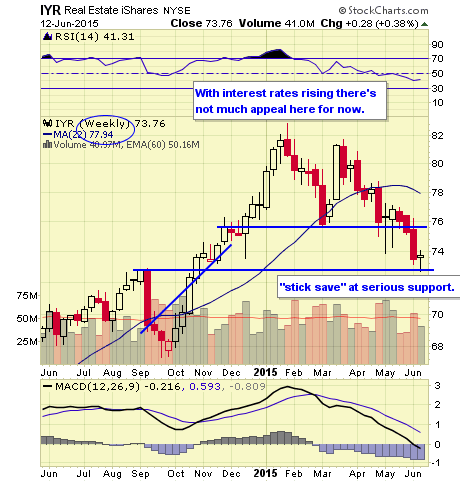 ITB WEEKLY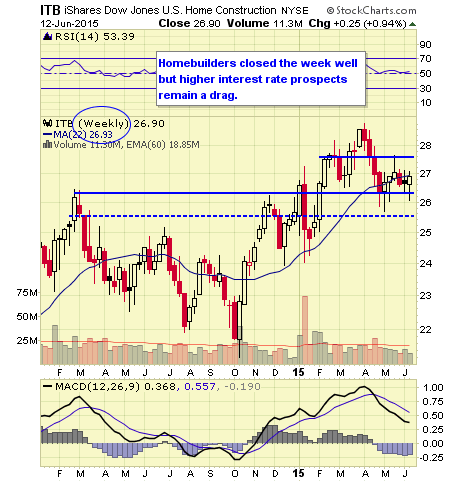 IYT WEEKLY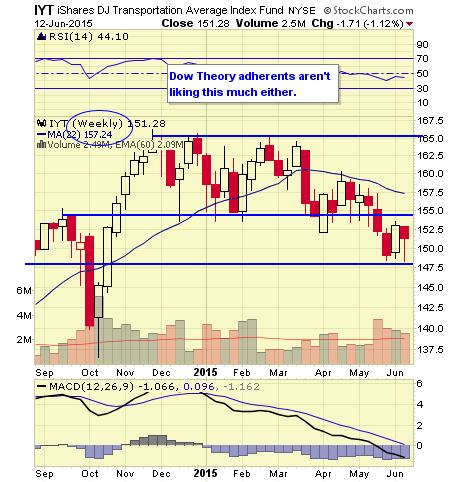 XLU WEEKLY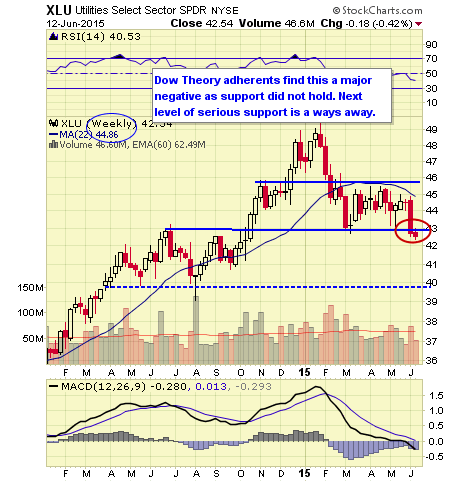 DVY WEEKLY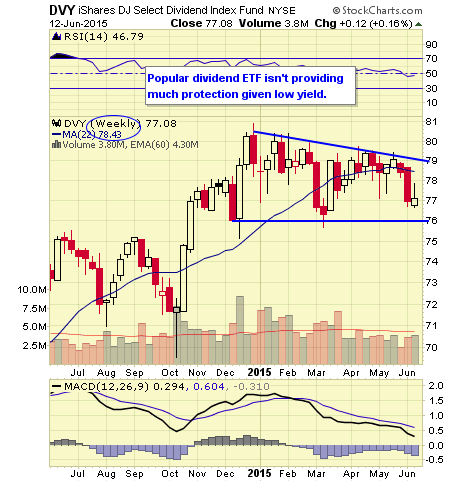 HYG WEEKLY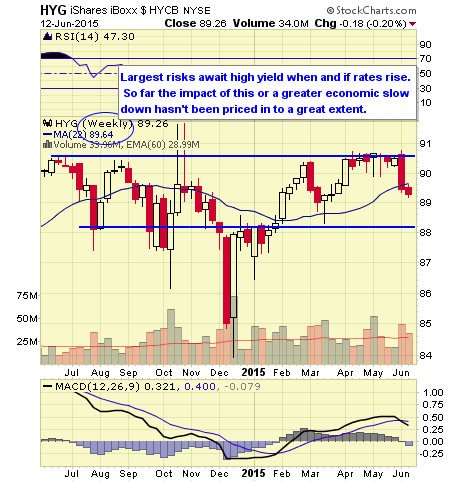 LQD WEEKLY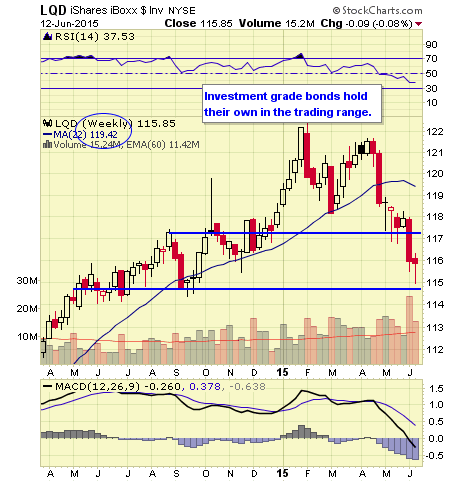 TLT WEEKLY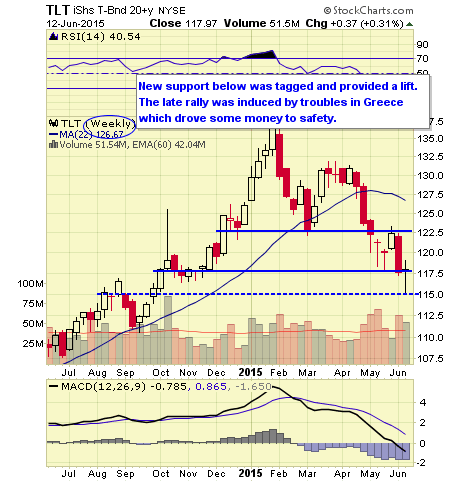 UUP WEEKLY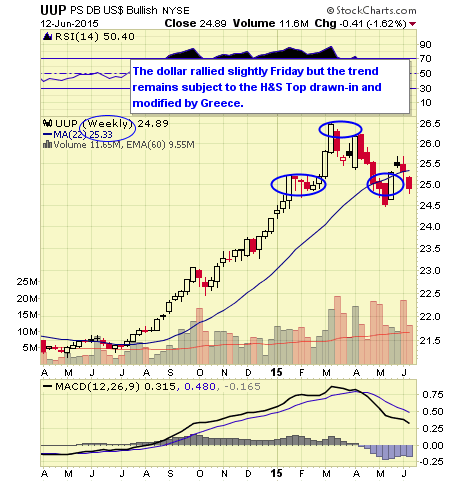 FXE WEEKLY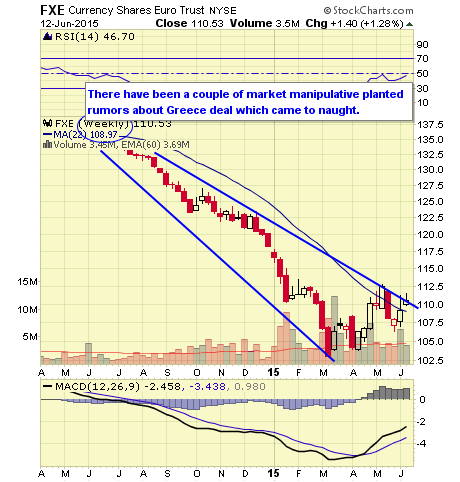 FXY WEEKLY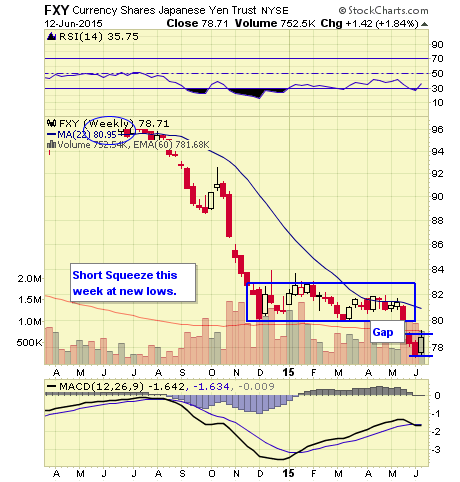 GLD WEEKLY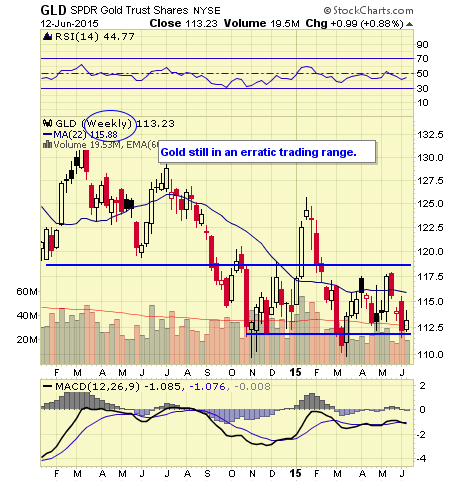 GDX WEEKLY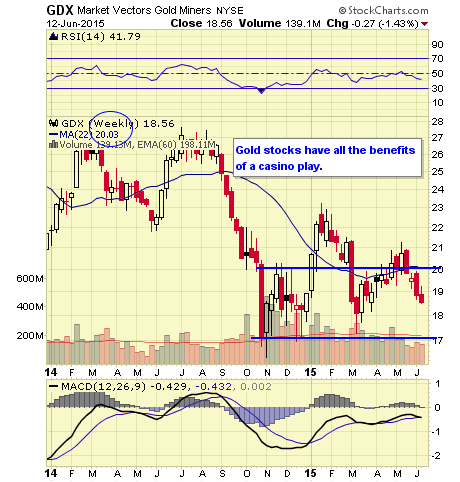 SLV WEEKLY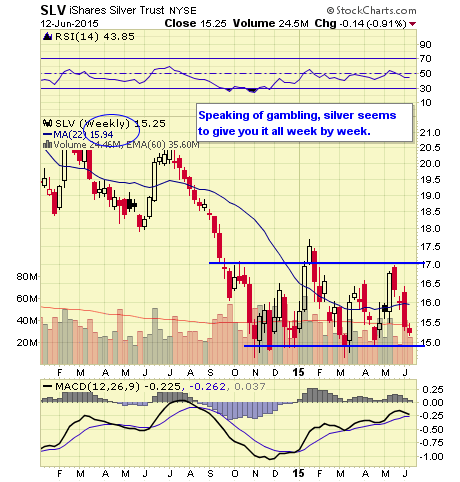 DBB WEEKLY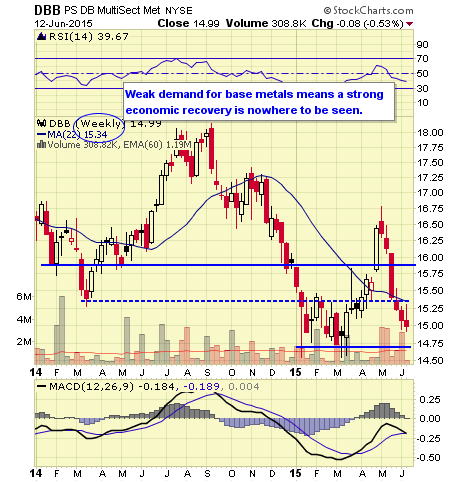 DBA WEEKLY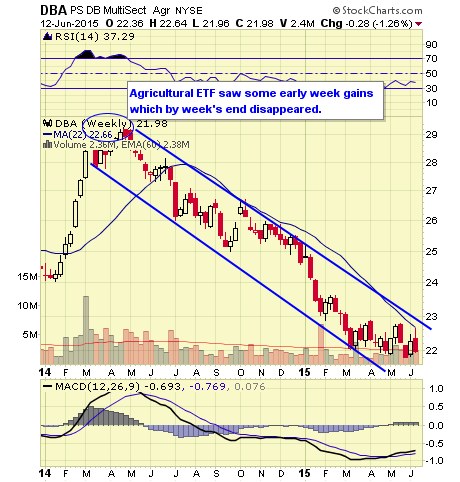 DBC WEEKLY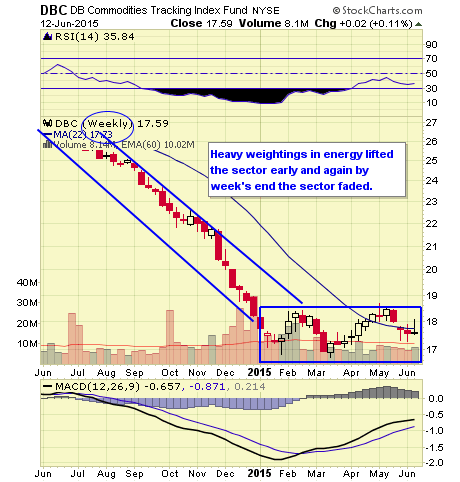 USO WEEKLY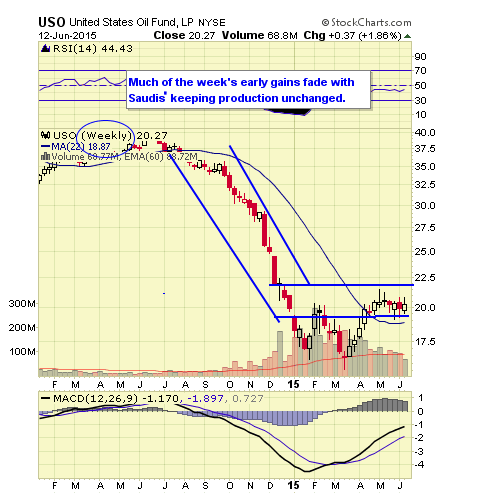 EFA WEEKLY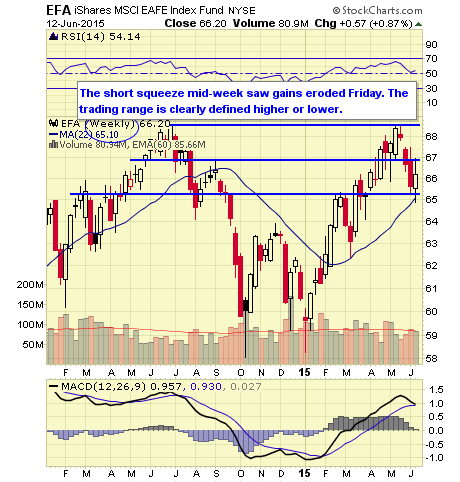 IEV WEEKLY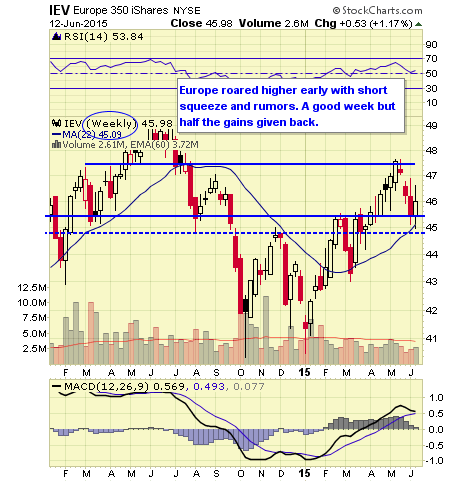 EEM WEEKLY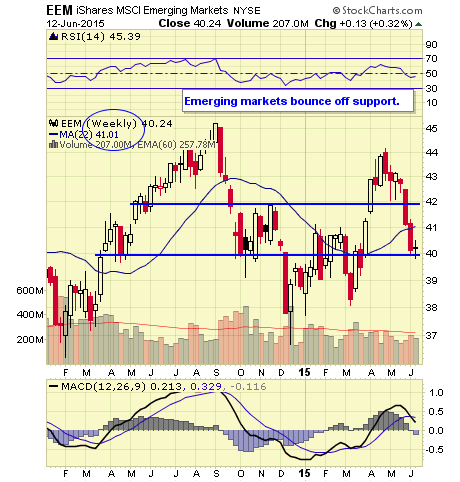 EWA WEEKLY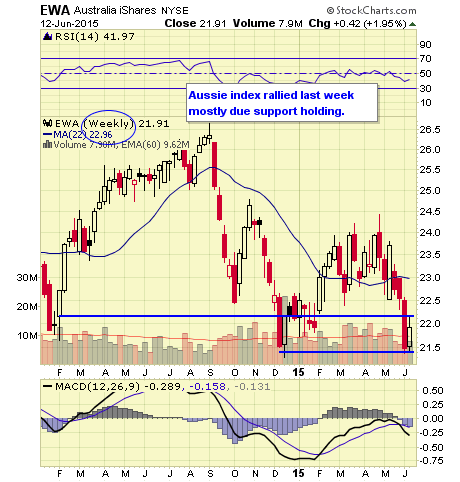 EWC WEEKLY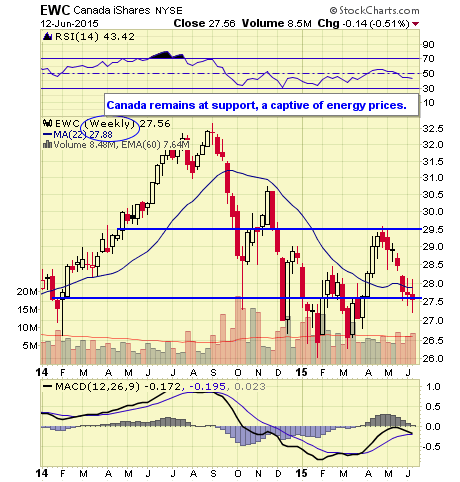 EWU WEEKLY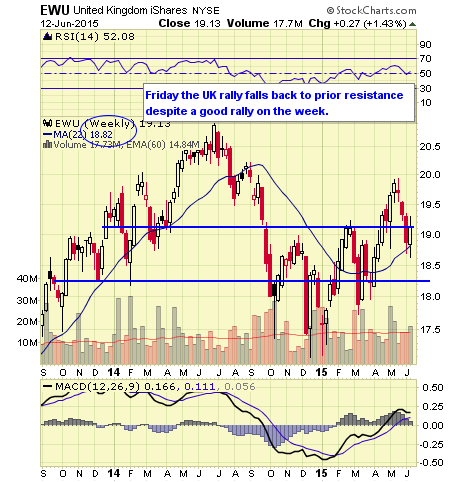 EWG WEEKLY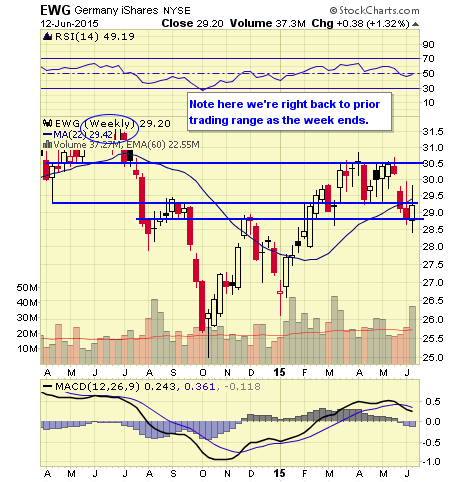 DXJ WEEKLY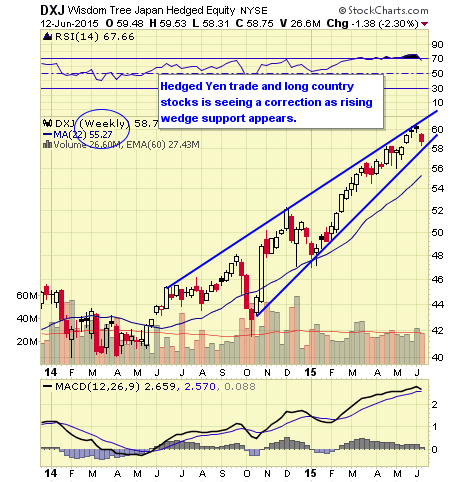 EWS WEEKLY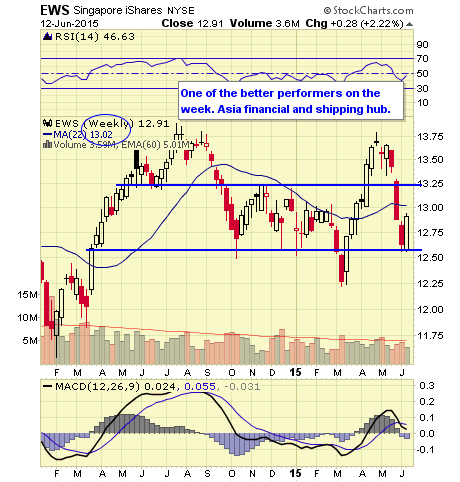 EWY WEEKLY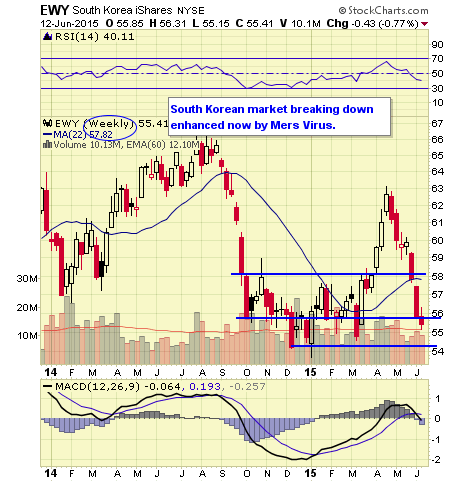 EWZ WEEKLY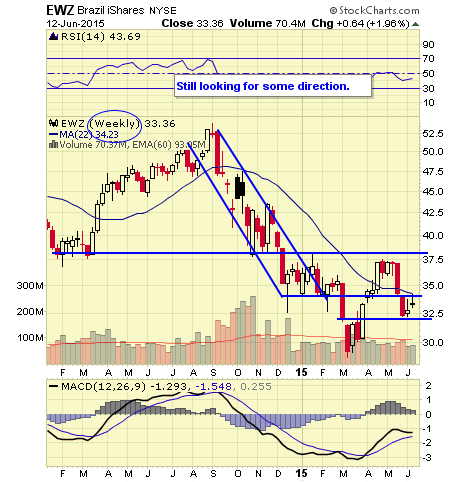 RSX WEEKLY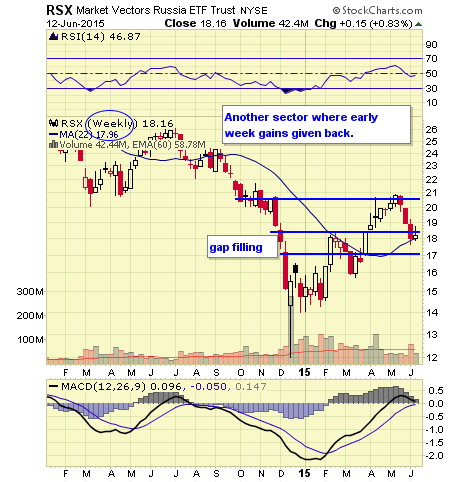 EPI WEEKLY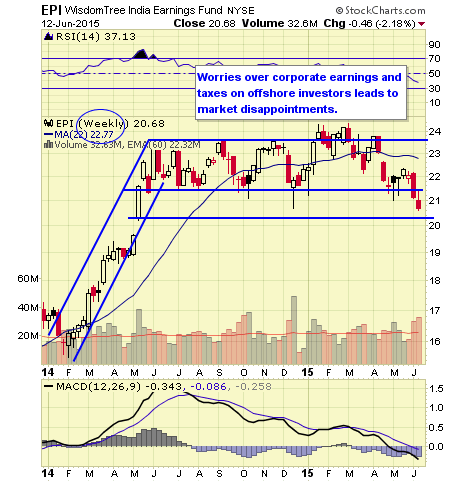 FXI WEEKLY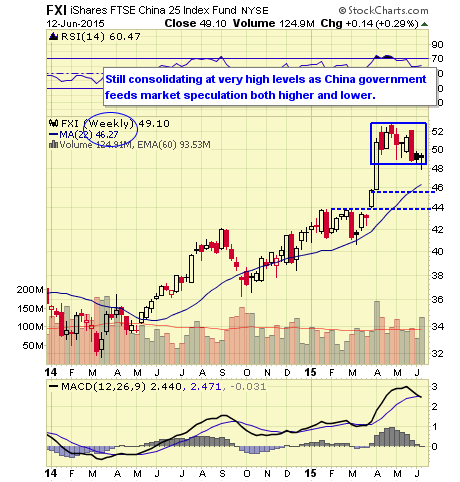 NYMO DAILY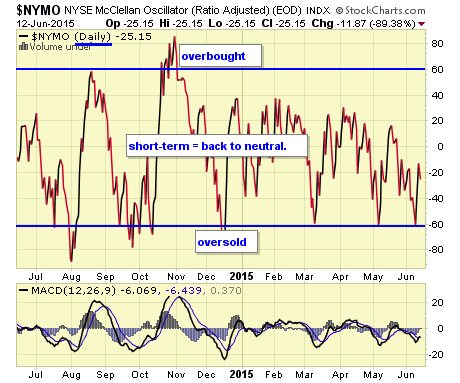 The NYMO is a market breadth indicator that is based on the difference between the number of advancing and declining issues on the NYSE. When readings are +60/-60 markets are extended short-term.
NYSI DAILY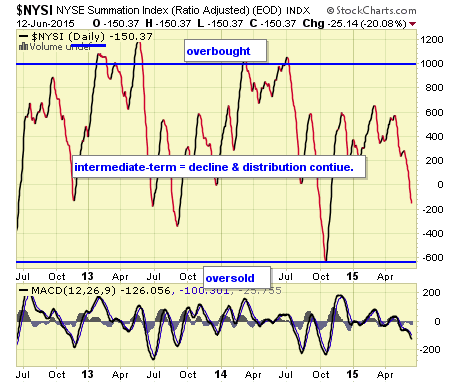 The McClellan Summation Index is a long-term version of the McClellan Oscillator. It is a market breadth indicator, and interpretation is similar to that of the McClellan Oscillator, except that it is more suited to major trends. I believe readings of +1000/-1000 reveal markets as much extended.
VIX WEEKLY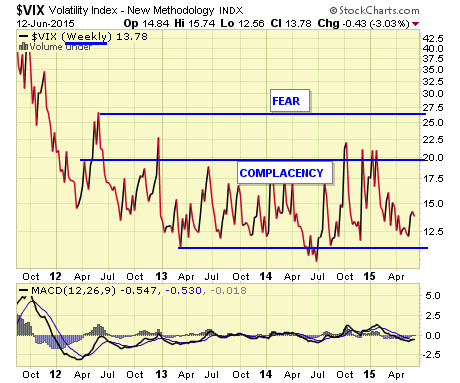 The VIX is a widely used measure of market risk and is often referred to as the "investor fear gauge". Our own interpretation is highlighted in the chart above. The VIX measures the level of put option activity over a 30-day period. Greater buying of put options (protection) causes the index to rise.
Closing Comments
This coming Wednesday investors will focus on Wednesday's Fed Announcement and press conference.
Greece will continue to circle overhead one way or another.
The bottom line for now, the trading range continues.
Let's see what happens.
Disclosure: The author is long XLF. The author wrote this article themselves, and it expresses their own opinions. The author is not receiving compensation for it. The author has no business relationship with any company whose stock is mentioned in this article.