Shares of both Ford F and General Motors GM have stumbled over the past 12 months due to a number of different reasons, including slow launches of new models, massive recalls, and currency losses in South America. It hasn't been the best of rides and these stocks aren't necessarily top picks for the year.
However, they have plenty of catalysts for the second half of 2015 and kick out enough cash in the form of a dividend to harness investors' attention.
The business of building cars isn't among my top interests. It's cyclical by nature, takes a lot of capital to run and margins are fairly low. But again, there is a time and place for every investment and right now, I think Ford and General Motors have enough upside that the risk/reward makes sense for investors.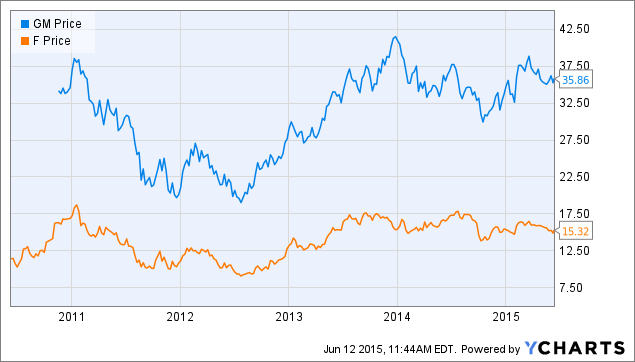 From an income perspective, these automakers are certainly attractive, both yielding 4%. Actually, for most value-oriented investors, these stocks are both great picks. Not only are the dividends high and sustainable, but the valuations are attractive as well.
The effectiveness of a trailing PE ratio can be argued about all day, but I'm more focused on the forward looking estimates. General Motors trades at just 7 times next year's earnings, while Ford trades 8 times 2016's estimates.
In fiscal 2015 alone, General Motors is expected to grow its EPS by 46%, while Ford expects its earnings per share to grow 37%. In 2016, those estimates drop to 14% and 18%, respectively. Still, at these valuations, that's relatively attractive.
Look at it this way, Ford is expected to grow its earnings by almost 40% this year. Assuming the automaker fulfills that expectation, it will trade at just 10x its trailing earnings per share results and if 2016 estimates stay firm, will be on track to grow another 18% the next year.
General Motors is in a similar situation. If the automaker does indeed grow earnings 46% this year, it will trade at less than 8x its last year's worth of earnings and will be poised to grow those earnings another 14% the next year.
At these low valuations, I think the stocks are definitely worth a look.
Risks
While Ford and General Motors do have attractive valuations and nice dividend payouts, there are some risks to the stocks. A General Motors-Fiat Chrysler Automobiles FCAU merger seems incredibly unlikely, and therefore any price appreciation in GM's stock price due to this speculation could reverse and pull the stock lower.
Also, GM still hasn't heard how large of a fine the Department of Justice will hand out for its ignition switch scandal, while the recent wire fraud allegations brought against the company could also present an issue.
Automakers are also prone to slow downs in other countries, currency fluctuations, and of course, recalls. GM and Ford are no exception to these possibilities, while another risk for the latter could include some sort of production issue with its new F-150.
Both automakers are also at the mercy of the U.S. economy as well. A downturn in the U.S. would surely signal pain for Ford and General Motors.
Conclusion
While there are risks - like with any stock - investors have to determine if the potential reward outweighs the potential risk. Last month's auto sales results were impressive, as pricing power for General Motors remains remarkably high and Ford can't keep pace with the demand for its new F-150.
As production for the country's best-selling truck hits full capacity, it should begin to benefit Ford in the second half of 2015 and beyond. Labor data, retail sales and other U.S. economic data also confirm that the economy is on track and continuing to improve.
Likewise, recent global economic data is also suggesting that other key markets - mainly Europe - are starting to improve as well. Both Ford and General Motors have also seen a rise in Chinese auto sales this year as well.
While an economic slowdown would indeed be devastating to Ford and General Motors, it doesn't appear to be on the verge of happening. On track sales, low valuations and attractive dividends are all reasons I consider Ford and GM a good buy at these levels.
Disclosure: The author is long F, GM. The author wrote this article themselves, and it expresses their own opinions. The author is not receiving compensation for it (other than from Seeking Alpha). The author has no business relationship with any company whose stock is mentioned in this article.