My previous article, "Produce Income with High-Yield Pipeline MLPs" highlighted the MLPs with yields ranging from 6.4% to over 8%. The companies in this Part 2 article will showcase pipeline MLPs with yields ranging in the 4% to 6% range.
The pipeline MLPs are appealing for investors since they are immune to fluctuations in the prices of oil and natural gas. Since they are the transporters of fuel, the price of the fuel itself doesn't matter, since they collect fees for transporting it through their pipelines. I see them as similar to the credit card companies that collect fees every time the cards are used, but are immune from credit default as the issuing banks take on that risk.
The chart shows how the MLPs held steady compared with the dramatic drop in natural gas as represented by UNG in flourescent green.
(Click chart to expand)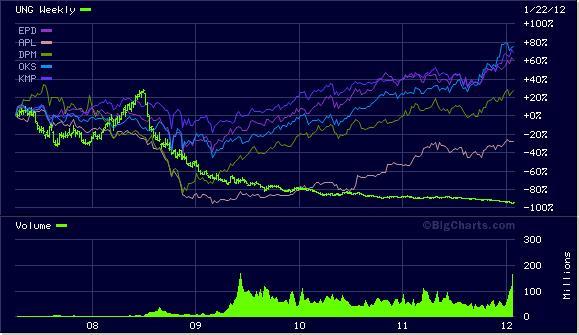 Kinder Morgan Energy Partners (NYSE:KMP) is a $29.43 billion large-cap MLP with a 5.3% dividend yield. It has 38,000 miles of pipelines and about 180 terminals.
KMP is fairly valued as it trades at 4 times net asset value per unit. For 4th-quarter 2011, it had $243 million available for dividend payments, of which $212 million were paid as dividends. Distributable cash flow was up 16% for the quarter and up 12% for the year.
KMP has a number of projects that it is pursuing for expansion purposes. It is spending over $450 million on its Product Pipeline segment for the following projects: to connect the Eagle Ford Shale play to the Houston Ship Channel; to build a condensate processing facility at its Galena Park facility; to upgrade existing pipelines; and to build 7 tanks for its Carson, CA terminal.
KMP is also spending $410 million on its natural gas segment. It spent $155 million on the acquisition of SouthTex Treaters, which provides natural gas treating plants for the removal of CO2 and H2S from the pipelines. It also has a $255 million project to increase its Doe Canyon production by 62%.
ONEOK Partners (OKS) is an $11.52 billion large-cap MLP with a dividend of 4.2%. It is involved in the gathering, processing, storage, and transportation of natural gas. It also owns a natural gas liquids system (NGL) that connects the mid-continent and Rocky Mountain regions with key market centers.
OKS is currently fairly valued as it is trading at 3.6 times net asset value per unit. Distributable cash flow for 2011 is expected to be $935 million to $955 million, which is an increase over previous estimates of $850 million to $880 million. It reports 2011 earnings on February 20, 2012.
It has a pretty consistent history of raising its dividend since the early 1970s. Although there were a few years when the dividend payment remained constant, that was more the exception than the rule. OKS typically increases the dividend every year. It has increased its dividend yearly without interruption since 2003.
Enterprise Products Partners (NYSE:EPD) is a $41.84 billion large-cap MLP with a dividend of 5%. It is the largest publicly traded energy partnership. It has approximately 50,200 miles of onshore and offshore pipelines; 192 million barrels of storage capacity for natural gas liquids, refined products, and crude oil; and 27 billion cubic feet of natural gas storage capacity.
EPD is fairly valued as it is trading at 3.73 times net asset value per unit. It has just announced this month that it is implementing its 30th consecutive quarterly cash distribution rate increase. It will announce its 4th-quarter earnings on February 1, 2012. Since it has four upward earnings revisions for its 4th quarter, investors should expect a positive report.
EPD has $5 billion invested in expansion projects. This includes its $1.2 billion Acadian Haynesville Extension in Louisiana, and $2.5 billion dedicated to the Eagle Ford Shale related projects.
DCP Midstream Partners (DPM) is a $2.13 billion mid-cap MLP with a 5.3% dividend. This partnership gathers, treats, processes, transports and markets natural gas and natural gas liquids. It is also a wholesale distributor of propane.
DPM looks fairly valued on the low end as it trades at 3.31 times net asset value per unit. It has operating cash flow of $152.8 million. It had two upward earnings revisions for 4th-quarter 2011, which will be reported on February 20, 2012.
DPM just announced that it will increase its quarterly dividend to 0.65 per unit, up from 0.64 the previous quarter. This dividend will be paid on February 14, 2012, to unitholders on record by February 7, 2012.
Atlas Pipeline Partners (NYSE:APL) is a $2.01 billion mid-cap pipeline MLP that pays a dividend of 5.8%. It provides natural gas gathering, processing, and treating in the Anadarko and Permian Basins. It operates about 8,600 miles of natural gas gathering and processing assets.
Atlas is attractively undervalued as it is trading at only 1.57 times net asset value per unit. It had distributable cash flow of $20.3 million in the 3rd quarter 2011. It has two earnings upgrades for the 4th quarter, which will be reported on February 20, 2012.
Although Atlas typically increases its dividend year over year, there were a few years when it was decreased. In 2001, the yearly payout was $2.50 per unit, but in 2002 the payout was only $2.14 per unit. In 2008, the yearly payout was $3.79 per unit, but that dropped to only 53 cents in 2009. In 2010, according to its website, there was only one payment of 35 cents per unit. However, 2011 saw an increase as the payout per unit rose to $1.78 for the year.
Atlas has been pursuing expansion plans into the Marcellus and Utica Shale in the areas of Northeastern Pennsylvania, West Virginia, and Ohio. It is also expanding in the Rocky Mountain and Mid-continent regions.
Conclusion
These are all great choices to invest in. Although, I'm impressed with Atlas' undervaluation, I was not impressed with its performance in 2008 when it dropped from above $40 down to the single digits. DPM had a similar drop into the single digits. However, it has since recovered most of the losses. Atlas and DPM appear to have the most recessionary risk compared with this article's other choices.
OKS, KMP, and EPD all lost about 30% during the 2008 financial crisis, but they have gained all of that back and then some. OKS gained about 83% over its pre-recession levels; KMP gained about 40% over its pre-recession levels; and EPD gained about 67% over pre-recession levels. This makes these three the better long-term investments over time. The more conservative investor would be wise to consider OKS, KMP, and EPD as quality income producing MLPs that are not levered to the price of oil and natural gas.
Disclosure: I have no positions in any stocks mentioned, and no plans to initiate any positions within the next 72 hours.