Apple (NASDAQ:AAPL) may be the company with the most dominant product line and consistently stellar earnings, but with its market cap now valued at more than twice Google (NASDAQ:GOOG), I'd rather buy two Googles than one Apple. In other words, I'm betting that Google's market cap will begin to catch up to Apple's, either by growing faster than Apple or by not slowing down as much as Apple might over the next few months or years.
Google was bigger than or equal to Apple from 2004 until late 2007, and again in early 2009. Since then, however, Apple has been on a tear, massively outpacing Google in market cap growth and revenues. It seems as if no matter how much investors may love Google, they love Apple much more.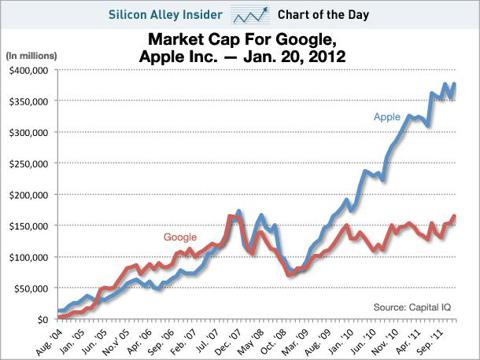 Apple has obviously earned such fame and success. It continues to soar past earnings expectations, introduce top products like the iPad and iPhone (37 million sold in past quarter shattered expectations), and has plenty of cash (approximately $100 billion) to sustain an economic downturn, pay a dividend, or even buy some smaller companies to increase its growth potential.
However, with such enormous expectations now set for Apple and future earnings, together with increasing competition, questionable leadership, and an overly-sharp rise in the stock price - I would rather bet that Google gains market cap than Apple.
Google's high stock price ($570/share) may pose an issue even though its market cap is smaller than Apple. It's just harder for smaller investors to buy or trade a stock that pricey. On the other hand, Google offers the number one search engine (with approximately 70% market share), massive and growing advertising revenues, a giant opportunity in the smartphone industry, and an involvement in a wide range of new initiatives. Google has done extremely well with the Android phones (a few months ago, the Android had approximately 50% market share in comparison to the iPhone's 25%) and is attempting Google Wallet (Paypal-like online payments), Google+ (though still very challenged), a potential tablet to challenge the iPad, and other projects we may not even be expecting. Google's heavy diversification among various business sectors and products may come back to haunt it if it can't stay focused on a comprehensive business model; however, having its hand in many different businesses opens the door for new profitable opportunities. Regardless, even if Google stumbles, I expect Apple to stumble more.
Though Google does face growing competition, censorship, a growing anti-trust movement, and new challenges in monetizing its businesses, it may offer a good investment as a relative outperformer in comparison to Apple over the next few months or years. Apple is nearing peak-popularity and peak-expectations and is entering a period of increasing competition and overhead risks. While both companies seem to offer attractive valuations, Google has more room to grow and a higher probability of exceeding expectations than Apple. I'd rather buy Google with support at $550 or $480 than buy Apple (support: $420, $400 and $350) at these stratospheric heights.
Disclosure: I have no positions in any stocks mentioned, but may initiate a long position in GOOG, AAPL over the next 72 hours.