Gold seems to be fading into the background of financial markets these days and it is not a surprise. After rallying for almost a decade and reaching a price in excess of $1900 per ounce in 2011, anyone who bought gold in U.S. dollar terms since then has watched the value of the yellow metal erode. Meanwhile, gold continues to be expensive on a historical basis relative to other precious metal prices. Gold has been trading in a $90 or 7.5% range since the beginning of March and bulls and bears are getting frustrated. The most recent frustration comes from the bullish camp, as price action has been horrible.
Horrible action
Gold attempted to rally in May, the price got up to $1232.80 in the middle of the month but failed.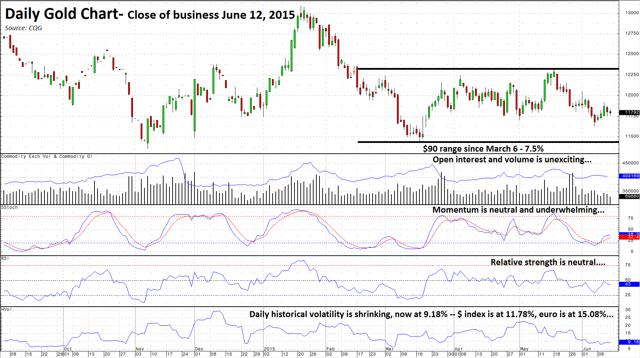 The yellow metal is now entering its fourth month in the current trading range. As the price of gold becomes well entrenched in this range interest in the market appears to be shrinking. Open interest, the total number of open long and short positions in COMEX gold futures, and volume is shrinking and unexciting. A momentum indicator, the slow stochastic, is in neutral territory and is underwhelming at current levels. Relative strength is uninspiring for longs and shorts. Daily historical volatility, a variance measure that measures daily market action in terms of high to low ranges, is at 9.18%.
Gold is currently experiencing less trading action that the dollar index (11.78%) or the euro (15.08%). Gold plays a dual role in the financial markets; it is a commodity and a means of exchange or a currency. In fact, gold is the oldest currency in the world that outdates all other paper currencies by millennia. Given the low level of volatility these days, the yellow metal is certainly not acting like a commodity; it is acting like the world's most stable currency. Meanwhile, the lack of volatility is having a direct effect on physical demand for the metal.
Gold coin sales decrease
A recent article on Bloomberg, published last week, highlighted the weakness in the physical gold market. "Purchases of American Eagle gold coins from the U.S. Mint, the world's largest, were the weakest for the month in eight years. And global coin demand this year probably will slump to the lowest since 2008, TD Securities, Inc. predicts". Bart Melek, the chief commodity strategist at TD Securities in Toronto predicts that global gold coin demand will slip by 12% this year to 220 metric tons. U.S. Mint sales of American Eagles coins fell to a paltry 21,500 ounces in May -- sales for the first five months of 2015 were 9.4% below 2014. The U.S. is not the only place where gold demand is slumping; the Perth Mint in Australia recently reported that sales fell in May to the lowest level in three years. In mid-May, the World Gold Council reported that global demand for jewelry, bars and coins fell 5% in the first quarter of 2015 from the prior year as demand from the Middle East and China declined. Meanwhile, while buyers become more scare these days, gold is still expensive relative to other precious metal prices.
Divergences limit gold's upside
The nominal price of a commodity can only tell us so much. Inter-commodity spreads are great tools when it comes to understanding the real value for a commodity. Comparing the price of one commodity to another that can serve as a substitute helps to establish value from a historical perspective. A comparison of the price of gold versus the prices of platinum and silver reveals that gold remains strong, perhaps too strong, in the face of other precious metal prices.
The long-term monthly chart of the platinum versus gold spread clearly demonstrates that on a historical basis either the price of gold is too high or the price of platinum is too low.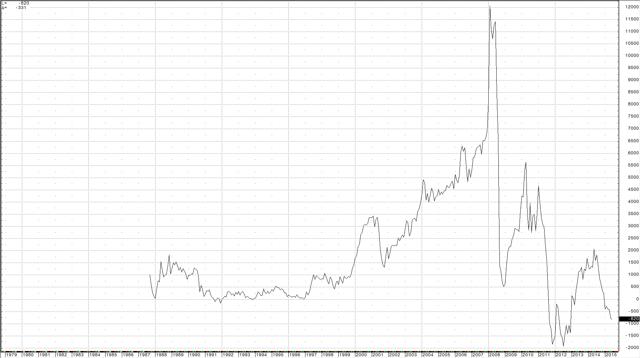 Over the past twenty-eight years, platinum has traded as high as over a $1200 premium to the price of gold (in February 2008) and as lows as a $200 discount to gold (in November 2011 and July 2012). On Friday, June 12, 2015, platinum closed at an $82 discount to the yellow metal. Platinum is a rarer metal, it has a higher production cost and on a per ounce produced basis has many more industrial applications than gold. However, platinum continues to be weak against the yellow metal. History suggests that either platinum is too cheap or gold is far too expensive at current prices.
While the historical deviation between the two metals is wide, platinum has traded at a premium to gold for the vast majority of time as the monthly chart highlights and the fundamentals for the two metals justifies. The median level appears to be a $200 premium for platinum over the yellow metal. That would imply a current gold price of $895 per ounce based on the current price of platinum, which is around the $1095 level on active month NYMEX July futures.
Gold's relationship with another precious metal, silver, results in the same conclusion.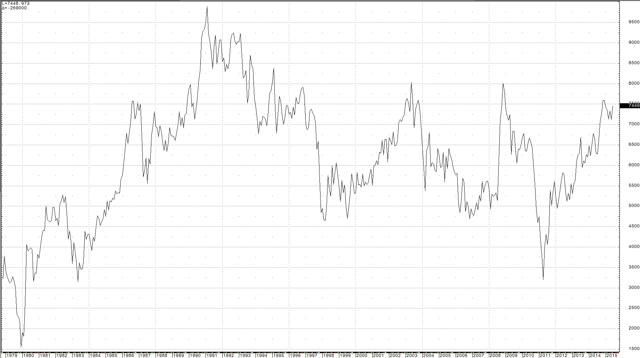 The monthly chart of the silver-gold ratio illustrates that since 1978 this price relationship has traded at an average of around 55:1, or 55 ounces of silver value in each ounce of gold value. The ratio traded as high as 99:1 in 1991 when both metals found themselves under extreme pressure. The lows came in late 1979 during the Hunt brothers attempt to squeeze and corner the silver market. Over the course of modern history, each time this ratio traded below 55:1 it bounced higher, most recently in 2011 and each time it traded above that level it moved back down to the historical mean, most recently in 2008.
Today the ratio stands at a shade under 74.5:1, well above the historical norm. The current July COMEX silver price of $15.925 therefore implies a gold price of $875 -- perhaps a coincidence or perhaps a presage of things to come when considering what the platinum-gold spread is currently telling us. In any case, the silver-gold ratio is currently at a level that tells us that the price of silver is too low or the price of gold is too high on a historical basis. The evidence seems to be mounting that gold could be in trouble here.
All that matters is investment demand
When it comes to all precious metal prices there are two components. One component is their utility as metals, the commodity aspect. The other component is their utility as a means of exchange, a currency, an investment. For each of these metals there is a fundamental supply and demand equation each year. However, for each it is investment demand that will ultimately dictate price.
We are currently at a difficult time in history. Central banks around the world have done everything in their power to prop up the value of their fiat currencies and to stimulate their economies. Quantitative easing in the U.S. and now in Europe are examples of these policies. The Chinese 'new normal' and three interest rate cuts in the Asian nation thus far in 2015 is another example. Eventually the chickens will come home to roost and these inflationary policies will catch up with not only fiat currencies but with the prices of precious metals.
In the current environment, no one seems to care much about gold, silver or platinum these days. It is possible that ignoring history will suddenly come back to bite markets hard. The near-term price direction of precious metals is a direct function of investment demand, which is weak and declining these days. The current levels of the platinum-gold spread and the silver-gold ratio continue to scream that the price of gold is too high today. Gold appears to be building a case to go lower these days.
Eventually, when the yellow metal does fall and tarnish, perhaps the world will wake and realize the inflationary protection that gold has afforded savers throughout history. We do not have to look too far back in history to see examples. Gold was an excellent hedge for Russians who had the foresight to load up before the ruble crashed last year. It also was a godsend for Europeans who watched the value of the euro plunge over this past year. I truly hope that the dollar price of gold drops to just below $900 where the inter-commodity spreads say it should be these days. I would certainly love to load up down at that level and below.
Disclosure: The author has no positions in any stocks mentioned, and no plans to initiate any positions within the next 72 hours. The author wrote this article themselves, and it expresses their own opinions. The author is not receiving compensation for it (other than from Seeking Alpha). The author has no business relationship with any company whose stock is mentioned in this article.
Additional disclosure: The author always holds precious metals in his portfolio. The percentage of those holdings is subject to market conditions.