Insider trading information is just so useful. Not only is it a great way to build a winning investing strategy, but this data is really a treasure trove of information about investing. Recent studies out of Harvard and professor Nejat Seyhun's work on studying legal insider trades made by corporate managers show that insiders beat the market by 7-10% per year.
I spend a lot of time looking at this data, and in my book Tradestreaming, I've created investment strategies that mimic the trades of certain insiders. I'm just always surprised more people aren't mining this useful stream of info for profitable information.
Every once in a while when studying insider trading data, I learn about an investor - soft-spoken and media shy - who really deserves to be counted among history's greats. The best is when you can find these "junior Buffetts" early in their careers, before they've attracted too much capital, before their best investing days are behind them.
This week's Insiderize pick: Colfax (CFX)
Two massive insider buys ($50 million apiece) came across my screen this week at Insiderize, each done by guys with the same last name in the same company -- Colfax, a global supplier of fluid-handling products (like pumps, valves, etc.).
Enter the Rales brothers. Steven and Mitchell Rales are two media-shy (you can barely find any pictures of these guys) billionaire brothers who deserve a seat at the Buffett table. Like Buffett, they've used a conglomerate structure to engineer M&A and external investments to amass massive wealth and provide huge returns for investors.
But unlike Buffett, these guys take active roles in the firms they acquire. Think of the Rales brothers like the Jack Welch of investing -- they bring in expertise, new processes, and outside experts to grow their numerous acquisitions aggressively.
The Rales and Danaher Corporation: An epic story of hands-on investing and huge results
Before we take a look at Colfax - the subject of this week's insider buying - we need to look at Danaher Corporation (NYSE:DHR). If Berkshire Hathaway was Buffett's main investing vehicle, Danaher Corporation is the Rales'. Since 1993, DHR under the Rales brothers' leadership (+2,400%) has absolutely crushed Buffett's BRKA (+629%) and Leucadia (LUK, +569%), two similar companies.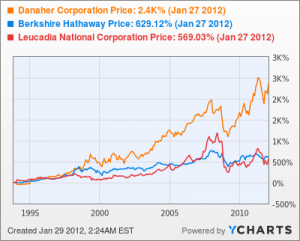 The Danaher Magic: The Danaher Business System
If you look at how the Rales achieved such returns, it's been all about something they call the Danaher Business System, or DBS. DBS management believes its found a demonstrable, repeatable recipe for success, and it drives both culture and process at the company and its acquisitions.
DBS is a form of Japanese kaizen, comprising 4 components:
People
Plans
Processes
Performance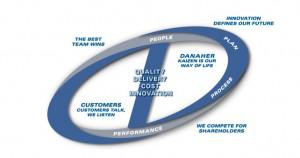 This never-ending cycle of change and improvement is all centered around Danaher's 4 leading customer-facing priorities:
Quality
Delivery
Cost
Innovation
DBS enables Danaher to excel in growth, leadership, and its lean manufacturing tenets. Proof is in the pudding - here are some amazing operating stats about DHR:
Gross Profit Margin: 48.80%
Profit Margin: 11.59%
Operating Margin: 16.47%
EBITDA Margin 19.99%
What does this all have to do with Colfax?
A heck of a lot, actually. The Rales, who have created an investment return machine whose name is Danaher, also founded Colfax in 1995. And it was in Colfax that Steven and Mitchell Rales each bought $50 million more of stock on January 26, 2012.
Colfax's roots were in a couple of acquisitions the Rales brothers engineered in the late 1990s, notably IMO Industries and Allweiler. Colfax has its own version of the Rales magic. Called Colfax Business Systems (NYSE:CBS), the firm runs itself similarly to Danaher.
Strategy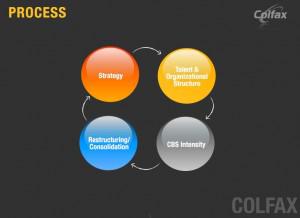 Like Danaher, Colfax combines an acquisition strategy with a continuous improvement process that adds both organic and inorganic growth every year.
Colfax Results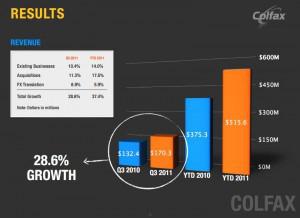 Colfax has engineered pretty compelling growth in its fluid handling business, growing backlog and balancing a pretty equal division between shortcycle, emerging market, and aftermarket business with longer cycle, developing economies, and foremarket.
Strategy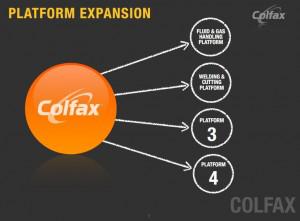 Now about $1.5 billion in market cap, Colfax just recently announced (January 13) its own exciting acquisition, Charter International plc, a firm with businesses in welding, cutting, automation and on air and gas handling. Colfax is now positioned for additional expansion of its platform in the near future.
More on the Colfax story
To raise money for the deal (Colfax is buying a company 5 times its size in sales), Colfax said it would use a combination of stock, debt facilities, and cash. To fund the deal, the Rales tag-team reached out to BDT Capital to raise $805 million via a stock offering.
BDT was founded by Byron Trott. A former Goldman Sachs (NYSE:GS) banker, at one point he was GS's Vice Chairman. He's been a favorite partner of Warren Buffett throughout his career. Buffett reportedly said about Trott that he was "the only banker he trusts." Like the Rales, he's also somewhat secretive about his activities.
BDT (more than $2B in capital) has been instrumental in investing in family-controlled businesses. It has positions in:
City Beverage, Anheuser-Busch's largest Chicago distributorship
Pilot Travel Centers, which runs highway rest stops throughout the U.S. and is controlled by Tennessee's Haslam family
Weber-Stephen Products, the marker of iconic Weber grills
Wrigley Building in Chicago, bought along with some of the Groupon founders
BDT has also advised the Pritzker family on selling a majority stake in TransUnion and Alberto-Culver on its sale to Unilever (NYSE:UN).
There's more to the insider buying story at Colfax. The Colfax Board of Directors is like an all-star team of amazing investors. Thomas Gayner, the Chief Investment Officer of Markel Corporation (NYSE:MKL), has a seat at the Cofax table. (You can read an interview with Tom here.) Markel ranked No. 1,907 in the Forbes Global 2000 in 2010. MKL is up 4712% since 1986. The Colfax story is one of heavy insider buying, business and investment strategy, and just A team investors and managers.
How the insiders have performed trading their own stock
Mitchell Raines bought 25,000 shares of CFX stock on the open market in November of 2011. He's up almost 28% since then on that buy of $636,182. By the way, the brothers each sold $170M of stock in May of 2008, avoiding a 70% drop in CFX through the beginning of 2009. This is their first purchase since then.
Obviously, do your own work on Colfax. The CFX growth strategy requires a certain percentage of revenues to come from acquisitions. That means debt or stock dilution - or both. This is a great strategy when it works, but when it doesn't, well, it can hit the proverbial fan.
But the Rales are players. They've taken DHR from a local real estate investing fund to a $35B global power in its field. CFX is a much smaller, younger investment vehicle for the brothers. But if it emulate its older, larger brother, investors wouldn't mind.
Disclosure: I have no positions in any stocks mentioned, and no plans to initiate any positions within the next 72 hours.
Disclaimer: This should not be construed as investment advice. I've tried my best to be as faithful to the story as I could, using sound resources to help describe the insider trading activity at leading companies. But you should definitely do your homework — don't base an investment decision off this information.