Earlier this year I published an article on waterless fracking company Gasfrac Energy Services (OTC:GSFVF). In that article I discussed the various technical, economic and environmental benefits of Gasfrac Liquefied Petroleum Gas (LPG) fracking technology. Subsequently, I published a follow-up article covering a sample of five companies that achieved superior production results with LPG fracking.
In this article, I have selected an additional five companies that have unlocked new hydrocarbon reservoirs and achieved excellent production results with LPG fracking.
Seaview Energy (OTC:SVWYF) - LPG triples production
Seaview Energy Inc. is a natural gas and light crude oil focused, exploration and development company. As of December 31, 2010, the company's primary area of operation was the Peace River Arch area of northwest Alberta.
In 2010, Seaview decided to shift its focus to petroleum liquids from dry natural gas. The Wapiti field - Cardium formation in Alberta, was an area where the company had potential to increase its liquids production, but after experiencing lacklustre results with water and oil fracs, the company decided to try LPG fracking in early 2011. On June 20, 2011, Seaview Energy reported the following operational update:
During the quarter, the Company successfully completed 2 Wapiti Cardium horizontal wells (1.1 net) utilizing liquid propane gas ("LPG") fracturing technology; the initial application of this technology. The IP rates from these new wells are more than three times better than that of the previous oil fractures completed by the Company in 2010. Advances in the initial production ("IP") rates in the Cardium zone in the Wapiti area continue to be encouraging
(Click charts/graphics to expand)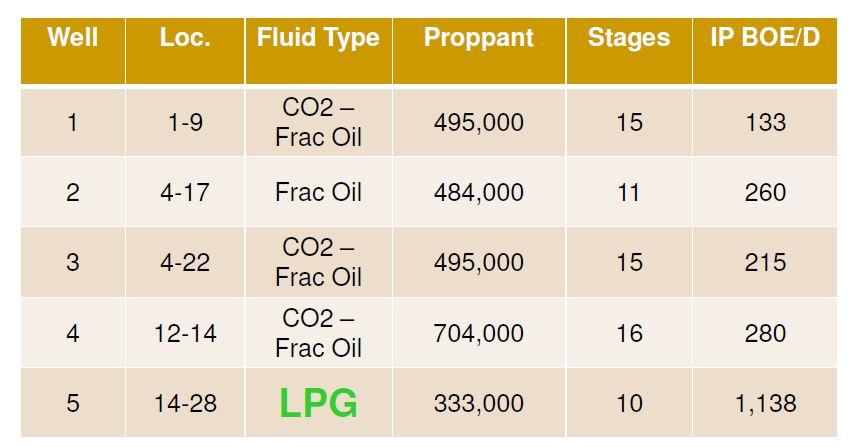 (Source: Seaview - Gasfrac tables)
As can be seen from the sample well above, the LPG fracked well used half the amount of sand, and had a third less frac stages, yet it yielded four times the production of the CO2-Oil Fracked wells.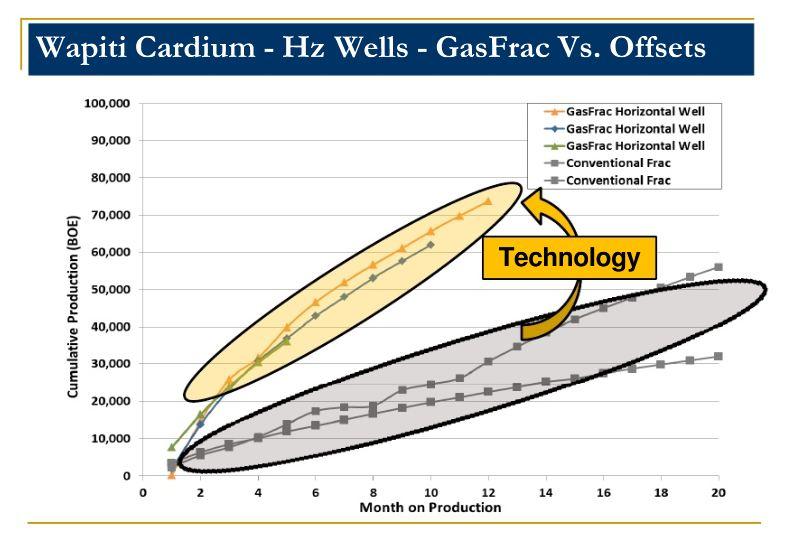 (Source: Gasfrac)
On August 17, 2011, Seaview provided another update:
The initial production performance of the latest generation completions continues to outperform the earlier wells completed with frac oil. Additionally, production rates from the LPG completions outperforms the oil based fracs by 2-3 times after more than 120 days of production. Combined with the stable, shallow decline profile evident in the early wells such as the 1-9, management remains confident that Wapiti offers a scaleable, repeatable resource play with significant long life reserves.
Yangarra Resources (OTC:YGRAF) - Increased Estimated Ultimate Recovery "EUR"
Yangarra Resources Ltd. is an exploration focused oil and natural gas company. The company is involved in the production, exploration and development of resource properties in the Ferrier or Willesden Green, Medicine Hat, Jaslan, Viking, Mega and Bigstone areas of Alberta.
Yangarra Resources, similar to Seaview, has been focusing on increasing its liquids production. One of the areas where it has been focusing that effort is the Cardium formation in central Alberta. In an effort to increase liquids production and reserves, the company opted to test LPG fracking In the second quarter of 2011; on August 25, 2011, Yangarra provided the following update:
The Company has tested various fracture processes on multi-well pads in the Cardium formation and these comparisons indicate that propane fracs result in significantly enhanced Estimated Ultimate Recoveries ("EUR"), the effect in our other formations is currently being evaluated.

The Company, in cooperation with GasFrac Energy Services Inc., has been testing a recovery system for the propane utilized during fracturing and significant volumes of propane have a been recovered from two Yangarra wells and has either been re-used on subsequent propane fracs or sold.
Artek Exploration (OTCPK:ARKXF) - unlocking new reservoirs
Artek Exploration Ltd. (Artek) is a Canada-based junior oil and gas exploration and production company. It is engaged in the exploration of natural gas, crude oil and natural gas liquids (NGLS) in Western Canada. The Company's operational activities were concentrated primarily in the Peace River Arch and Deep Basin areas of northwestern Alberta and northeastern British Columbia, where it was focused on generating natural gas and NGL projects.
In early 2011, in its search for additional liquid rich production, Artek started looking at expanding its drilling footprint in the Inga/Firewood area in British Colombia; due to the tight low permeability reservoir in the area, Artek opted to use Gasfrac LPG fracking technology. On May 26, 2011, Artek reported the following (pdf):
At Inga, the Company successfully drilled and completed its second horizontal Doig well (60% W.I.) at 5-11-88-23 W6M. After a 12-stage fracture stimulation program using GASFRAC'S propane frac technology, the well flowed after a 70-hour test period at approximately 2,040 boe/d, of which approximately 1,400 bbls/d was condensate, at a flowing pressure of 1,070 PSI. After a month of production, the well is producing at a restricted rate of approximately 1,500 boe/d, of which approximately 50% is condensate. Artek's first Inga well, which had only seven fracs completed, produced 1,100 boe/d during its first month of production. It was producing ahead of the Company's decline curve expectations at approximately 450 boe/d after four months of production, of which approximately 25% to 30% was condensate.
Throughout 2011, Artek continued to apply LPG fracking, however it started to refer to the process as "hydrocarbon frac"; on November 28, 2011, it provided the following update (pdf):
The Company has successfully drilled and completed two new horizontal wells (60% working interest) at its Doig natural gas and condensate pool in the Inga area of British Columbia. The wells are step-outs to its first two horizontal Doig wells in the pool which tested at an average rate of approximately 1,960 boe/d of which approximately 1,250 bbl/d was condensate. The two new wells were drilled from a common pad but tested and validated two independent drill spacing units. After a 48 hour clean-up test period, the first horizontal well was flowing at an average rate of approximately 4.7 mmcf/d of natural gas (of which approximately 60% was formation gas and 40% was load) and 1,033 barrels of condensate per day, or a total of 1,815 boe/d over the last seven hours of the test at a flowing pressure of 386 PSI. The well validated the productivity of the reservoir in a portion of the pool that Artek would generally describe as finer grained and lower permeability. The second horizontal well flowed after a 72 hour cleanup test period at an average restricted rate of approximately 7.5 mmcf/d of natural gas (of which approximately 74% was formation gas and 26% was load) and 1,062 bbl/d of condensate or a total of 2,312 boe/d over the last seven hours of the test at a flowing pressure of 1,338 PSI. The laterals were drilled to 1,119 metres and 1,259 metres respectively (approximately 3,100 metres of total measured depth) and each was stimulated using a 15 stage hydrocarbon frac program.

The two step-out wells extend the productive trend further south of existing vertical and horizontal well control and establishes significant productivity in the areas of the Doig sand trend that exhibit lower permeability characteristics.
On January 4th, 2012, Artek reported its best results to date using the LPG fracking process in its Inga property:
At Inga, the Company determined post clean-up of its initial test that it had not completed all the stages in one of its fourth quarter, common-pad horizontal wells that in November had tested 1,815 boe/d (1,033 bbls of condensate per day). As a result, Artek re-entered the horizontal well and was able to substantially complete the remaining stages in the well using a similar hydrocarbon fracture stimulation program. Subsequent to the recompletion, after an 8 day inline test the well was flowing at a restricted rate of approximately 3,420 boe/d at 975 psi of which 22.5% was load hydrocarbons, 4.4 mmcf/d formation gas and approximately 1,800 bbl/d condensate net of load, ranking it the Company's best result to date in the area.
Approach Resources (NASDAQ:AREX) - Further into the Permian Basin
Approach Resources Inc. is an independent energy company engaged in the exploration, development, production and acquisition of oil and gas properties. The Company focuses on oil and natural gas reserves in oil shale and tight sands. Its core properties are primarily located in the Permian Basin in West Texas (Clearfork, Wolfcamp Shale, Canyon Sands, Strawn and Ellenburger). Approach also owns interests in the East Texas Basin (Cotton Valley Sands and Cotton Valley Lime) and in the Chama Basin in Northern New Mexico (Mancos Shale).
In my last follow up article, I mentioned Abraxas Petroleum (NASDAQ:AXAS) having used Gasfrac LPG fracking in the Permian Basin in West Texas; it seems however that Abraxas was not the only company to choose to test LPG fracking in West Texas. Approach Resources, which has been very active in this region, decided to apply LPG fracking to in the Wolfcamp Shale; it is unclear if Approach chose LPG fracking due to the high clay content in that formation, or because of the lack of access to fracking water. During Approach Resources Q3-11 conference call on November 3, 2011, the company management indicated that they have been very pleased with the LPG fracking process, they specifically mentioned:
Fast clean up.
Uniform flow back.
No formation damage.
Currently, Approach is waiting to see the six-month production curve, to gauge if using Gasfrac LPG fracking process is viable due to its higher initial cost, which can only be justified with better production results.
Quicksilver Resources (NYSE:KWK) - Unlocking a 500 million oil reservoir
Quicksilver Resources Inc. is an independent energy company. The company is primarily engaged in exploration, development, exploitation and production of natural gas, natural gas liquids and oil onshore in North America. The company operates in two segments: the U.S. and Canada, focusing primarily on unconventional reservoirs. Quicksilver owns producing oil and natural gas properties in the United States, principally in Texas, Colorado, Wyoming and Montana, and in Canada, in Alberta, and British Columbia.
In October 2011, Quicksilver decided to drill for oil in Wolf Mountain - Niobrara shale in Colorado. This formation is notorious for its extreme water sensitivity; hence Quicksilver chose to undertake a LPG frack to its first horizontal well in the formation. From SteamBoat Today on October 26, 2011:
The fracking being undertaken at Pirtlaw is notably different from the most common form of the practice in that it is not relying on large amounts of water to create the tiny fissures in the shale that allow the oil to seep out of the rock.

"We used some water in the first 1,200 feet of drilling," Bowers said. "But this well is using zero water in fracking."

Instead, GasFrac is using gelled butane containing resin-coated sand to frack the well.

Water-based fracking reduces his company's impact on Routt County in terms of eliminating the heavy truck traffic needed to haul water as well as reducing the amount of sand needed in the process, Bowers said. But it's also the case that water is not well-suited to fracking operations in the Niobrara shale on the Western Slope, he added.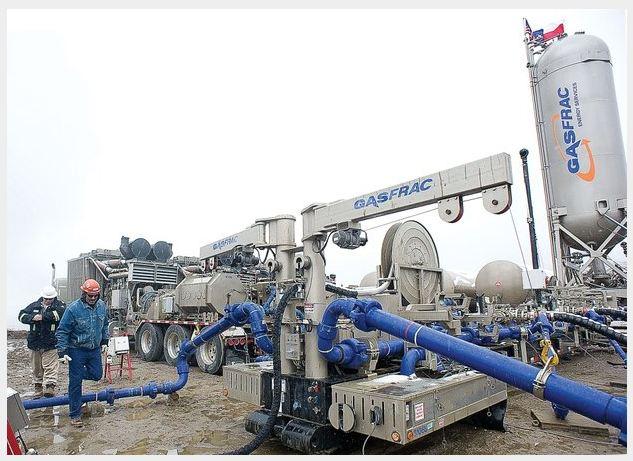 (Source: Steamboat Today, photo by John F. Russell)
On January 19, 2012, the Denver Post reported:
The possibility that the Niobrara Shale lying more than a mile beneath Northwest Colorado will yield enough oil to be profitable seems more likely this week after top executives with Quicksilver Resources confirmed their first horizontal well on Wolf Mountain in Routt County has demonstrated it is capable of producing 500 barrels of oil per day.

Hinton confirmed the transcript of a conference call Quicksilver executives held with financial analysts tracking the oil industry earlier this month: They think the Thunderhead Project in Northwest Colorado has the potential to produce a half-billion barrels of oil.
It is worth noting that Chevron (NYSE:CVX) has also tested LPG fracking in Colorado in the Piceance Basin; the test took place in the fall of 2011 and Chevron is currently reviewing the results.
In conclusion, the few articles I have published demonstrate a growing body of evidence that LPG fracking is superior in a number of formations. As a matter of fact, even Gasfrac direct competitors such as Baker Hughes (BHI) have praised the advantages of LPG fracking (pdf); while Trican (OTCPK:TOLWF) CFO Mr. Michael Baldwin confirmed on January 10, 2012, during BMO Unconventional Resource Conference in NY that Gasfrac technology works "quite well" in a number of reservoirs.
Until recently, Gasfrac has operated with limited crews and limited equipment; yet despite those limitations the company has been able to show remarkable results and has positively impacted a number of operators. Going forward as Gasfrac expands its fracking capacity, the remarkable technical, economic and environmental benefits of LPG fracking will continue to position Gasfrac for continued success as it unlocks new hydrocarbon reservoirs and enhances production and reserves for its growing list of satisfied customers.
Disclosure: I am long OTC:GSFVF.