Even if the Greeks pull off this latest bailout tranche by the end of June - a deadline which by now has been called into question again - the drama will not be over. This is because, by best-case estimates, the Greeks need 25 billion euros ($28 billion) in "troika" financing by the end of 2016. If it was that hard to agree on the terms of one bailout tranche then what would it take to resolve the other bailout tranches?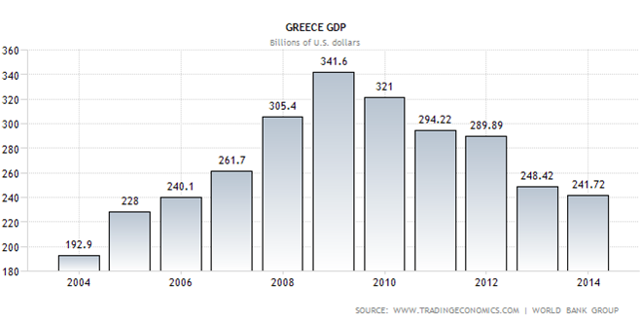 Graphs are for illustrative and discussion purposes only. Please read important disclosures at the end of this commentary.
Syriza, the ruling party in Greece, has maintained that cuts to pensions and benefits have put the economy in a death spiral, resulting in a five-year recession (see chart, above). But just as things had begun to stabilize, Syriza's own policies since January 2015 have resulted in a gigantic bank run, which has crippled the financial system and caused Greece's economic statistics to begin to deteriorate again.
In my opinion, the only reason why the Greek financial system has not collapsed already is the ECB, which is keeping Greek banks on life support with close to 100 billion euros via its Emergency Lending Assistance program. If that latest tranche is not released and Greece defaults to multiple lenders, that ECB lifeline may disappear. The bank run has resulted in declining tax revenues, but a default will result in financial chaos and most likely a fall of the Syriza government. So the economic devastation that Syriza promised to fight - a promise that brought it into power - could actually get much worse. The epic drama of this self-inflicted devastation would have made even Homer proud, had he been with us today.
That said, it has been amazing to see how both sides have been highly resourceful in pushing the final deadline further down the road. The Greeks began to use tactics last used by Zambia in the 1980s to bundle IMF payments for a given month and then promise to deliver them by month's end - in this case, on June 30 instead of in morsels starting on June 5. While the IMF suggested that strategy to give Greece more time to reach a deal, they walked out of a meeting with Greek representatives last week, saying there was nothing more to negotiate. This suggests they have made their final offer. Yet, the IMF also did some legal research indicating that if Greece misses its bundled payments at the end of June it still may not be in default technically as there is a mechanism to deliver missed payments a couple of months later.
Go figure.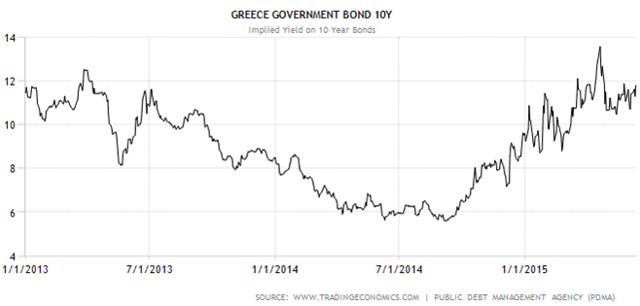 Graphs are for illustrative and discussion purposes only. Please read important disclosures at the end of this commentary.
In the middle of this impasse the German public has decided to let Greece leave the euro. In polls taken last week by German broadcaster ZDF about 51% of Germans favor the Greeks leaving the euro, with 41% opposing the move, the rest being undecided. But I don't think the German public understands the full repercussions of such a move.
While the size of Greece's GDP may be a rounding error to euro-zone GDP, a precedent is a precedent. The euro was set up without a withdrawal mechanism and this may result in financial market chaos. In a similar situation, the UK left the euro's electronic counterpart back in 1992, helped by the legendary George Soros. The resulting sharp depreciation in the British pound revitalized the British economy, which already had a functioning banking system. Greece leaving the euro won't revitalize anything in the short-term and could result in an economic depression and financial system collapse in Greece.
With this standoff, it is difficult to see how German bunds will keep selling off, so this may be a reason for the bond rout to stop. A deal that provides temporary relief to Greece may cause some further selling of bunds and Treasuries, while a Greek default is likely to cause a serious safe haven bid in those governmental bond markets.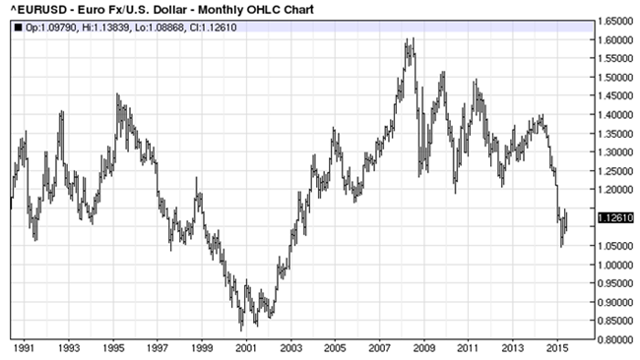 Source: Barchart.com
Graphs are for illustrative and discussion purposes only. Please read important disclosures at the end of this commentary.
A Greek default is a big negative for the EURUSD exchange rate which is consolidating recent losses by moving sideways in the $1.045 to $1.145 range. Our delayed Fed rate hike may have helped the euro stop falling, but it seems it is only a matter of time before we revisit parity on the (not so) common euro currency.
The intermediate and longer-term dynamics of currency markets suggest the euro may not stop at parity. If the tapering of QE caused the U.S. Dollar Index to move from 80 to 100, what would some actual quantitative tightening do? There is a massive synthetic short position against the dollar where rate hikes in the U.S. will help push the dollar and cause more of a short squeeze than we already have.
As recently reported by Bloomberg News, data from the Bank of International Settlements shows that sovereign and corporate borrowers outside of the U.S. - many of them in developing nations - owe a record $9 trillion in U.S. currency, up from $6 trillion at the end of 2008, much of which will need to be repaid or rolled over right about the time of the now-delayed Fed tightening cycle. A major reason for the 50% surge in dollar borrowings is the Federal Reserve policies related to the financial crisis that kept both long-term and short-term interest rates suppressed and made it advantageous to borrow in U.S. dollars. When a corporate or a sovereign entity borrows dollars, it later sells them to spend the borrowings in its local currency. When those borrowings have to be repaid the dollars need to be bought back resulting in the covering of a gargantuan synthetic short position by multiple borrowers at the same time.
A rate hiking cycle by the Fed - no matter how long it will be drawn out by the 2016 U.S. Presidential elections (as well as by a weak global economy) - will put a burden on those borrowers as they will need much more of their local currencies to buy an appreciating U.S. currency, in effect adding fuel to the fire, in order to repay those borrowings. Furthermore, the dollar's share of global foreign reserves is rising again and is at present, at 63%, above the record low of 60% of U.S. dollars in central bank forex reserves in 2011. Since that percentage was at 73% a decade ago, further increases in the dollar/forex reserve ratio will add to dollar appreciation. Five years ago the euro was still hailed as an alternative to the dollar, but developments in the old "PIIGS" euro-zone crisis, as well as the increased likelihood that Greece will leave the common currency, have caused forex reserve holders to question the viability of the euro.
Here Comes a Retest of Russia's Lows
While the geopolitical situation certainly does not help at the moment, based on the dynamics in energy and metals markets we appear to have started another leg lower in the Russian RTS Index. This latest downturn is possibly en route to a retest of the infamous December 2014 low resulting from the crash of the Russian ruble and the extreme action in oil futures.
The Russians are between a rock and a hard place. The Chinese economy seems to be deteriorating further, which is a result of record leverage in the financial system and a busted real estate market. Metals and energy prices are deflating - representing the bulk of Russian exports.
Dr. Copper - the metal with a PhD in Economics - has been slowly deflating for three years as Chinese demand has progressively weakened. Copper's advanced degree comes from its superior electrical connectivity, which causes it to be in high demand in construction and industry, but other metals prices, most of which are also economically sensitive, show similar weakening trends.
It is the general nature of commodity declines to get moving slowly at first and then to exhibit sharp increases in volatility. We saw that with oil in late 2014 and I am wondering if we are not about to see the same thing happen with metals like copper that have active futures markets.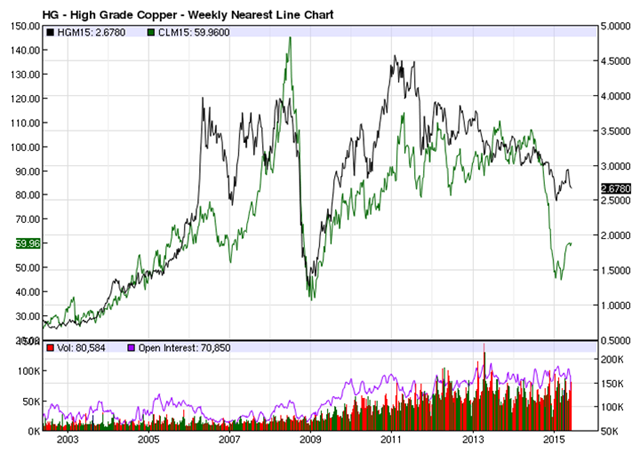 Source: Barchart.com
Graphs are for illustrative and discussion purposes only. Please read important disclosures at the end of this commentary.
Oil (the green line, above), whose seasonal rebound seems to be fizzling out, is also driven in a major way by what goes on in China as the mainland is the #1 consumer of that commodity. Oil futures rallied in the spring as record supplies in storage went down, but U.S. oil production in particular has also kept rising consistently over the past year, making the U.S. the #1 producer of oil. I think further rises in U.S. production, coupled with the weakening of demand from China as well as the end of the strong seasonal demand for oil in the summer, will result in another leg down in the commodity that would be in a position to take out the spring low. If that happens, I expect the Russian ruble to weaken notably and the RTS Index to retest the nebulous lows from December 2014 as well as December 2008, which are in the 500-600 area of support for the index. (The RTS closed last week at 950.)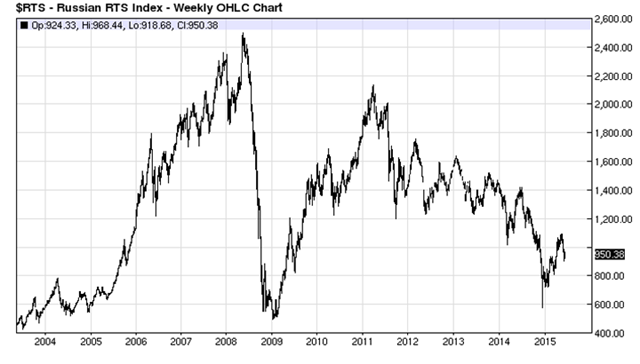 Source: Barchart.com
Graphs are for illustrative and discussion purposes only. Please read important disclosures at the end of this commentary.
The ruble is a commodity currency mired in a geopolitical mess. I believe it would have declined anyway, due to the decline in oil and metals prices, but now the situation is much more complicated because of economic sanctions. I think a retest of the all-time low in the ruble may also be coming should commodity prices deflate later in 2015 and should the present geopolitical standoff not be resolved by peaceful means.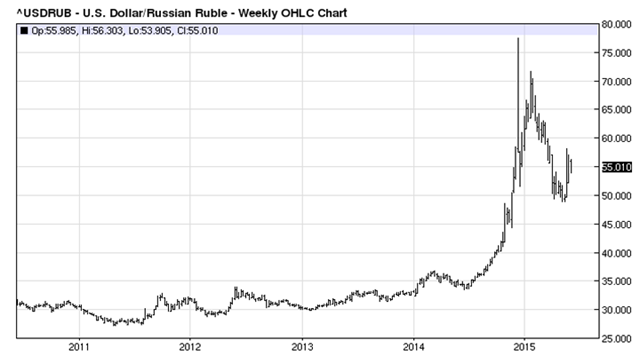 Source: Barchart.com
Graphs are for illustrative and discussion purposes only. Please read important disclosures at the end of this commentary.
The Russians also seem to be preparing for something big. They are working on an alternative to the SWIFT payments system and they are already running it domestically. I am not sure how they can have it up and running internationally, but they sure seem hell-bent on trying. If they are methodically circling the wagons, it pays to ask: What do they think is coming next?
Disclosure: *Navellier may hold securities in one or more investment strategies offered to its clients.
Disclaimer: Please click here for important disclosures located in the "About" section of the Navellier & Associates profile that accompany this article.