This article was written by Bernardo Teixeira from EAC Management
Investment Theme:
Presently it is widely known that human society has been using natural resources at an unsustainable scale. Whether one believes that climate change is real or not, one fact that should not be questioned is Earth's incapability of sustaining human development growth at the rates expected by economists and scientists. On the bright side, one recent trend that is helping to slow this non-maintainable situation is the population's increasing shift from animal-based protein towards plant-based ones.
In general, plant-based protein is significantly more sustainable than its animal counterpart, as it requires less water, land, and other resources to be produced. Plant-based diets are those in which the ingredients are not derived from animals, also known as vegan diets.
While this includes vegetables, legumes, grains, etc. the recent trend in the growth of "fake meats" provides even more options for those seeking to eat more sustainably. These "fake meats" act as substitutes to animal meat by closely resembling animal protein's taste and texture. In addition to this environmental and economic motivation, there are numerous studies highlighting the health benefits of plant protein-based diet.
With an increasingly more health and environmentally conscious society, some plant-based food producers are expected to grow significantly in the foreseeable future. Many startups and some corporations have seen large growth rates in their plant-based product line. Start-ups like Impossible Foods and Beyond Meat have raised millions of dollars in venture capital respectively over the last couple of years from noteworthy investors like Bill Gates.
However, for everyday investors willing to take advantage of the shift towards plant-based food from public corporations, there are only a handful of options available in today's market. Furthermore out of the companies that sell vegan products that are publicly traded today, the majority of them are not the most shareholder friendly type. The purpose of this article is to provide a pathway for investors willing to take advantage of this investment theme.
The Environmental and Geopolitical Case for Plant-Based Food Manufacturers
While there are ethical debates on reasons for adapting to a plant-based diet, researchers have been discovering a myriad of scientific motives for reducing animal protein consumption. According to a United Nations Environment Programme's (UNEP) report, one of the authors, Edgar Hertwich, reports that not only are animal products as harmful as burning fossil fuels, they also cause more damage to the environment than producing all construction minerals1.
It is estimated that as of last year, there were around 17 billion livestock in the world2, which is close to 3x as many humans as there are in the world. In UNEP's view, a global shift towards a vegetarian diet is key to saving the world from hunger, poverty and the worst impacts of climate change.
The report describes that meat and dairy products account for 70% of global freshwater consumption. In addition, animal products account for around 38% of total land use and 19% of the world's greenhouse emissions3. One of the biggest downsides of the absurdly high land use to raise livestock is the fact that the majority of these areas were once part of rainforests, hence the massive rates of deforestation.
Assuming that the human population is expected to grow to 9.1 billion people by 2050, there is a compelling long-term economic, geopolitical and environmental case for corporations that produce meat/dairy product substitutes.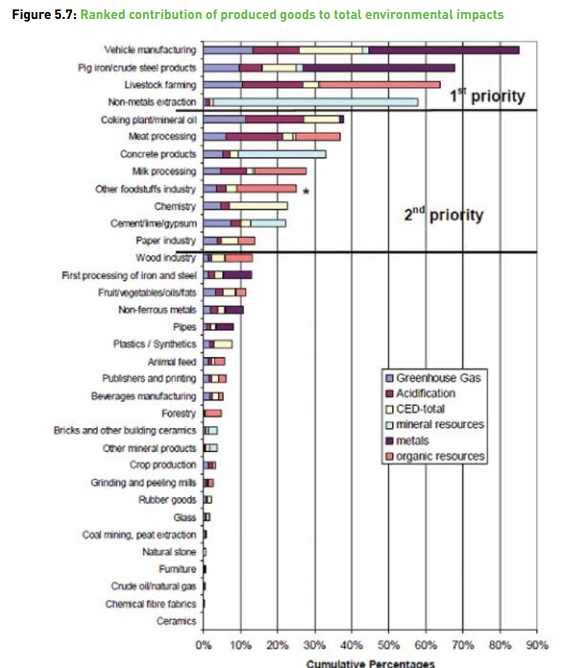 Source: UNEP: Assessing the Environmental Impact of Consumption and Production
Regarding the United States, it is estimated that the support of livestock consumed around 40% of total fresh water (this includes how much water was spent to grow the livestock's food). According to the Water Education Foundation, it takes around 2,464 gallons of water to produce one pound of beef in California. This is contrasted with a mere 25 gallons of water needed to produce one pound of wheat or 320 gallons to produce one pound of tofu.
Furthermore, animal protein is tremendously ineffective in terms of transformation of energy as it takes 6 kilograms of plant protein in order to produce one kilogram of animal protein4. Ultimately, the economic cost of energy ($/kcal) of most plant-based products is drastically smaller than the animal counterpart.
For example, it takes $0.050 for every calorie of milk at the retail price, but it takes $0.017 for a calorie of peanuts/almonds, which is the main ingredient in some dairy alternatives. A similar price difference can also be seen in cattle ($0.041 $/kcal at retail level) and soybeans ($0.009 $/kcal at retail level), the ingredient of widest use in meat substitute products.
This shows that in general there is an economical case for vegan products. In theory, as technology progresses, vegan food should be cheaper and healthier thus more competitive than animal products
Some of The Challenges Plant-Based Firms Face Today
Why hasn't society already moved to a more economically efficient and environmentally friendly way of life? Much of "fake meat" and dairy substitute's failures towards capturing a larger portion of the market has been due to the fact that changing human behavior is extremely difficult, especially when it comes to someone's diet.
There are many social and religious stigma factors that act against the introduction of revolutionary food products. Therefore, a new vegetable-based product can't just be a little bit healthier and/or cheaper than its animal counterpart to be competitive, it has to be better by an order of magnitude.
The biggest challenge in the animal protein substitute industry has been to produce products that resemble and taste exactly like meat in a scalable and economic manner. Many of the corporations that have tried to succeed in the field have accomplished either meat resemblance or scalability, but not both. As of late, the expectation of many food entrepreneurs and scientists is that the next wave of plant-based protein will be both affordable and tasteful.
On top of the demand issues described above, there are other supply barriers that prevent plant-based protein from taking off. In the food production chain, there are several major stakeholders in the process of transforming raw materials into food. Usually, these stakeholders can be divided into farmers, who are the producers of the plants, and food manufacturers, who are responsible for transforming plants into food.
There is a major supply issue in the profitability of plant-based products for farmers in general. On the one side for most animal-based food products, there is little transformation after the product leaves the farm. But on the other side most plant-based products pass through an exhaustive transformation before reaching its final product.
For example, soybeans have to be processed through a food manufacturer for it to become a soy hamburger or chicken. Thus, a large part of the retail price of plants are in fact left for the food transformation businesses instead of the farmers. It is estimated that merely 5.7% of the retail price of soy or wheat are absorbed by farmers, which can be contrasted with a 31% and 47% for milk and cattle respectively4.
In addition, operating profit margins of animal-based products for farmers are meaningfully higher than for vegetable-based ones. This price difference creates a very strong incentive for farmers to continue to produce an unsustainably large amount of animal food products, which has kept the price of animal products down over the last decades. Ultimately, with the large supply of animal-based food, it is incredibly hard for plant-based food manufacturers to be very competitive in the food marketplace.
Investment Vehicles Available Today
There are several companies that have gained some attention in the media for creating animal-free competitive food products recently. Tomato Sushi is developing tasty fake tuna, Hampton Creek is using a synthetic substitute to replace eggs, and Beyond Meat is selling plant-based ground beef and chicken strips nation-wide through Whole Foods5 (WFM). However, all of these groundbreaking start-ups are not currently available for public investors. As of today, there are only a handful of vegan firms that are public, they are:
1. Tofutti Brands (NYSEMKT:TOF)
2. Solazyme (SZYM)
4. WhiteWave Foods (NYSE:WWAV)
5. Hain Celestial Group (NASDAQ:HAIN)
This author argues that the first two firms should not be considered a viable investment option. None of them have ever demonstrated any sort of operational profitability, and are likely to go bankrupt in the near future. In contrast, WWAV and HAIN are incredibly profitable today, and are expected to continue to grow significantly in the near future.
White Wave Foods
WhiteWave Foods is a food manufacturer that focuses primarily on plant-based dairy substitutes and some organic dairy products. Some of the firm's most notable brands are Silk, SO Delicious, Alpro, International Delight, Land Lakes, and Horizon Organic. According to WhiteWave's last annual financial report around 36% of the company's revenue comes from their plant-based dairy division and 28% from coffee and creamer products, and the rest from the organic dairy/fruits and vegetables part of the business. Given the company's innovative product line, it has seen a dramatic increase in sales over the past few years with a CAGR of 13% since 2010.
Analysts expect that the company will continue to grow exponentially in the next few years, well above industry averages. On top of the extensive revenue growth, one very interesting aspect about White Wave is that the company delivers EBITDA margins and return on invested capital that are higher than industry averages, something very surprising for a company that just recently opened its capital for public investors and is devoted to a series of social causes.
Table 1 - Industry EBITDA and ROIC:
| | | | | | | |
| --- | --- | --- | --- | --- | --- | --- |
| | Industry | WWAV | DA | BARN | HAIN | DF |
| EBITDA | 10.3% | 11.4% | 14.9% | 9.1% | 14.0% | 2.0% |
| ROIC | 10.4% | 13.6% | 14.0% | 9.4% | 13.8% | 1.4% |
Below are our estimations of how the market is currently pricing WhiteWave:


Source: Produced by the author
Hain Celestial Group
Hain Celestial Group is another food manufacturer that has captured the eyes of some parts of the vegan community recently. Compared to WhiteWave, Hain has a much more comprehensive vegetarian/organic product line. From dairy substitutes to meat-less sausages, Hain Celestial is pretty much in all vegetarian/organic food businesses in a variety of countries. Similarly to WWAV, Hain Celestial has seen incredible growth and profitability rates in the recent past. HAIN's 5-year revenue CAGR has been above 17% and its EBITDA margins close to 14% LFY.
Below are our estimations of how the market is currently pricing Hain Celestial Group:

Source: Produced by the author
Downside of Investing in WWAV and HAIN
One negative aspect of investing in White Wave and HAIN is that they are currently being traded for a premium over competitors. Both companies' forwardly adjusted EV/Sales and EV/EBITDA trade above industry averages, which signify there is some potential overvaluation. In addition, WWAV and HAIN's PB is well above average further showing the slightly rich valuation.
Table 2 - Trading Multiple Comparison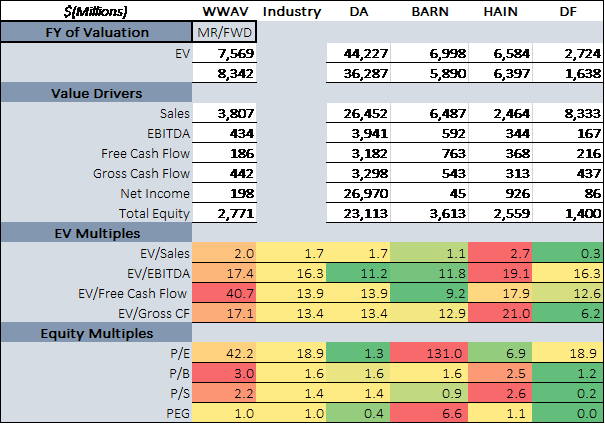 Conclusion
In conclusion, we believe that despite being traded at high multiples, WWAV and HAIN still are the best investment vehicles for investing in a plant-based future. We believe that there is a compelling long-term story for these companies that will help them drive excess return/growth rates. Nonetheless, we view this sort of investment as the growth at a reasonable price type as these companies are being traded for a premium.
Disclosure: The author has no positions in any stocks mentioned, and no plans to initiate any positions within the next 72 hours. The author wrote this article themselves, and it expresses their own opinions. The author is not receiving compensation for it (other than from Seeking Alpha). The author has no business relationship with any company whose stock is mentioned in this article.
Additional disclosure: Please note that both WWAV and HAIL's product line are not entirely vegetarian/vegan. Both companies have some organic animal based products. Anyhow, out of the companies that are being publicly traded, WWAV and HAIN are the ones that have the most comprehensive vegetarian product line.
Editor's Note: This article covers one or more microcap stocks. Please be aware of the risks associated with these stocks.