Early this year the general consensus was for the Fed to raise rates for the first time in June, but that was before Q1 Advance GDP. Advance GDP infamously came in at just 0.2% which changed everything. After that, September became the earliest liftoff date anyone was talking about which is still the general consensus now.
Since that abysmal GDP print, convincing evidence has come out suggesting the BEA's seasonal adjustment made Q1's GDP appear artificially low. The San Fransisco Fed even came out saying if GDP were double seasonally adjusted it would have been 1.8% rather than 0.2%: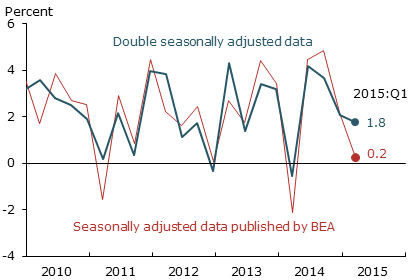 While there was other bad data around this time, it is clear to me that the Q1 weakness was both overstated and transitory. One bad GDP print, a notoriously inaccurate number to begin with, doesn't overshadow years of improving economic conditions: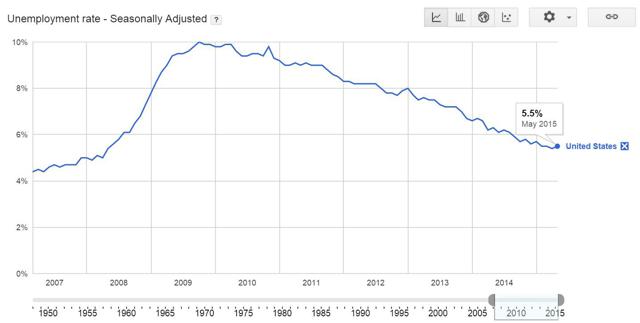 The US economy is strong enough for a rate rise now and the Taylor Rule suggests a rate rise is needed. Even Bernanke's modified version of the Taylor Rule shows the need for a rise: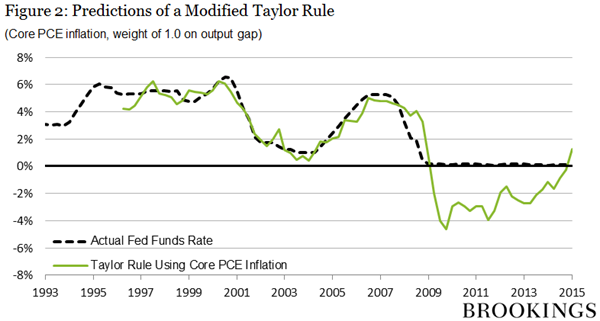 Although some members of the FOMC may want to raise in June, it won't happen. Since the market currently expects a late year liftoff a June rate hike is off the table. If the Fed were to raise rates in June it would take everyone by surprise and there would be a disruptive reaction by the markets. The Fed absolutely does not want this so they will not raise in June. As I said before, the general consensus in the markets is that liftoff will occur between September and December. While this is also my baseline view, I see a scenario setting up that points to July.
Last month there was a surprise m/m rise in April's Core CPI of 0.3%. While the Fed's preferred measure of inflation is Core PCE, up a disappointing 0.1% in May, rest assured they took note of the rise in CPI. Just as with GDP, a single data point isn't very meaningful. What's interesting is that there's been other evidence recently suggesting inflation might be back. Average hourly earnings beat expectations in May rising 0.3% and the Employment Cost Index has been seeing strong gains for quite some time.
While the evidence is still mixed at this point, a rise in inflation now would make sense. There has been a lot of debate about what the natural rate of unemployment is and it is conceivable we're already below at our current 5.5%. If that is the case then the labor market is getting tight and inflation should be expected going forward.
Inflation now would terrify the Fed. There is a mountain of liquidity out there and since the Federal Funds rate is still at 0.25% there is a real danger that the Fed will be behind the curve on inflation. It is certainly possible that inflation is here now and the Fed hasn't got the luxury of waiting to raise rates any longer.
June 18th, the day after the June FOMC meeting, CPI will be released at 8:30am EST. If May's Core CPI comes in at 0.4% or higher a July rate hike is on the table. Bare in mind that a CPI reading of 0.4% is not likely, but it is possible and worth planning for. According to the CME Group FedWatch, the market is only assigning a probability of 6% for a July rate hike: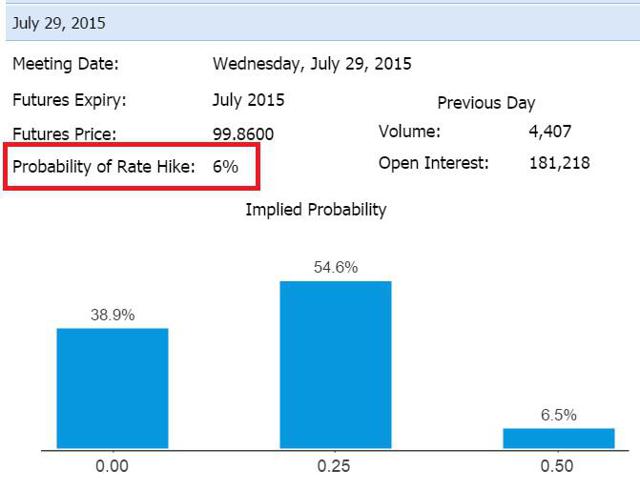 If May's CPI comes in high, expectations for liftoff will shift to July and the market will have to reposition itself. This will cause a sharp rise in the dollar (NYSEARCA:UUP), a sell-off in bonds (NASDAQ:TLT), and likely a sell-off in equities (NYSEARCA:SPY).
Despite a July liftoff being improbable, it is an underappreciated risk that you should to be aware of. Note that even if May's CPI comes in high, the Fed won't be looking at that in isolation. In addition to May's CPI, between now and the July FOMC meeting the Fed will also have June's NFP (released on July 2nd) and June's CPI (released on July 17th) for their consideration.
Disclosure: The author is long SPY. The author wrote this article themselves, and it expresses their own opinions. The author is not receiving compensation for it (other than from Seeking Alpha). The author has no business relationship with any company whose stock is mentioned in this article.