A Master Limited Partnership, or MLP, is a type of partnership that is publicly traded on a securities exchange. MLPs combine the tax structure of limited partnerships with the liquidity of publicly traded securities. Usually, private partnerships are relatively illiquid compared to public equities. In this low interest rate environment, many consider MLPs a sensible long-term income oriented investment allocation.
Most MLPs are publicly traded oil and gas pipeline businesses that earn stable income from the transport of oil, gasoline and/or natural gas. Many derive their revenue based on the amount of product transported and are not sensitive to price fluctuations except where they affect demand.
Some MLPs involve other natural resources, and certain other industries, but oil and gas are the most common. Additionally, not all oil and gas-oriented MLPs own pipelines. Some extract petroleum, while others store it, and there are also MLPs that specialize in specific sub-categories such as propane, which is produced as a by-product of natural gas processing and petroleum refining.
MLPs usually provide their investors, the limited partners, with distributions which are similar to dividends, but taxed differently. It is expected that the distribution growth of MLPs can grow at a rate at or ahead of inflation, based upon energy demand and price growth.
Below are recent equity performance rates for five high-yield, small cap MLPs that are publicly traded in the United States: Breitburn Energy Partners L.P. (BBEP), Calumet Specialty Products Partners LP (NASDAQ:CLMT), Ferrellgas Partners LP (NYSE:FGP), Martin Midstream Partners LP (NASDAQ:MMLP) and Pioneer Southwest Energy Partners (PSE). I have provided 1-week, 2012-to-date, 3-month and 6-month equity performance rates, as well as the current annualized yield each MLP distributes.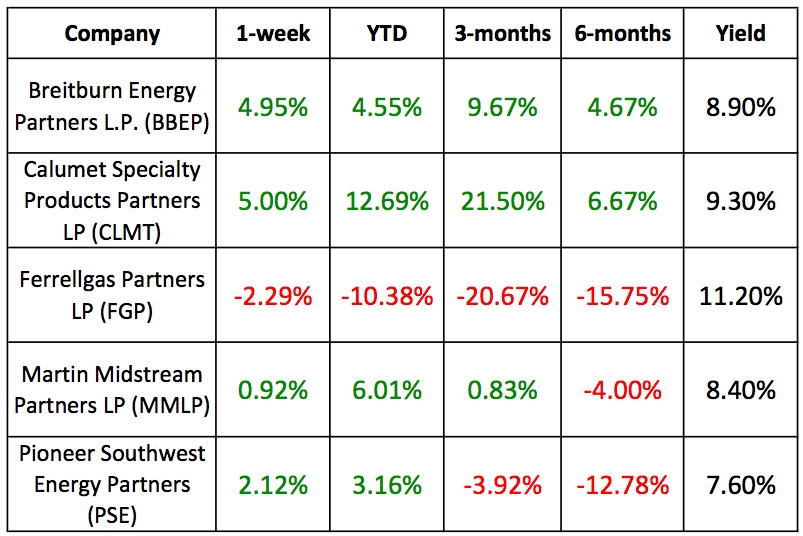 All of the above-listed MLPs have appreciated so far in 2012, except for Ferrelgas, a propane distributor. Like natural gas, propane prices have been under weakness over the last several months.
On Wednesday, January 25, 2012, Ben Bernanke extended the Federal Funds Rate policy of keeping interest rates near zero to through 2014. This will likely push additional income investors into allocations that have rates above near zero, including high-yield MLPs. Additionally, several larger MLPs and corporate entities in the industry may consider acquiring these small MLPs.
Since MLPs are partnerships, they do not pay corporate income taxes. The tax liability of the MLP is passed on to its holders. Each investor receives a K-1 statement that details their share of the partnership's net income. Partnership income is then taxed at the investor's individual tax rate. MLPs may also make cash distributions that are not taxed received, but reduce the cost of partnership shares/units and create a tax liability that is deferred until the MLP is sold.
Disclosure: I have no positions in any stocks mentioned, and no plans to initiate any positions within the next 72 hours.
Disclaimer: This article is intended to be informative and should not be construed as personalized advice as it does not take into account your specific situation or objectives.