Introduction - The Dividend Spectrum
I use a Dividend Spectrum to screen for stocks that meet my long-term dividend goal. My ultimate dividend goal is a function of:
My investment timeframe -- I am 39 years old and expect to retire at 65. Therefore my investment timeframe is 25 years.
A reasonable dividend growth rate (DGR) -- say 8%
A reasonable starting yield -- say 3%
Taking the above inputs I work out that a reasonable Yield on Cost (YOC) in 25 years would be in range of 35%-40%.
So my overall objective is to achieve 35%-40% YOC over 25 years, but I don't have to take the 3% starting yield and 8% DGR journey to get there. I can take other journeys:
A 4% starting yield and 5.5% DGR will get me to my YOC goal in 25 years.
A 1.5% starting yield and 13% DGR will get me there too.
And so on. There are many combinations I can consider.
I have summarized all the different paths I can take to my 35%-40% YOC goal in what I call a dividend spectrum.
| | | |
| --- | --- | --- |
| Yield | DGR | Chowder |
| 5.5 | 2.5 | 8 |
| 4.5 | 4.7 | 9.2 |
| 4 | 5.5 | 9.5 |
| 3.5 | 7 | 10.5 |
| 3 | 8 | 11 |
| 2.5 | 9.5 | 12 |
| 2 | 11 | 13 |
| 1.5 | 13 | 14.5 |
| 1 | 15.5 | 16.5 |
The dividend spectrum can be run as a screen to return both low and high yield stocks. It opens up new investment possibilities that are tailored to my end goal for my investment timeframe.
Finally, here's the dividend spectrum shown as a graphic using the Miller Howard online calculator. Hopefully this picture explains the Dividend Spectrum more clearly.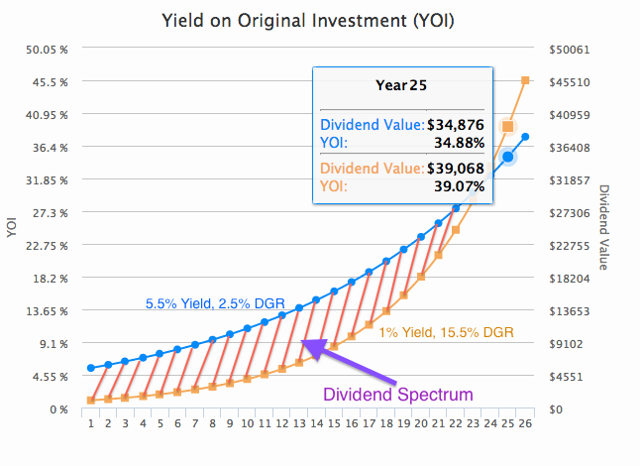 The CCC List
When I get the time, I like to download the CCC list into Excel and filter the data with some criteria. The CCC list is a fantastic resource that is provided free to the community by the tenacious efforts of David Fish. (Many thanks David. I certainly appreciate the efforts as I suspect many do.)
And I can run the dividend spectrum against the CCC list to return investment candidates that could be more likely to meet my 35%-40% YOC goal.
But the CCC list isn't just about dividends. It also provides a lot of other useful data for a boring and conservative guy like me who wants to try and find secure dividend growth stocks.
So I filtered the CCC list (released at the start of June) using the following criteria:
Debt/Equity < 0.5 (maybe indicates a strong balance sheet)
Payout Ratio < 0.5 (maybe indicates strong Free Cash Flows)
Return on Equity > 0.15 (maybe indicates someone I can trust to reinvest the profits of the business)
And most importantly --

Annualized

Earnings Growth must be equal to or greater than Annualized Dividend Growth over the last 5 years
In an ideal world, dividend growth should be funded exclusively from earnings growth. A growing dividend is unsustainable in the long run without commensurate earnings growth to support it.
Of course the world is not always ideal. We will have blips where earnings growth cannot support dividend growth exclusively. In this event, I want dividend growth supported by a strong balance sheet with surplus cash and FCFs with a good surplus beyond capex, company acquisitions, dividends and buybacks.
So now that I have explained my rationale, here is a table with a list of candidates returned from my screen of the CCC list.
| | | | |
| --- | --- | --- | --- |
| Yield | DGR | Chowder | CCC Candidates |
| 5.5 | 2.5 | 8 | No Candidates |
| 4.5 | 4.7 | 9.3 | No Candidates |
| 4 | 5.5 | 9.5 | Bank of Nova Scotia (NYSE:BNS), Royal Bank of Canada (NYSE:RY) |
| 3.5 | 7 | 10.5 | Waddell & Reed Financial Inc (NYSE:WDR), West Bancorp Inc. (NASDAQ:WTBA), Westwood Holdings Group (NYSE:WHG) |
| 3 | 8 | 11 | ExxonMobil Corp. (NYSE:XOM) |
| 2.5 | 9.5 | 12 | Nu Skin Enterprises (NYSE:NUS), Qualcomm (NASDAQ:QCOM), T Rowe Price (NASDAQ:TROW), Valero (NYSE:VLO) |
| 2 | 11 | 13 | Accenture plc (NYSE:ACN), Cummins (NYSE:CMI), Gap Inc (NYSE:GPS), MSC Industrial (NYSE:MSM), Texas Instruments (NASDAQ:TXN) |
| 1.5 | 13 | 14.5 | AmTrust Financial Services Inc (NASDAQ:AFSI), East West Bancorp (NASDAQ:EWBC), Jack Henry & Assoc (NASDAQ:JKHY), Magna International (NYSE:MGA), Thor Industries (NASDAQ:THOR-OLD), WW Grainger (NYSE:GWW), Williams-Sonoma (NYSE:WSM) |
| 1 | 15.5 | 16.5 | A.O. Smith Corp (NYSE:AOS), Bank of the Ozarks (OZRK), Estee Lauder (NYSE:EL), Polaris Industries (NYSE:PII), TJX Companies (NYSE:TJX), Walt Disney (NYSE:DIS) |
Conclusion
Over the last few months I have tried to build a portfolio that will hopefully meet my long-term goal of 35%-40% YOC in 25 years. I have tailored a spectrum of Initial Yield and Dividend Growth rates around that end goal.
I am also anxious that I invest in secure dividend growth stocks. For me, this means a good balance sheet and strong FCFs with a management team that can re-invest profits better than I can.
I have leveraged the fantastic CCC list to return a list of interesting investment candidates that are tailored to my particular investment tastes and risk profile. I will try to write up my analysis of some of these candidates in the coming weeks to determine if they should be added formally to my watchlist.
I would like to stress that this screening process is far from perfect. It failed to pick up some interesting investment candidates like Helmerich & Payne (NYSE:HP) and National Oilwell Varco (NYSE:NOV). Both companies failed the ROE screen but have very low levels of debt. I'm sure there are many other examples.
But my screen gives me plenty of options. Far more than I can handle and some interesting names I have never considered. Of these candidates, I am only long T Rowe Price. Exxon, Qualcomm and WW Grainger have been on my radar for a while.
If you are interested, you can have a look at my current portfolio here.
Disclosure: The author is long TROW. The author wrote this article themselves, and it expresses their own opinions. The author is not receiving compensation for it (other than from Seeking Alpha). The author has no business relationship with any company whose stock is mentioned in this article.