Context: Macroeconomic Environment
Change is one of the few constants in this world but over the past decade the energy sector has truly experienced a revolution. Much of this activity is driven by American ingenuity and capital. The electric car manufacturer Tesla (NASDAQ:TSLA) had an initial public offering of $226.1 million and was the first American automaker to IPO since ford in 1956 cnn.com. U.S. solar electric installations for 2014 are estimated at 7,000 megawatts; a figure approximately 50 times higher than in 2006. Over the same time period average photovoltaic system prices have declined from $8/watt to $2.50/watt representing a decrease of 68.75% seia.org. Energy investors no longer have the luxury of paying attention to only oil and gas.
The developments on the oil and natural gas side of the equation are no less dramatic. In mid-2014, the United States, the epicenter of shale oil development and extraction, surpassed Saudi Arabia and Russia as the world's top oil producer. The U.S. has been battling Russia off and on for the title of the world's largest natural gas producer bloomberg.com. The combination of horizontal drilling and hydraulic fracturing paired with continually improving geological technologies has added tens of billions of barrels of recoverable oil reserves globally. Between 2011 and 2013, the EIA estimates shale and tight oil reserves increased over 1000% from 32 to 345 billion barrels. In the context of total world resources, the overall increase in due to the inclusion of shale oil and shale gas over the same time period is 10% and 32% for oil and natural gas respectively as a percent of total world resources eia.gov. These figures have likely increased further since the report was published in mid-2013. Natural gas first felt these effects by dragging along under $2/MCF in 2011 and remain under $3/MCF despite a few advances into the $4 range. While crude oil has an almost unlimited number of factors determining its price at any given time, we all witnessed the power of the incremental production from primarily shale plays on oil markets in late 2014. For those of us familiar with crude futures trading, the initial widening of the Brent WTI spread (which some began calling the "shale oil spread") was an early indication of how prolific U.S. production was and would become.
Low Probability is Not Zero Probability
First, we will define a few terms.
· Resource: total amount of discovered hydrocarbons
· Recoverable resources: resources times the recovery rate which varies based on the characteristics of the oil, formation, and recovery process.
· Commodity term structure: futures prices of a commodity relative to different maturities
· Contango: the term structure has a positive slope and the futures price is above the spot price
· Backwardation: term structure has a negative trend and futures prices will be lower than the current sport price
· Normal Backwardation: futures prices is lower than the corresponding expected spot price in the future
· Equilibrium price: price when the market's determination of the appropriate rate of return on oil and natural gas is based on an assumption of inexhaustibility instead of non-renewable.
Successful investors must predict cash flows and subsequently firm values well into the future. This requires recognizing and reacting to structural changes as they modify the investment landscape. Although nearly every respected institution including BP statistics, which in my opinion creates the most comprehensive annual energy outlook, still expects petroleum consumption to increase for the foreseeable future due to developing world population and income growth, energy investors must respect the potential of the following scenario: Global energy consumption moves toward renewable resources and away from fossil fuels, particularly oil and natural gas, at a faster rate than expected,
and or
Technological advances mitigate the risk of exhausting supplies to the point the finite supply factor is no longer priced in,
combined with
Markets are able to reliably determine that existing recoverable resources are able to meet future global demand. Instead of being priced as a non-renewable resource, oil and natural gas pricing evolves toward a renewable resource model like that of corn or livestock.
Why is this distinction critical?
For starters, undeveloped acreage profitable at prices above the equilibrium price become worthless instead of a "call option" on energy prices. As a result, windows (e.g. the Eagle Ford shale has three well identified windows each with distinct allocations of oil, NGLs, and dry gas) of some formations, if not the entire formations, no longer have economic value. Capital structure, particularly firms diverting meaningful cash flow to pay interest on debt, ends up a larger factor in deciding firms' long term prospects than previously.
Excess returns, previously dependent on market cycles, are for the most part systematically eliminated. The futures market changes to that of a renewable resource with significant implications to hedgers and speculators. The prospects of firms that use oil and gas as meaningful inputs in terms of operating costs, for instance natural gas accounts for 95% of feedstock for ammonia based fertilizer manufacturers petrowiki.org, will change.
"Equilibrium Price"
The equilibrium price of oil and natural gas will change as a function of production and operating costs as it does now. Obtaining speculative/unproven acreage and the sort of frenzy of activity such as by Aubrey McClendon's American Energy won't be necessary if proven assets' estimated ultimate recoveries (EUR) are expected to last us through the transition to renewables. Note that we do not have to, nor are we likely to, completely move away from hydrocarbon based energy. That is not a necessary assumption for market values to behave as if supplies are inexhaustible at current prices.
I built a rough model of operating costs to estimate the actual production costs of major oil plays globally which make up the bulk of the approximately 90 million barrels a day of oil produced globally. The details of this model are too granular to include here but I plan on writing an article on it in the future when it is more refined. The bottom line is about 55 million barrels or 60% of current oil production is very likely to have operating costs below current spot prices of $50/bbl. About 68 million barrels a day or 75% of current production has a 50/50 chance of being sustainable at current spot prices (<$60/bbl WTI). This leaves us with 22 million barrels derived primarily from more costly unconventional onshore (parts of some U.S. shale formations and very heavy crude in Canada and Venezuela) and deep off shore (Brazil's Lula oil field). Unsurprisingly, we have and continue to see activity decline markedly in these areas. This is one reason I am highly confident oil will return to and stabilize at $60-65/bbl or greater.
The below chart is well known in the energy space and was produced by Morgan Stanley's Commodity Research division. It provides very "generous" ranges in production costs but is in general alignment with my research.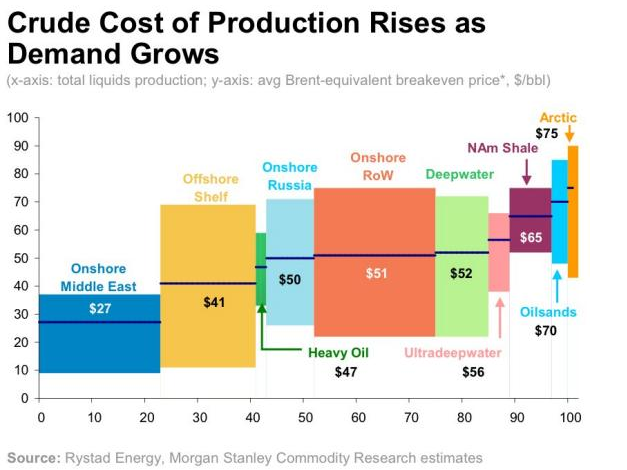 The reason I am highly confident but not certain is because:
Production costs, perhaps due to unforeseen technologies, could reduce development and extraction costs through an outright reduction or though much higher EURs at the same cost. This will impact some firms much greater than others within the energy sector.
While highly unlikely because of population growth and the sheer incremental increase of vehicles in use, due to either greater vehicle efficiency or a massive decline in global economic activity, aggregate demand in the short to medium term could fall to that of the mid-1980's of 55-60 million barrels a day eia.gov. By my estimates, we will not need the higher cost sources mentioned previously at these demand levels.
Aggregate demand falls due a transition to electric and or natural gas powered vehicles. More than 70% of global oil consumption powers vehicles freshenergy.org.
Crude oil prices, which will always vary somewhat by region and grade, would normalize in the $35-45 range. The range represents the combination of the degree of certainty associated with the transition away from oil and the length of time it takes (shorter equates to lower prices as less capital investment is required). OPEC budgets would have to return to those of the mid 2000's or lower which would cause immense strain but is not impossible. Whether current regimes would still be in charge in the aftermath is a different question.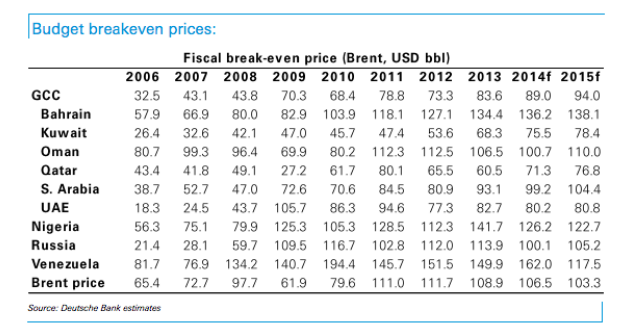 As the above chart depicts, Deutsche Bank estimates over half of a group of the world's major producers (the largest missing from this list is the U.S.) had fiscal - much less operating - break-even prices below $45 as recently as 2006.
Impact on Futures Market
Longer dated contracts would suffer serious losses if the curve adjusts from contango to backwardation. While this change in the commodity term structure is not guaranteed to occur, it is more likely than not. Firms with a stronger hedge position (while it lasts) would enjoy significant short-term returns; even more so than today with Memorial Production Partners, LP (NASDAQ:MEMP), for example, outperforming its peers due much in part to its industry best hedging portfolio.
Firms in higher cost per barrel areas (e.g. Oasis Petroleum's (NYSE:OAS) non-core Bakken assets) would no longer be competitive and find it extremely difficult to raise capital. As reserved based lending is often structured through the futures curve, the backward dated nature would have prices below their production costs indefinitely.
Producers are no longer likely to participate meaningfully as hedgers on longer dated contracts. We saw this occur recently as management throughout the sector generally said they opted out of re-establishing hedges as they rolled off.
Profitability
Firms with greater than average interest payments as a percentage of cash flow would be unlikely to survive. Internal rates of return (IRRs) eventually normalize to the cost of capital and a small premium; perhaps 15%. To put this into context, core Eagle Ford wells can still deliver >20% IRR with today's prices and a high (10%+) cost of capital. Firms with a significant amount of enterprise value derived from higher cost acreage would face sharp reductions in market value.
Mitigating Risk
Firms like EOG (core areas, high operating efficiency, low interest obligations) would be chosen over OAS (primarily non-core exposure, not as operationally efficient, significant interest obligations). This would occur regardless of their relative value. Vertically integrated firms like CVX, aided by its large refining base, would better withstand the new environment than others without the upstream component. This varies considerably depending on the type of upstream assets - those that produce adhesives, coatings, and tiles will benefit while petrochemical companies could face challenges.
Consider going long firms that benefit from the transition. This is a giant investment area but it could be solar firms (e.g. Jinko Solar (NYSE:JKS) which is cost and margin leader), better positioned automotive manufacturers (e.g. a reasonably valued version of TSLA or a "standard" company like Ford (NYSE:F) if it happened to become market leader in electric cars/trucks), or firms with crude oil derivatives as major cost inputs (e.g. PPG Industries (NYSE:PPG) in which 70-80% of Cost of Goods Sold are raw material inputs consisting mostly of propylene).
Within the energy sector, focus on midstream assets servicing primarily or all core formation areas likely to be developed even in a very difficult commodity price environment. Core assets of the Eagle Ford are one example.
Disclosure: The author is long JKS, LINE, LNCO, KMI, OAS, YPF, BBEP, MCEP, VNRAP, ETP.
The author wrote this article themselves, and it expresses their own opinions. The author is not receiving compensation for it (other than from Seeking Alpha). The author has no business relationship with any company whose stock is mentioned in this article.