It is at about this time every quarter that I usually provide an update on the distribution prospects of the variable rate, refinery owning MLPs. There are three MLPs in the group:
The defining characteristic of these MLPs is their policies of quarterly full net cash flow variable distributions. For the crude oil refining business, both the raw material costs and the refined product prices are set by the energy markets. As a result profit margins can and often do vary significantly from quarter to quarter based on the prices a refinery pays for crude oil and the prices it receives for its refined fuels and other products. Thus, the quarterly distributions from these MLPs can vary significantly from quarter to quarter.
For a deeper dive into how the refining MLPs operate, review my initial article covering the metrics of refinery MLPs. Read it Here.
A crack spread is the potential refining margin based on market energy prices for a specific region or set of energy prices. I track my own crack spread using weekly price data published by the U.S. Energy Information Agency. Howard Weil also publishes a weekly report that includes regional crack spread data. Since the refining MLP distributions are the result of quarterly earnings, the chart below summarizes the spreads for the preceding three quarters and the current quarter to-date.

Now that we are two-thirds through the second quarter, my WTI based spread has widened by about $1.00 per barrel and the two Weil crack spreads show increases of $1.60 and over $2.50 per barrel. The general take away is that the refiners should be looking at a more profitable Q2 compared to the first quarter of this year. I would like to look at gross profit numbers with gross margins that are $1.00 and $1.50 higher in this quarter compared to last.
Each refinery will realize its own gross operating margin per barrel based on what it actually pays for the crude oil it process. This cost can vary from published crude prices due to crude type, source differentials and transport costs. Realized fuel prices depend on a refiner's local markets. ALDW and NTI are single refinery companies and CVRR owns two refineries in close proximity to each other. This next chart summarizes unit price, distributions paid and gross operating margin data.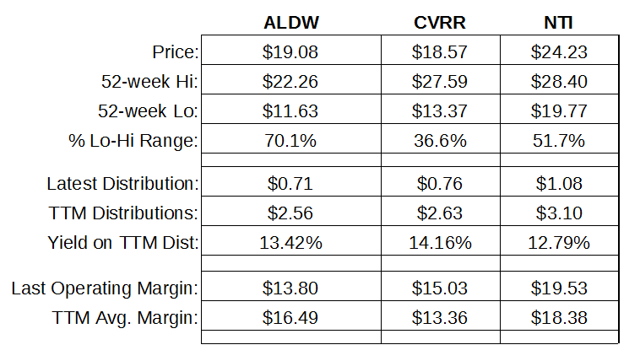 Now let's take a look at each and do a quick calculation on the effect of a wider crack spread in the second quarter.
Alon USA Partners reported gross operating margin per barrel of $13.80 in Q1 and reported direct operating expense of $3.60 per barrel. The result was a net gross profit margin of $10.20 per barrel and a $0.71 per unit distribution for the quarter. A buck to $1.50 increase in operating margin should result in a 10% to 15% higher amount of free cash flow. ALDW has also generated higher operating margins in the past on lower crack spread data. My prediction for ALDW in Q2 is a distribution of $0.80 or higher.
CVR Refining had a $15.03 gross margin in Q1 with direct operating expense of $4.44 per barrel, giving a gross profit margin of $10.59 per barrel. A $0.76 distribution was paid in Q1. The higher crack spreads in Q2 should allow CVRR to increase the payout this quarter by 7 to 10 cents, so let's forecast $0.85 per unit from CVRR for Q2.
Northern Tier Energy is the one refining MLP that has consistently generated gross operating margins greater than both the WTI/NYMEX and regional crack spreads. NTI is a very efficient operator and has benefited from the large discounts on the crude oil it sources out of North Dakota's Williston Basin play. Slowing production in the basin has resulted in a significant tightening of the price differentials for North Dakota crude. NTI has significant flexibility to use either North Dakota or Canadian heavy crude, so the question about NTI's profit margins are more open for Q2. Currently I expect a distribution that is between $1.00 and the $1.08 paid for Q1.
Unit prices for these variable distribution are quite volatile. Prices fluctuate on changes in crude prices and distribution rate announcements. Both factors do not actually affect future distribution payments. The unit values of all three are down 6% to 12% since the last distributions were announced. All three carry current yields in the mid-teens and the next distributions should maintain these levels of cash return on unit prices. I like NTI as a long-term accumulate when prices are down investment. CVRR is currently the most undervalued and should give the biggest unit price gain if the distribution is increased as I forecast.
I will report back after distributions are announced in late July early August to review how my projections collided with reality.
Disclosure: The author is long NTI.
The author wrote this article themselves, and it expresses their own opinions. The author is not receiving compensation for it (other than from Seeking Alpha). The author has no business relationship with any company whose stock is mentioned in this article.