Even as German economic sentiment recedes, the deflation cycle is ending alongside rising retail sales, aiding the euro. The German currency is represented by CurrencyShares Euro Trust (NYSEARCA:FXE).
In June, the ZEW economic sentiment figure came in at 31.5, below the previous month's reading of 41.9, while also missing estimates for 37.1. A reading above zero signals optimism. After reaching 60 a few times over the past few years, the sentiment figure has fallen lower, unable to reach extreme optimism, seen below. Political tensions between Greece and its European creditors, as well as global weakness weighs on the sentiment measure.
"External factors are reducing the scope for further improvement of Germany's good economic situation. These include, in particular, the ongoing uncertainty over Greece's future and the restrained dynamic of the global economy.

Greece and its creditors are locked in a stalemate after loan talks collapsed, bringing Athens just two weeks away from a catastrophic default on its debt," according to Yahoo News.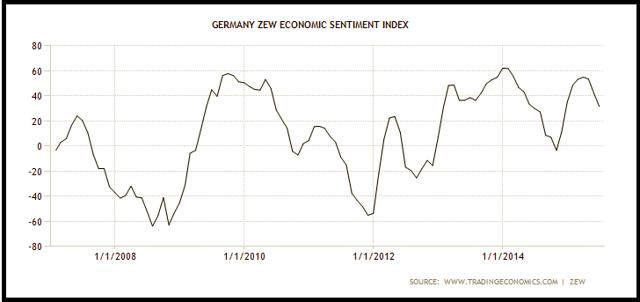 Meanwhile, deflation looks to be over, for now. In May, the inflation figure came in at an annual pace of 0.7%, above the previous month's reading of 0.5%, while also exceeding estimates for 0.7%. After bottoming at -0.4% contraction in early 2015, inflation has steadily risen to current levels, seen below. Prices for food and energy declined less than in previous months.
"Year-on-year, energy cost [total] decreased by 5.0 percent, following a 5.9 percent drop in the preceding month.

Prices were down for: heating oil (-16.7 percent), motor fuels (-6.3 percent), gas (-1.4 percent) and electricity (-0.9 percent). In contrast, prices of solid fuels increased by 2.3 percent.

Cost of food and non-alcoholic beverages increased by 1.4 percent, (including food +1.4 percent), after registering a 1.2 percent rise in April. Prices rose markedly for vegetables (+9.0 percent) and fruits (+5.6 percent).

Prices rose also for confectionery (+3.5 percent), fish and fish products (+2.0 percent) and bread and cereals (+1.4 percent)," according to Trading Economics.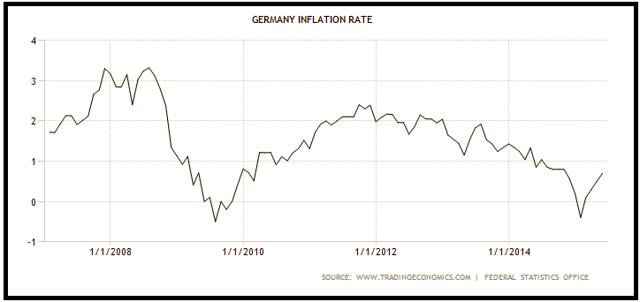 Finally, as the domestic economy improves alongside a low lending rate environment, consumer spending has rebounded higher. In the most recent month, the retail sales figure came in at an annual pace of 2.06%, slightly below the previous month's reading of 2.09%. After bottoming at -0.15% contraction in the summer of 2013, consumer spending quickly rose to current levels, seen below.
Germany's economy is improving as consumer spending and inflation expansion take some of the pressure off of policymakers. Up to this point, it looks as if newly enacted stimulus measures are making its way through the euro area economy.
While Greece battles with geopolitical crisis, many of the other economies in the periphery are strengthening. Although stimulus measures will likely limit gains in the euro currency, economic strength is improving investor sentiment.

Data provided by the OECD
Disclosure: The author has no positions in any stocks mentioned, and no plans to initiate any positions within the next 72 hours.
The author wrote this article themselves, and it expresses their own opinions. The author is not receiving compensation for it (other than from Seeking Alpha). The author has no business relationship with any company whose stock is mentioned in this article.