By Tom West
The latest Job Openings and Labor Turnover Survey was a headscratcher. It showed a solid jump in openings to 5.376 million (up 276,000) to a cycle high 3.7% rate. Great news, right? But actual hiring failed to keep up with openings and has been flat since December. So does that mean the labor market is tight? After all, the ratio of jobless workers to open positions has been dropping for some time. But this ratio excludes all the discouraged workers. And if overall conditions were that good, I think we would see it expressed in higher consumer confidence. Ultimately, people do tend to be good judges of their own employment outlook.
Exhibit 1: Job openings and labor turnover survey (JOLTS) data levels (in millions)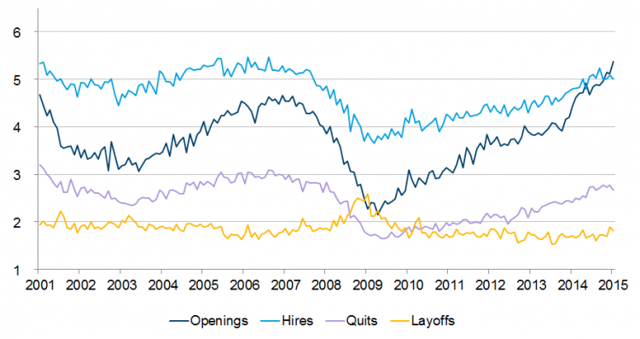 Source: Bureau of Labor Statistics, 07/15
I think the answer is friction: when the location and skillset of workers just doesn't match up with the location and skills required for the open positions. Yes, the overall employment picture is better than it was, which is why friction becomes more apparent. This lines up with what we hear from the companies we follow: some firms report no labor supply issues while others are reporting persistent difficulty in finding qualified applicants for certain job descriptions. Firms are trying a variety approaches from innovation to just plain offering more money to solve the labor friction dilemma.
Last week, the Wall Street Journal reported on the shortage of skilled workers in the construction industry. They mentioned how an electrical contractor was pre-assembling home wiring assemblies on a shop floor to get the most out of limited skilled labor out on job sites. And there are firms specializing in connectors, fasteners and prefabricated systems all aimed at reducing on-site construction labor by providing engineered solutions. On a larger scale, engineering and construction firms are building things like LNG plants in modular form so that pieces can be built in lower wage regions and floated to a final destination for installation and final assembly. This reduces that labor committed in expensive regions or hazardous conditions.
In the operating room, we see better lighting systems specially designed for illuminating structures in the body/blood during minimally invasive procedures. These systems have been shown to reduce times surgeons spend attaining proper visualization and confidence, justifying their greater expense. Likewise advanced cutting and stapling tools enable surgeons to cut and close faster, with more precision and fewer complications. Orthopedic companies have developed tools and implants custom-designed for their patients, not only enabling a more precise fit but reducing the time the surgeon takes to achieve the desired outcome. In many of these examples, not only is OR time saved, but the better outcome is reducing the chance a follow-up surgery is required.
Investing in machines and technology to reduce labor and increase productivity is as old as the wheel. But the examples above struck me as different from the old narrative of factory automation replacing labor in the factory, or the factory itself moving to find cheaper labor. Technology, engineering and planning are being applied to reduce on-site labor in one region and replace it with either a manufactured solution or labor from a lower cost region. Put another way, it seems like the reach of automation and globalization has extended to jobs that seemed more immune to these forces. Domestically, it is not a win-win solution to the labor friction problem, since the production need is met while pulling fewer people into the workforce.
Disclaimer: The views expressed in this material are the views of the author through the date of publication and are subject to change without notice at any time based upon market and other factors. All information has been obtained from sources believed to be reliable, but its accuracy is not guaranteed. There is no representation or warranty as to the current accuracy, reliability or completeness of, nor liability for, decisions based on such information and it should not be relied on as such. This information may contain certain statements that may be deemed forward-looking statements. Please note that any such statements are not guarantees of any future performance and actual results or developments may differ materially from those discussed. There is no guarantee that investment objectives will be achieved or that any particular investment will be profitable. Past performance does not guarantee future results. This information is not intended to provide investment advice and does not account for individual investor circumstances. Investment decisions should always be made based on an investor's specific financial needs, objectives, goals, time horizon and risk tolerance. Please see our social media guidelines.