The Census Bureau reported housing starts and building permits data for May today (Tuesday, June 16). The 11.1% drop in starts was significantly below the 4% decline from April expected by Wall Street analysts. While May housing starts plunged from April, housing construction permits soared 11.8% from April. However, a detailed analysis of the data reveals that the jump in permits was attributable to a suspicious surge in permits for apartment buildings in the northeast. Outside of this outlier datapoint, permits were flat from April to May. In my opinion, the housing starts data in single family homes reflects declining home-ownership demand and signals an impending contraction in the housing market.
May housing starts dropped 11.1% in May from April, with single family unit starts falling 5.4% and multi-family units dropping 18.5% (data from the link at the top). Although the month to month data reporting in the housing starts series has been volatile, there has been a definitive downtrend in starts since the beginning of 2013 (source: St. Louis Fed, edits are mine):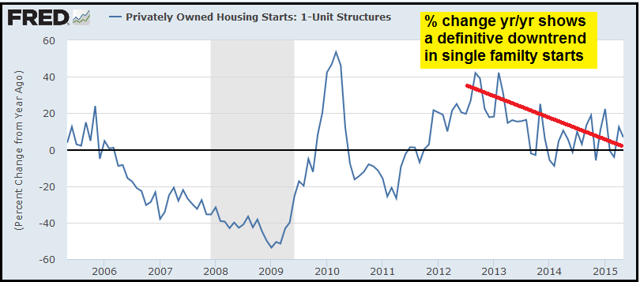 The above graph shows the monthly year over year rate of change for single family housing starts. As you can see, the rate of growth has been declining consistently since early 2013. Despite widespread optimism about the relative health of the housing market, the deterioration in the rate of growth of single family reflects slack demand for new homes and the persistent decline in the rate of home ownership (source: Census Bureau, Zerohedge):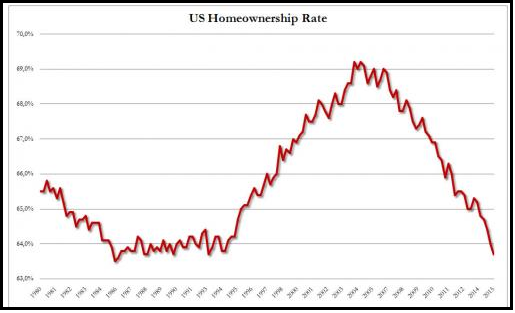 While housing starts dropped, analysts and the media pointed to the big jump in building permits as an indicator that the drop in starts would be temporary. However, an analysis of the data behind the headline number for permits shows that the number was heavily distorted by an outlier spike in apartment building permits in the northeast. This graph below shows the big jump in permits for buildings with five or more units (source: St Louis Fed, edits are mine):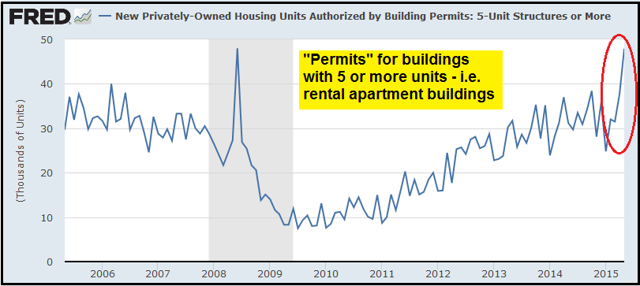 The data for permits in the report link at the top shows that permits were heavily skewed by a 77.7% month to month and a 165% year over year jump in May apartment building permits in the northeast. As John Williams of Shadostats.com explains:
The permits jump likely came from a skyscraper in New York City or other large structures, where such units require multiple permits, and the multiple counts are annualized by the Census Bureau. That will not translate into an equivalent number of starts.
Thus, it would appear that the permits data was heavily distorted by technicality in the way in which permit data is collected and calculated by the Census Bureau and is not reflective of an overall surge in housing permits. In fact housing permits for single family units were otherwise basically flat, rising just 2.1%.
Finally, the big drop in starts deviates significantly from the homebuilder "sentiment" index released yesterday, which showed a big jump in homebuilder optimism. In my view, the fact that investment in new home starts dropped in May is a much more accurate indicator of demand expectations by homebuilders than is an industry marketing organization survey measuring "confidence." In fact, as this graph below shows, homebuilder "confidence" has been persistently diverging from actual new single family housing starts (source: National Association of Homebuilders, edits are mine):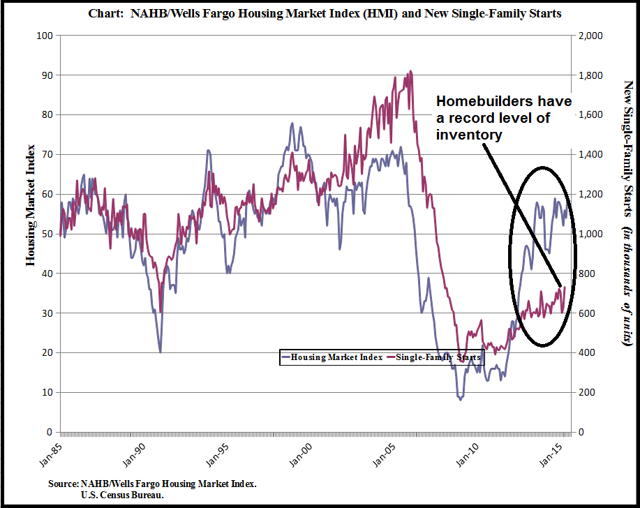 As you can see, despite soaring homebuilder optimism, unit housing starts have been basically flat since mid-2013 (NAHB housing starts spreadsheet). In my opinion, the lack of growth in housing starts over the last two years suggests that homebuilders in reality have a cautious market outlook. Moreover, I would argue that the declining rate of housing starts on a year over year basis per the first graph above reflects the likelihood that the housing market will begin to contract again.
Because of my bearish view on the housing market, especially as it is reinforced by the latest housing start data, I believe now is a great time to short the sector. I am short DR Horton (NYSE:DHI), KB Home (NYSE:KBH) and Ryland (NYSE:RYL). I also like shorts in Toll Brothers (NYSE:TOL), Lennar (NYSE:LEN), Beazer (NYSE:BZH) and Pulte (NYSE:PHM). I have reports on five of those companies on my website (Investment Research Dynamics) which go into detail on why these stocks are highly overvalued. You can also short a housing market index by shorting or buying puts on the SPDR S&P 500 Homebuilders ETF (NYSEARCA:XHB).
Disclosure: The author is short DHI, KBH, RYL.
The author wrote this article themselves, and it expresses their own opinions. The author is not receiving compensation for it (other than from Seeking Alpha). The author has no business relationship with any company whose stock is mentioned in this article.