On June 9, Economics Minister Akira Amari told reporters that financial markets will decide whether or not currencies (undoubtedly referencing the yen) are moving in line with fundamental (undoubtedly Japan's fundamentals).
The remarks come after a weekend of speculation about the strength of Japan's latest GDP report which suggests that, so called, Abenomics have done wonders to turn around Japan's disappointing 2014.
Interestingly, analysts suggest that the yen's dismal 2014 contributed much to the surprises in GDP. Without increases in consumer spending, some doubt if Japan can sustain this pace.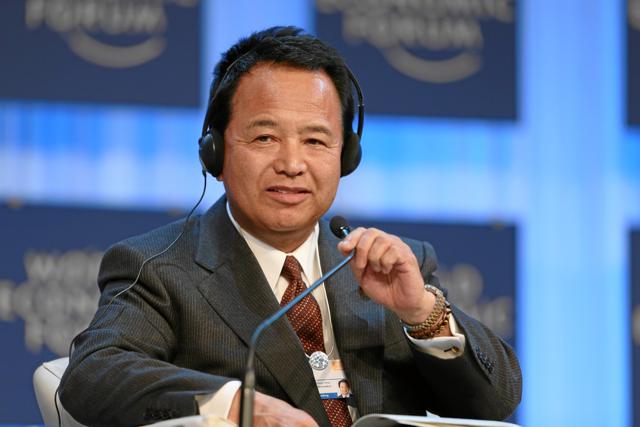 (Japan's Economic Minister, Akira Amari at the World Economic Forum - CC SA 2.0)
Outside Looking In
The world's third largest economy experienced its second straight expansion from quarter to quarter on data delivered early in June. Initial growth estimates saw Japan's expansion reaching 2.4% - a positive in its own right. However, Q1's annualized growth came in at 3.9%, stunning analysts' expectations.
The growth rate represents the largest expansion for Japan in two years. In light of the 0.9% drop in real GDP in FY2014, the Q1 outperformance reflects well on Shinzo Abe's stimulus package, known as Abenomics. Actually, unadjusted for price changes, Japan's GDP grew the most since Q2 1990. However, concerns for future expansion in 2015 linger (more on that later).
Behind much of Japan's Q1 growth was an increase in private, non-residential investment. On an annualized basis, investments rocketed 11%. An initial reading of capital spending was a mere 1.4%. That's H-U-G-E.
Leading capital spending in Japan are export-heavy manufacturing industries. Specifically, auto parts took a leading role in lifting the health of Japan's economy. Q1 spending also ramped up in services like retail and utilities.
While economists' initial estimates fell short of Japan's actual Q1 performance, when it comes to exports, they were not wrong. Exports grew an annualized 9.9% in Q1, evidence that yen denominated currency pairs are benefiting from the yen's recent performance.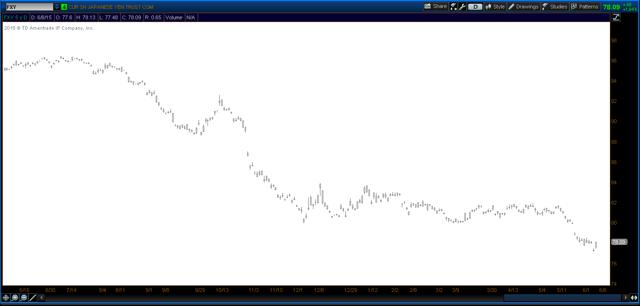 (FXY - thinkorswim)
The Spoils of War
What has been labeled the "currency war" has been central to helping Japan's exporters. The yen has performed dismally in 2014. The Guggenheim Currency Shares Japanese Yen Trust (FXY-chart above), which is designed to track the price of the Japanese yen, is down over 18% year over year.
Andy Mukherjee at Reuters reports that in the last six months, "the dollar price of [Japan's] wares" fell more than 2% in the US. As a pair, the yen has lost more than 16% against the dollar since October of 2014. In that same time, the Euro fell 14% against the US dollar.
As Mukherjee puts it, the yen has won the "race to the bottom" and the outcomes are increased volumes for exporters.
The uptick in capital spending is also a synchronicity of the yen's weakness. Quarter over quarter, the 2.7% increase in business investments symbolizes corporate motivation to increase capacity while the opportunity is there. Mukherjee suggests the investment growth is a race for market share.
The Consumer Variable
In 2014, Japan felt the brunt of a recession that lasted the better part of two quarters. In response, to the general lull in the economy, Prime Minister Shinzo Abe began turning the dials on the country's Abenomics measures. One of last year's adjustments was a 3% increase in the national sales tax to 8%.
Along with the country's slow wage growth, evidence suggests consumers are still unwilling to spend. Most economists believe this will put pressure on Japan's Q2 and Q3 expansion.
The Wall Street Journal quotes economists at Capital Economics saying,
While revised data show that Q1 GDP expanded even more strongly than initially estimated, a slowdown in Q2 looks likely.
Consumer spending in Q1 2015 came in at 1.5% growth - a number unchanged from initial estimates. Amidst all the expansion happening in Japan, it appears to not be making its way down to consumers. In the face of such a dramatic increase in taxes, Q1 consumer spending was its lowest in over a year.
Inventories also seem to point to decreased consumer spending. Auto makers are one of many industries experiencing gluts. While business inventory growth made up over half of the 3.9% GDP expansion in Q1 2015, much of this surplus is expected to be in preparation for new product releases in the fall.
Some analysts aren't as optimistic, believing that the increase in inventories may be insurmountable in the following quarters and will lead to a significant slowdown in Q2 and Q3.
Japan's current account (a common measure of trade) actually fell below expectations in Q2, from 1.7 trillion yen to 1.3 trillion yen.
The Japan Times (NYSE:JT) quoted senior economist at SMBC Nikko Securities Inc., Koya Miyamae, saying "[the] economy could fall into negative growth in April-June" on account of weak consumption and exports in April.
The Japan Center for Economic Research polled 41 private-sector economists who project Japan's economy will slow to 1.7% in Q2.
Monitoring inventories will be important. Watching consumer spending will be even more important. As Economics Minister Akira Amari suggested, we should watch financial markets to determine the fundamental strength of Japan's young economic recovery. Tokyo has been proactive in its Abenomics adjustments, and is likely to continue in this way.
While a 3% hike in consumer taxes will certainly be a drag on GDP growth in 2015, we should keep in mind that it is still early. Actual GDP growth beat by 1.4%. Businesses are only just starting their re-investments in growth, and exports have a lot of revenue to deliver in the current currency environment.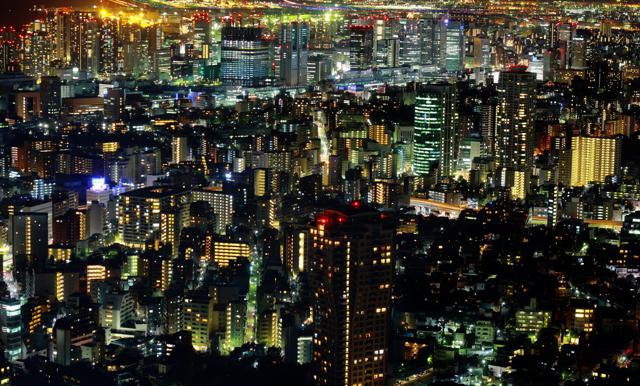 As altruists (those who are), we hope tax alleviation will come to consumers; and we also hope to see increasing signs of vitality. The Wall Street Journal (WSJ), for one, is optimistic about consumer spending, reporting that wages were actually up 0.9% in April (year over year), after coming in flat for March. "The Journal" also reports that new workers in the labor markets are bringing down national averages with low wages.
Japan's Provisional Report of Monthly Labour Survey (releases by Japan's Ministry of health, Labour and Welfare) should be watched closely by believers and skeptics alike. We can see the evidence for ourselves. If Japan's recovery continues on this path, we will want to see wages continue to rise along with consumer spending.
For now, kudos to Japan's robust Q1 recovery.
Disclosure: I/we have no positions in any stocks mentioned, and no plans to initiate any positions within the next 72 hours.
I wrote this article myself, and it expresses my own opinions. I am not receiving compensation for it (other than from Seeking Alpha). I have no business relationship with any company whose stock is mentioned in this article.