The short answer is yes, it is still too early to go long the Commercial Banking sector. Unless, of course, you enjoy owning a business with declining margins and a regulatory regime that continues to run Amok. There are some credible arguments out there, for sure, which suggest that the commercial banking sector has bottomed. They're telling us that the regulators are running low on ideas for the next bank to punish with Billion dollar fines.
They would also have us believe that interest rates will continue to march higher, thus providing commercial banks with a much-needed boost to their net interest margins. And not to be ignored, the optimists remind us that the pool of non-performing assets has largely returned to a historically manageable level. However, as we show in the graphs below, the industry continues to face a number of substantial headwinds, and it's not clear at all when this business will return to any semblance of normalcy.
Figure 1 - Net Interest Margins for All U.S. Banks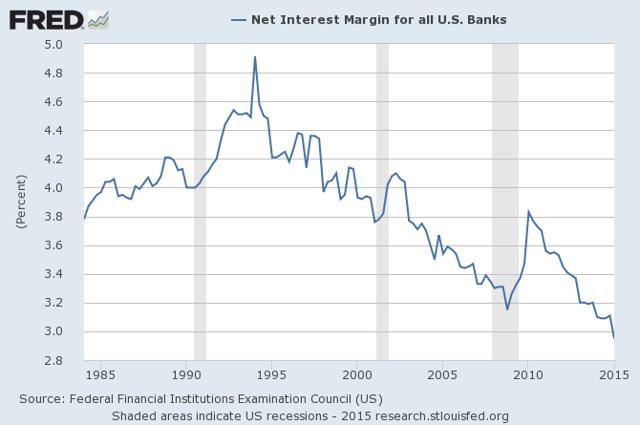 Net interest margins represent one of the key barometers, which investors use to evaluate bank performance. As Figure 1 illustrates so vividly, net interest margins have declined quite dramatically in the past two or three years, where they now stand at just under 3%. To be sure, there is an argument to be made that U.S. Treasury rates have bottomed, which may suggest that net interest margins have also hit their bottom.
Nevertheless, we doubt the Fed will be able to drive rates much higher than they already are, at least in the next year or so. In fact, we don't believe the economy is ready to deal with 10-year Treasury rates much above 3.0% at this juncture. Therefore, we think investors shouldn't get too excited here. After all, the problems with lower net interest margins are but one of several headwinds facing this sector.
Figure 2 - Total Loans versus Commercial Bank Assets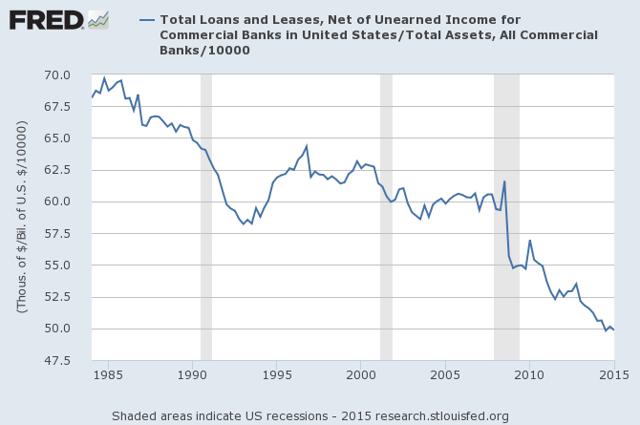 This chart really puts things into perspective for those investors contemplating a new allocation in commercial banks. Although the chart dates back to just 1985, Banks traditionally held their loans-to-assets ratio between the low 60% level to a high 60% level depending on the economy. However, since the Financial Crisis, banks have let that ratio decline to just below 50%. And quite frankly, there doesn't appear to be any sort of stabilization whatsoever.
So even if bank net interest margins were to improve any time soon, the banks are distinctly under-invested. When and if the loan/asset ratio begins to improve that may signal a turn. However, this period of under-utilizing the balance sheet is likely to extend far longer than many investors are willing to admit. And it almost goes without saying but the banks' Return-on-Assets will remain subpar as well.
Figure 3 - Percentage of Bank Assets Held in Cash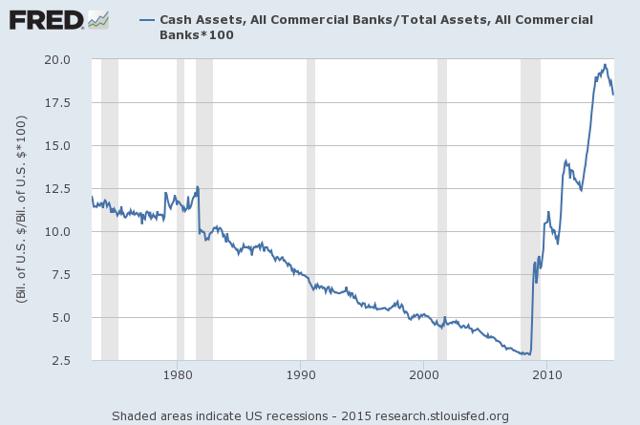 We believe that Figure 3 provides the most sobering analysis of what ails this business. As of Q1 of 2015, commercial banks in the United States held nearly 18% of their total assets in cash. While that level has diminished somewhat from levels of near 20%, that's not saying much. What's more, if you include the banks' holdings of marketable securities (including Treasuries, Agencies and mortgage-backed securities) approximately 28% of all commercial bank assets are essentially being hidden under the proverbial mattress. And much like the Federal Reserve's balance sheet of over $4 Trillion, it will take banks more than just a few years to deploy all of that cash into "earning assets".
Figure 4 - Commercial Banks and their Balance Sheets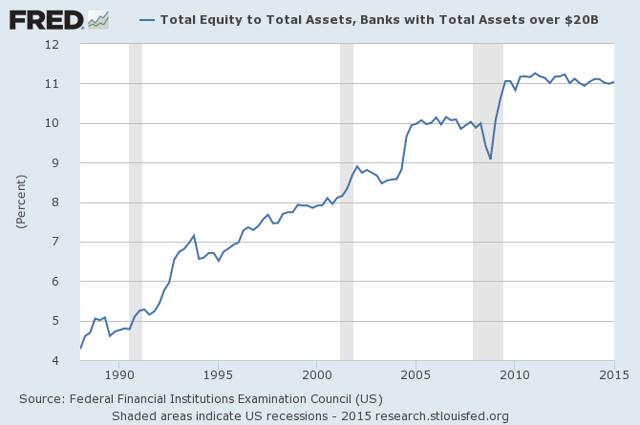 Figure 4 speaks to the longer-term concerns that we have for the commercial banking sector at large. If the regulators see fit to increase capital requirements every time we have a recession, there will come a point when risk capital will look to other avenues of investing. Perhaps even more disturbing are the massive amounts of new regulations coming under Dodd Frank. In fact, the regulators are still crafting more rules and regulations without any understanding of the likely unintended consequences, which will surely emerge. It's already apparent that Dodd Frank requires banks to greatly increase their risk management efforts, which means more employees will be needed to ensure compliance with the new regulatory regime.
This just means that the "S,G & A" line will increase by more than it should while the bottom line won't be as strong as it could be. We also think the smaller commercial banks (who cannot afford the higher costs of managing risk in the new regulatory environment) will need to merge or be acquired, forcing the large banks to become even larger. And how ironic is that? The Federal Reserve is already tasked with monitoring the larger, systemically important financial institutions. To be quite honest, we don't think the legislators creating Dodd Frank really thought this thing through at all.
The Bottom Line
We believe it's just too early for most investors to be committing serious capital to the commercial banking sector. Most of the banks are still reeling from the Financial Crisis with a regulatory regime that remains focused on fighting the last war. To be sure, there will be opportunities for the more intrepid investors going forward. And for those investors looking to play the acquisition game, you'll need to tread lightly. Indeed, handicapping the acquisition game is a tough way to make a living. Quite frankly, within the Financial sector, we would rather own the credit card issuers.
Disclosure: The author has no positions in any stocks mentioned, and no plans to initiate any positions within the next 72 hours.
The author wrote this article themselves, and it expresses their own opinions. The author is not receiving compensation for it (other than from Seeking Alpha). The author has no business relationship with any company whose stock is mentioned in this article.