Background
It is pretty remarkable how quickly market sentiment has changed in regards to higher yielding investments, specifically those in the REIT and utility sectors. Less than five months ago, I opined that the utility sector rally was getting long in the tooth, and since that article was published, utilities have been in a long and steady decline.
This decline has been triggered by fear of an interest rate hike by the Federal Reserve, and additionally by a steady rise in treasuries during the period. This can be seen quite clearly on a chart of the Utilities Select Sector SPDR ETF (NYSEARCA:XLU) and the 10-Year Treasury Rate since the article was published on January 21.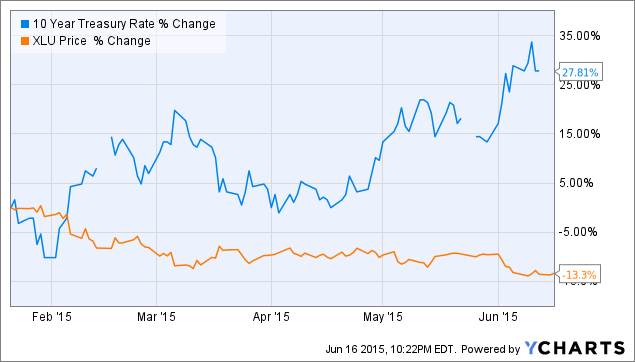 10-Year Treasury Rate data by YCharts
This pullback has presented plenty of opportunities in the sector, and there are now several excellent utility stocks trading near fair value.
I recently highlighted Dominion Resources (NYSE:D) and SCANA Corp. (NYSE:SCG) as I am working through due diligence in trying to find another utility to add to my public portfolio. In the comments section of those articles, several people presented their own utility ideas and asked what other companies I was considering. Rather than presenting those on a case-by-case basis, I found this to be an excellent opportunity to put my engineering love of spreadsheets to good use, and put all of the utilities I have interest in together in one place.
Then seeing how well Mike Nadel's series covering the Dividend Growth 50 and the more recent No. 1 Stock In The World have been received by readers on Seeking Alpha, I thought it would be a good time to present a list of my own with the "Top Ten Utilities For Dividend Growth And Income."
If there is sufficient interest following this initial article, I will likely turn this into a regular series with quarterly updates.
The Watch List
While doing my research into finding the next utility for my portfolio, I put together a 25-company watch list of utilities that I thought stood out among the rest from David Fish's CCC List. The companies on this list are all rated BBB or better from S&P, have all produced streaks of 5 or more years of dividend increases, and are all expected to show continued growth in earnings and dividends in the coming years.
| | | | | |
| --- | --- | --- | --- | --- |
| Company | Ticker | # Years Div. Inc. | S&P Credit Rating | Market Cap (B$) |
| American Electric Power | (NYSE:AEP) | 5 | BBB | $26.4 |
| Avista Corp. | (NYSE:AVA) | 12 | BBB | $1.9 |
| Atmos Energy | (NYSE:ATO) | 31 | A- | $5.2 |
| Black Hills Corp. | (NYSE:BKH) | 45 | BBB | $2.0 |
| CMS Energy | (NYSE:CMS) | 9 | BBB+ | $8.9 |
| Consolidated Edison | (NYSE:ED) | 41 | A- | $16.9 |
| Eversource Energy | (NYSE:ES) | 17 | A | $14.6 |
| Dominion Resources | | 11 | A- | $39.5 |
| DTE Energy | (NYSE:DTE) | 5 | BBB+ | $13.3 |
| Duke Energy | (NYSE:DUK) | 10 | A- | $50.2 |
| Alliant Energy Corp. | (NASDAQ:LNT) | 11 | A- | $6.6 |
| MDU Resources | (NYSE:MDU) | 24 | BBB+ | $3.9 |
| New Jersey Resources | (NYSE:NJR) | 19 | N/A | $2.4 |
| NextEra Energy | (NYSE:NEE) | 21 | A- | $44.1 |
| NorthWestern Corp. | (NYSE:NWE) | 11 | BBB | $2.3 |
| OGE Energy | (NYSE:OGE) | 8 | A- | $5.8 |
| SCANA Corp. | | 15 | BBB+ | $7.2 |
| South Jersey Industries | (NYSE:SJI) | 16 | BBB+ | $1.7 |
| Southern Company | (NYSE:SO) | 15 | A | $38.4 |
| Sempra Energy | (NYSE:SRE) | 12 | BBB+ | $25.5 |
| Questar Corp. | (NYSE:STR) | 36 | A | $3.7 |
| Southwest Gas | (NYSE:SWX) | 9 | BBB+ | $2.5 |
| Vectren Corp. | (NYSE:VVC) | 55 | A- | $3.3 |
| Wisconsin Energy | (NYSE:WEC) | 12 | A- | $10.3 |
| Xcel Energy | (NASDAQ:XEL) | 12 | A- | $16.6 |
Data Collection
The information shown above and in corresponding tables below was collected from the aforementioned CCC List, F.A.S.T. Graphs, Yahoo Finance, and from various investor presentations from the respective companies.
From this initial watch list, I went through each company and compiled information for historical dividend growth rates from the CCC List. I then used F.A.S.T. Graphs and Yahoo Finance analyst estimates to find the expected earnings for 2015 and the expected future growth rate of earnings. This was used to calculate the 2015 PE ratio and the dividend payout ratio.
I then went through F.A.S.T. Graphs to determine what the "fair value" PE is for each of the companies, and used that in comparison to the 2015 earnings estimates to determine the relative valuation for each company.
Finally, I went to the Investor Relations page of each company's website to download investor presentations to determine company guidance for future earnings and dividend growth rates and targeted payout ratios.
The compilation of this information can be seen below.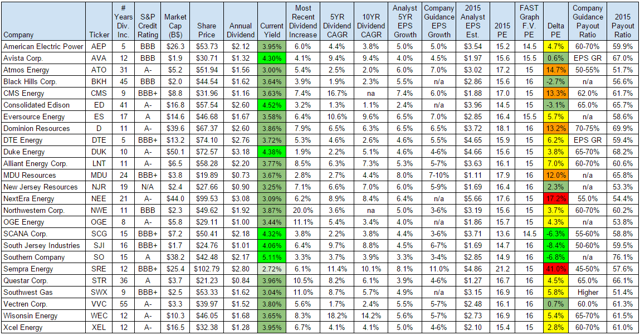 From this table, we can see that Avista, Black Hills Corp., Consolidated Edison, SCANA Corp., South Jersey Industries and Southern Company are all currently trading near fair value based on expected 2015 earnings. As a result of the lower valuations the market is placing on these companies, the dividend yields being provided are higher than most of the other companies on the list and the average yield from the six companies is 4.32%.
Income Projections
The table above provides a great snapshot of historical and present data, but doesn't provide much guidance into the future. To do that, I have added formulas for projecting the dividend into the future to provide an expectation of future returns based on the current yields, relative valuations, and expected growth rates.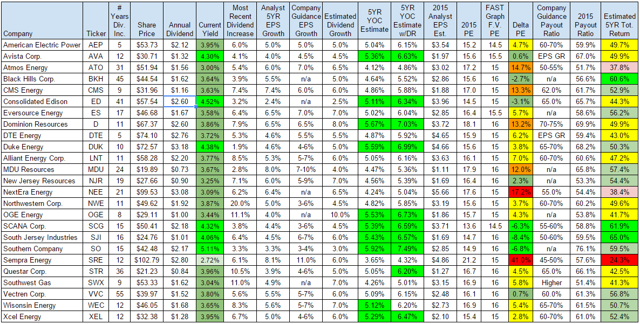 Here you can see that many of the same companies from the first graph stand out among the others, due primarily to the higher current yields and better valuations they are currently trading at.
The "5YR YOC Estimate" column shows the projected yield on cost after five years without reinvestment of dividends, which is relevant to income investors who will be spending dividends as they come in.
The following column "5YR YOC Estimate w/DR" shows the projected five-year yield on cost with the reinvestment of dividends, which is relevant to those who are further from retirement and are continuing to reinvest dividends into more shares. What is striking to me is the difference this makes on the higher-yielding utilities; as the yield on cost difference with dividends reinvested is as much as 2.5% higher after five years in the case of Southern Company.
For those interested in total returns, there are several companies with projections of around 10% annualized returns over the next five years, with South Jersey Industries, SCANA Corp., Black Hills Corp., Southern Company and MDU Resources leading the way.
The Top Ten
The final top ten were selected based on their expected five-year yield on cost. I believe this metric is relevant to both present and future retirees, as it provides a look into the future income an investment will be generating. In the case of Dominion Resources and OGE Energy, their lower dividend yields could otherwise keep them off the radar of current or near retirees. But with their higher growth rates, they may end up providing more income than many other options with higher current yields.
Keep in mind, this list is presented based on share prices and corresponding dividend yields as of June 16, and is subject to become outdated as prices change.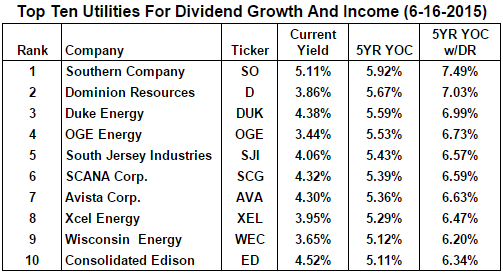 Dividend stalwart Southern Company headlines the list, with a projected YOC of nearly 6%. This is due mainly to having the highest initial yield of the watch list at 5.11%. Shares are currently depressed due to continued construction delays and cost overruns with the Vogtle and Kemper power plant projects. Yet, this is a company with very strong "A" credit rating and a 15-year track record of dividend increases. With the recent pullback, shares have dropped to fair valuation for the first time in about 18 months.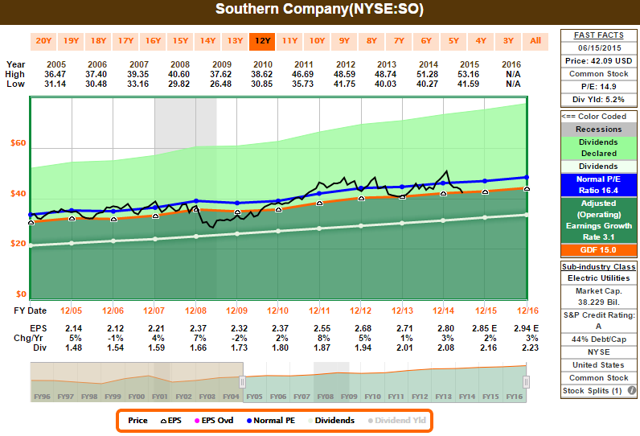 Second-rated Dominion Resources is the opposite end of the spectrum, with a significantly lower dividend yield, but also a much higher growth rate. The market has rewarded that growth as the stock trades at a much richer valuation, and appears to be a bit overvalued at current prices. However, management has guided for a strong dividend growth rate through 2020, which should lead to nice returns for long-term investors.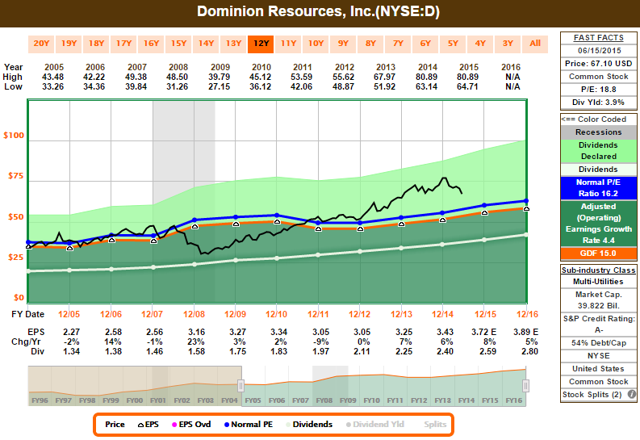 Duke Energy is another facing its share of controversy as it deals with problems from coal ash at current and former power plants, as was recently reported on by "60 Minutes." Withstanding those concerns, the company owns a solid balance sheet with an "A-" credit rating and has been able to produce a 10-year streak of dividend increases. Like Southern Company, the recent pullback has brought shares back to fair value, and presents a decent entry point.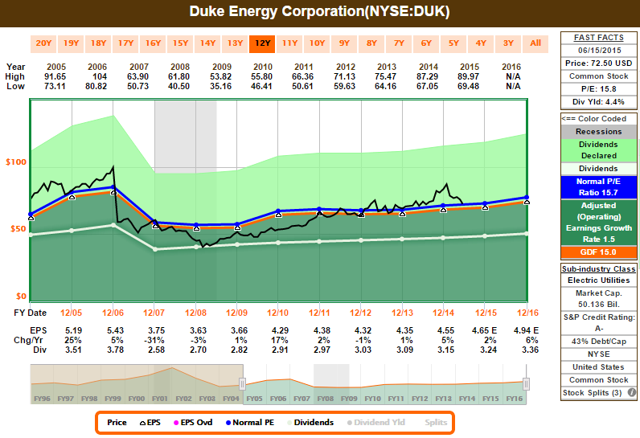 OGE Energy is a company I've rarely seen discussed on Seeking Alpha, and up until I put together this watch list, I had little knowledge of it. The company doesn't have quite the track record of others on the list, as it had a long streak of frozen payouts before it began its current 8-year streak of increases. However, looking into the future, the company is bullish on the dividend as it projects 10% annual growth through 2019. I expect increases to level off after that point and then follow the EPS growth rate from that point forward.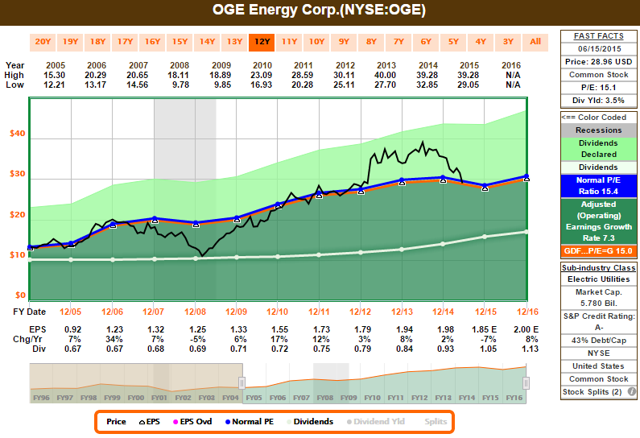 South Jersey Industries is another company that flies under the radar even though it has a great track record as a dividend growth company. The company has a 16-year streak of dividend increases and has grown the dividend at an 8.8% annualized rate over the last decade. The company is guiding for 6%-7% earnings and dividend growth into the future, which is solid growth for a 4% yielder. The recent pullback has shares trading near a 15 P/E for the first time since 2009, providing an attractive entry point in the stock.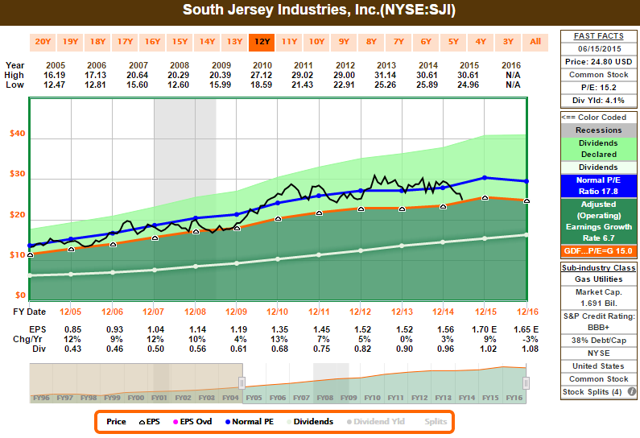 SCANA Corporation is a company that can be overlooked based on its recent slow growth of the dividend, but with the payout ratio now within target levels, I expect the growth rate to pick up a bit in the years ahead. With a current yield of 4.3%, a projected dividend growth rate of 4.5%, and the lowest valuation on the watch list at 14.3 times expected 2015 earnings, the stock appears to have some margin of safety for new investors.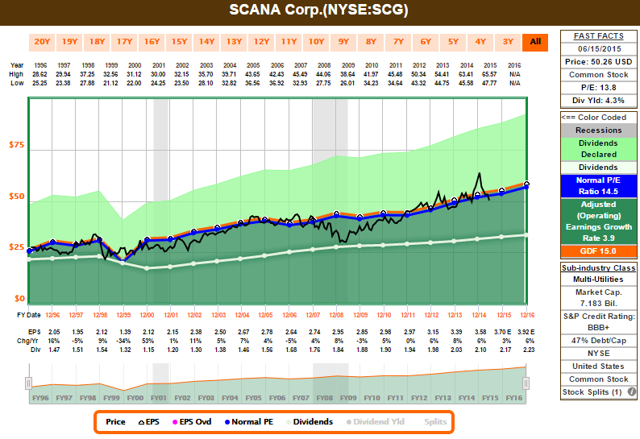 Avista Corp. has one of the more volatile earnings history, and also one of the weaker credit ratings at "BBB," but has also produced one of the highest dividend growth rates over the last decade at 9.4%. Investors expecting similar growth into the future will likely be disappointed, however, as both analysts and management are projecting 4%-5% growth going forward. While this is lower growth than recently seen, it is still attractive when partnered with a 4.3% initial yield.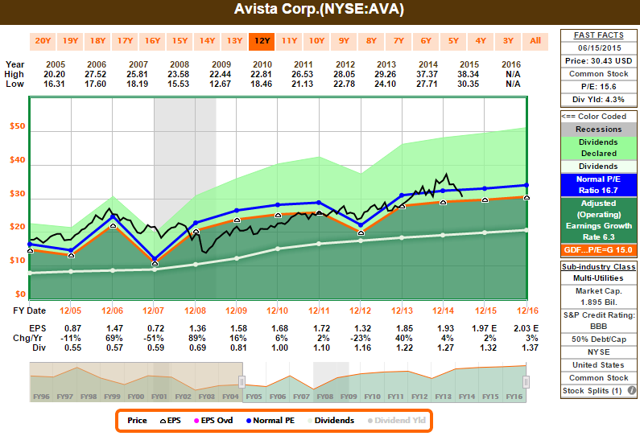 Xcel Energy has been a remarkably consistent performer over the last ten years in providing annual mid-single digit earnings growth. Dividend growth lagged a bit during the period with just 4% growth over the decade. However, dividend growth is expected to pick up as the company guides for a higher payout ratio of 60%-70% of earnings compared to the current 61% rate.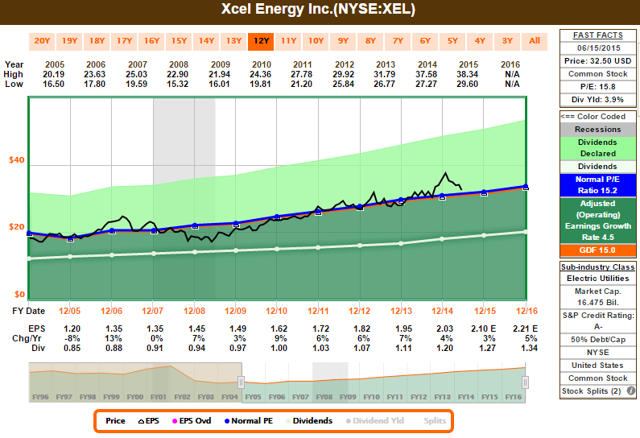 Wisconsin Energy is one of the favorites among Seeking Alpha contributors, which is easy to see based on its outstanding dividend growth rate of over 14% over the last decade. I expect this growth to slow somewhat in the future, but with the recent announcement of an upcoming 8.3% dividend increase upon completion of the Integrys Energy (NYSE:TEG) acquisition, and company guidance of a 65%-70% payout ratio in the future, dividend growth should still stay ahead of its utility peers.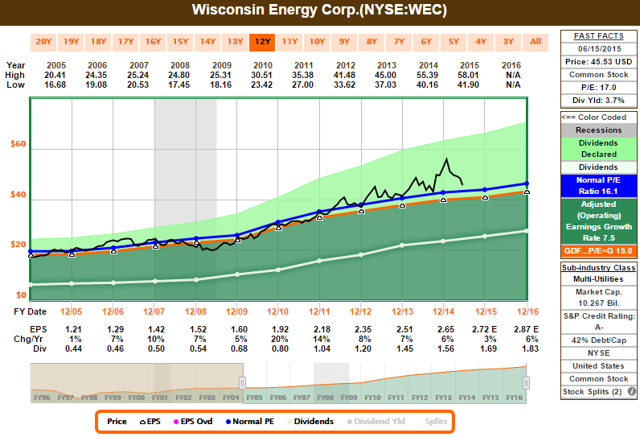 What Consolidated Edison lacks in growth, it has made up for with higher yield and stability as it holds a 41-year streak of dividend increases. The dividend growth rate has stalled recently with just 1.1% annual growth over the last decade, but I expect this to pick up a bit in future years as earnings are projected to grow at a 2.5% rate, and the payout ratio has now returned to management guidance of 65% after years of being at an elevated level.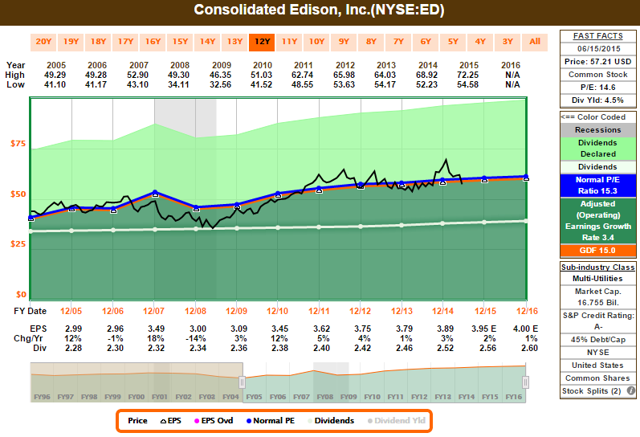 Conclusion
The recent pullback in the utility sector is beginning to present some attractive options for investors. Several high-quality companies are now trading with dividend yields over 4%, and with shares now trading near or below fair valuation, those looking for higher total returns can find the possibility of double-digit annual returns over the next five years. Assembling this Top Ten List has strengthened my opinion on SCANA and Dominion, and they remain high on my list of potential investments. It also presented some new ideas for further due diligence and gave me a new and improved perspective on some of the higher-yield, slower-growth options.
I hope this list is of value to dividend income investors. As I stated above, if there is sufficient interest, I hope to continue this as a series in the future.
Disclosure: The author is long MDU, WEC. The author wrote this article themselves, and it expresses their own opinions. The author is not receiving compensation for it (other than from Seeking Alpha). The author has no business relationship with any company whose stock is mentioned in this article.
Additional disclosure: I am a Civil Engineer by trade and am not a professional investment adviser or financial analyst. This article is not an endorsement for the stocks mentioned. Please perform your own due diligence before you decide to trade any securities or other products.