The economic environment in Brazil is deteriorating, while consumer spending is contracting, weighing on the price of the real. The Brazilian currency is represented by WisdomTree Brazilian Real (NYSEARCA:BZF).
In April, the retail sales figure came in at an annual pace of -3.5% contraction, down from the previous month's reading of 0.4%, while also missing estimates for -1.6%. Since peaking at over 15% in 2010, consumer spending has significantly declined to current levels, seen below. As various facets of Brazil's economy slow, consumer spending should continue to decline.
"It was a negative surprise, but it is not as weird in terms of the scenario we're living in. It's really widespread, which tends to show me that it's the effect of credit, income level and consumer confidence. All of these just going in the other direction instead of expansion," according to Bloomberg.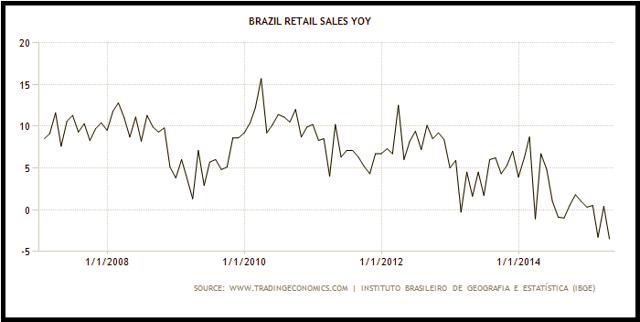 Moreover, as was stated earlier, rising inflation is cutting off consumers' purchasing power. In May, the inflation figure came in at an annual pace of 8.47%, above the previous month's reading of 8.17%, while also exceeding estimates for 8.32%. Since 2007, the inflation figure has been on a steady rise, increasing over 500 basis points over that period, seen below. Government austerity measures have pushed inflation to 11-year highs.
"Inflation has been on the rise since January when the government initiated a number of austerity measures and tax increases aiming at balancing overall budget. The new taxes have raised the prices of basics like electricity, bus fares and gasoline.

The government has been trying to fight inflation by increasing the borrowing cost. In fact, since September of 2014, the Selic overnight lending rate was raised by 275 basis points to 13.75 percent," according to Trading Economics.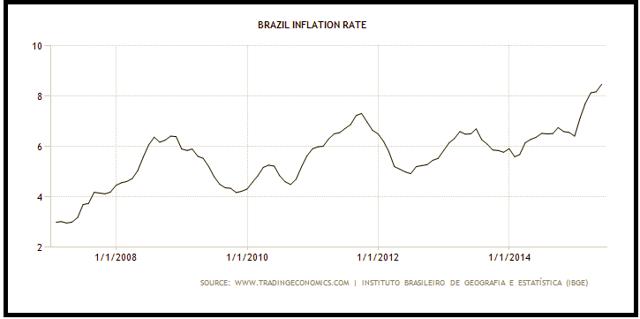 Finally rising inflation, and lower economic activity have weighed on employment. In April, the unemployment figure came in at 6.4%, above the previous month's reading of 6.2%, while also exceeding estimates for 6.3%. Although unemployment declined the past few years, it has steadily risen in 2015, seen below.
Brazil's economy is deteriorating on various levels. Consumer spending is falling as inflation rises, diminishing purchasing power. Moreover, increasing unemployment is leaving many out of work, also affecting household spending. With economic activity in Brazil declining, its currency should weaken in coming months.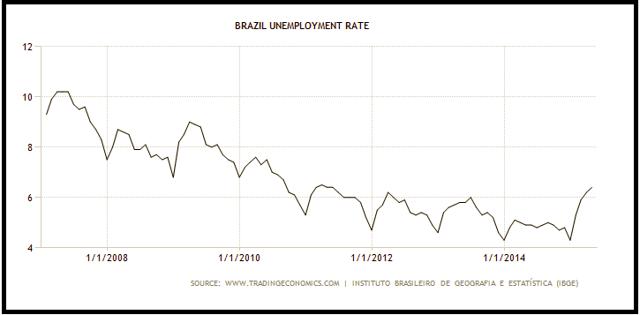 Disclosure: I/we have no positions in any stocks mentioned, and no plans to initiate any positions within the next 72 hours.
I wrote this article myself, and it expresses my own opinions. I am not receiving compensation for it (other than from Seeking Alpha). I have no business relationship with any company whose stock is mentioned in this article.