I normally only write my weekly drybulk shipping articles on Sundays but with a stunning pop in rates I figured a midweek one was called for. Most names such as most names such as Navios Maritime Holdings (NYSE:NM), Diana Shipping (NYSE:DSX), Navios Maritime Partners (NYSE:NMM), Safe Bulkers (NYSE:SB), Star Bulk Carriers (NASDAQ:SBLK), and Golden Ocean Group Limited (NASDAQ:GOGL) and Scorpio Bulkers (NYSE:SALT) saw some positive action though DryShips (NASDAQ:DRYS) (which seems to have a mind of its own sometimes) slipped further red.
Take a look at the percentage of rate change over the last three business days. Capesize spot rates are up 32%, Panamax rates up 14%, and Supramax rates up 4%. The overall BDI has rocketed 83 points or 13%. It is the biggest three-day rally that I can recall seeing in months.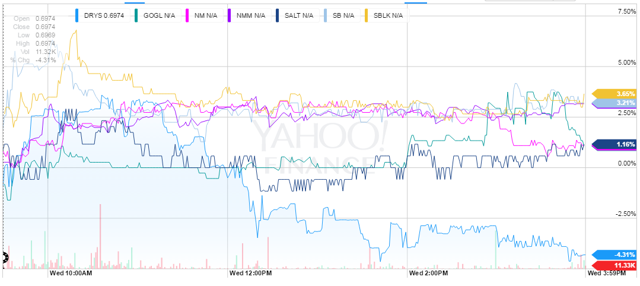 While rates are still far below year-ago and even break-even levels, the situation is worth closely monitoring. Many drybulk investors/traders can attest that sometimes rate rallies that shock and stun the street occur seemingly overnight and without warning, taking the associated stocks with them.
So what might be going on?
On the world supply side, ships continue to be demolished, scrapped, and even anchored with bankruptcies and layoffs. On the demand side, there was a report here that thanks to a disappointing monsoon rain season, India is going to need to significantly increase its thermal coal imports well above already very forecasts.
According to BIMCO, the BDI has only been over 600 points a few times this year. Now it is over 700. World fleet supply is barely up this year and since February it is actually down. BIMCO keeps lowering its forecast for fleet growth for 2015 and currently stands at 3.8%. That may get revised further down. The organization predicts seasonal demand to pick up starting in Q3 which begins in two weeks.
Is this three-day rally in rates just a blip or the cheap rates being taken advantage of by customers early ahead of the strong season and perhaps a rally is in the air? One thing I can't shake is how optimistic analysts, executives, BIMCO, and investors were in this industry one to two years ago, absolutely blew it, and it makes me wonder if the we could see the same contrarian result now that everybody is pessimistic. To quote BIMCO, "Only time will tell," but as a potential investor I want to be ready to jump for the ride before everybody else is one is coming.
Disclosure: I/we have no positions in any stocks mentioned, and no plans to initiate any positions within the next 72 hours. I wrote this article myself, and it expresses my own opinions. I am not receiving compensation for it (other than from Seeking Alpha). I have no business relationship with any company whose stock is mentioned in this article.
Editor's Note: This article covers one or more microcap stocks. Please be aware of the risks associated with these stocks.