As a quantitative investor I only take positions in stocks that meet a strict set of value investing rules. And this week, I have three cheap stocks meeting the rules that you've probably never heard of.
Value investing rules
The set of rules I use have shown impressive historical returns against the benchmark over the last 15 or so years while simultaneously minimizing risk. They're based on classic value investing principles and the wisdom of famous value investors such as Benjamin Graham and Peter Lynch.
As you can see from the chart below, the model has shown an impressive annual performance of over 20% per annum with a Sharpe ratio of 0.90 over the period.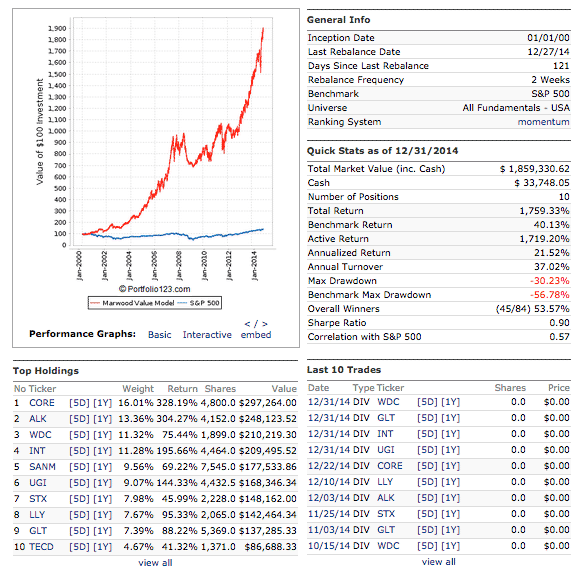 It's important to note that the rules are designed to look for undervalued opportunities; companies with strong financial condition and the potential to experience rapid price appreciation.
In some cases, the rules have been able to pick out stocks on the verge of turnaround. And in others (such as the case with GAME) the rules have been able to pick out organizations that were later acquired by larger entities.
3 stocks meeting the rules
Every week I run the rules and see which stocks are presenting themselves as strong investment opportunities. Here are 3 ideas you might not have heard of:
Industrias Bachoco S.A.B. de C.V. (NYSE:IBA)
Industrias Bachoco is a Mexican poultry producer that also operates in the United States, where it's primarily engaged in breeding, processing, and marketing of chicken, eggs, swine and animal feed.
Despite concerns over bird-flu, IBA has performed well this year, returning investors over 10% so far. Those gains have come after another good quarter where the company was able to grow both income, sales, and earnings.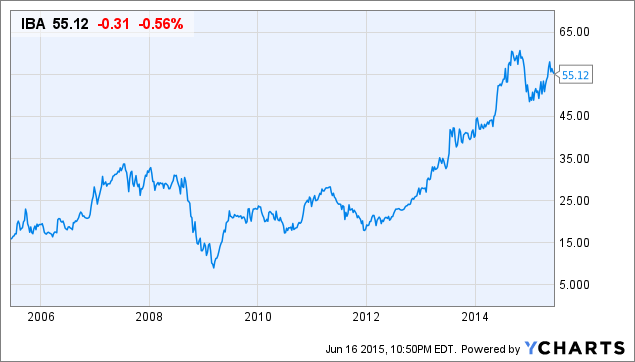 Looking at the figures, net sales were $11,460 million in Q1 and profits were up 18.3% on the same quarter in 2014. EBITDA was up to $1860.7 million and net income was $181 million compared to $50.8 million in the previous year.
These impressive figures owe a little to the stronger dollar, but they are mostly a result of heavier sales volume and higher prices.
Importantly, this means IBA has been able to improve its cash position substantially. Debt-to-equity is just 0.11, below the industry average, and the current ratio is above 4, owing to the strong cash position.
IBA has an impressive record of growing revenues and cash, despite difficult trading conditions and this makes the stock a relatively safe bet going forward.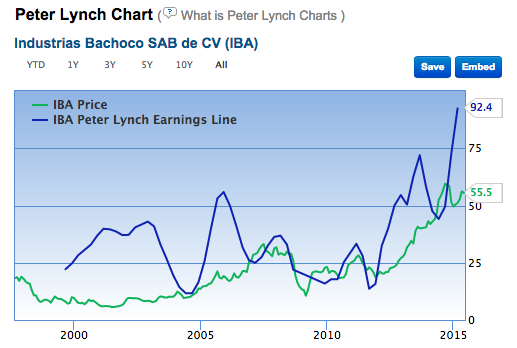 Src: GuruFocus
Of course, the company also firmly meets all of our value investing rules including a trailing PE ratio of 9.37, a forward PE ratio of 9.96, and a price-to-sales ratio of 0.98. In addition, the company pays a 2.14% dividend.
China Automotive Systems Inc. (NASDAQ:CAAS)
The second stock to meet the rules is another foreign share, this time from China.
Shares in China Automotive Systems have been on a tear of late and are now up 22% year-to-date after hitting a double bottom in the middle of March.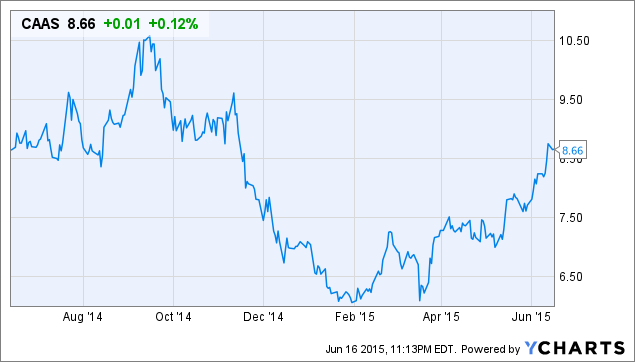 The collapse in the oil price last year has been a boon for automotive shares (particularly in Asia) and the upward trend in CAAS could well continue for some time judging by the depressed valuation of the company.
A quick glance at this company's financial metrics reveals that there is plenty of value for investors. Trailing price-to-earnings is just 7.35, forward PE is 6.19 and PEG is 0.73. And historically, when those three ratios are low, there is a better chance of making money.

Src: finviz.com
Last quarter, the company released numbers that set a new record for sales, though margins were down slightly.
Net sales increased by 8% to $123.4 million, compared to $114.3 million in the same quarter last year. Meanwhile, total revenues have been steadily rising since at least 2006.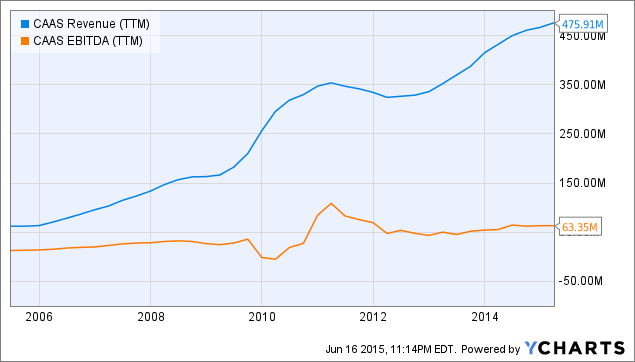 CAAS Revenue (NYSE:TTM) data by YCharts
CEO of the company, Qizhou Wu, was particularly pleased with these figures noting:
"we continued to capture market shares in China and our sales increased in North America. Domestic sales were led by a 150% increase in sales of our electric power steering ('EPS") products to approximately $25.0 million, representing 20.0% of our total sales in the 2015 first quarter. Our 8.0% sales growth exceeded the 3.9% sales growth of vehicles in China in the first quarter of 2015.

"Sales to North America increased by 9.5% year-over-year as our key customer Chrysler reported its 60th consecutive month of year-over-year sales gains. "The Jeep® brand reported that March 2015 was its best sales month ever, with 23% growth compared to March 2014 sales, and Wrangler announced its best ever sales".
Overall, this is a stock with positive price momentum, a healthy cash balance and growing earnings, and this is why it's been selected by the Marwood Value Model.
TravelCenters of America LLC (NASDAQ:TA)
TravelCenters of America and it's namesake Petro Stopping Centers is the largest full-service travel center company in the US, catering mostly for professional truck drivers.
Domiciled in Westlake, Ohio, TA is a $500 million company that has been slowly regaining the market share and financial position it lost to the 2008 market crash.
Today, the stock trades at $14.73 and is now up 75% over the last 12 months.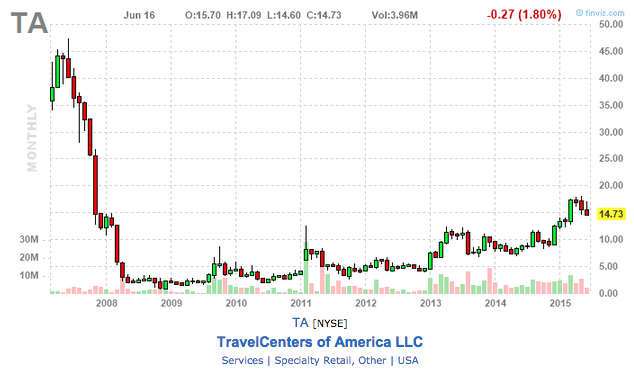 Recent earnings on May 7th saw the company fall in value, despite posting earnings that beat expectations. Management reported EPS of $0.41 per share, sharply higher than the analyst estimate of $0.29 and significantly higher than the $0.04 EPS in the year prior.
TA EBITDA (TTM) data by YCharts
The dip in price since the earnings release gives investors an opportunity to buy into a company that is trading at very attractive valuation metrics. Trailing PE is 7.9, PEG is 0.49, price-to-sales is 0.08 and the company has a steady level of free-cash-flow.
What's more, that cash flow should get another injection soon from real estate investment trust HPT. HPT is planning a deal to acquire and lease back around 30 travel centers from TA for a sum of $397 million.
As of June 2nd, analysts from Brean Capital had a $21 price target on the stock with a firm "buy" rating attached.
Disclosure: The author has no positions in any stocks mentioned, but may initiate a long position in TA, IBA, CAAS over the next 72 hours. The author wrote this article themselves, and it expresses their own opinions. The author is not receiving compensation for it (other than from Seeking Alpha). The author has no business relationship with any company whose stock is mentioned in this article.