The solar PV industry officially makes up for more than 1% of total worldwide electricity capacity after decades of breakneck growth. While this 1% figure may seem insignificant in the grand scheme of things, this figure actually marks a momentous moment in the solar PV industry. By clawing its way out of the decimal percentages, the solar PV industry will likely start to gain considerably more attention. Just from a symbolic point of view, solar PV's 1% penetration figure is a giant milestone for solar PV industry. At 1% penetration, solar PV will only need about two decades to reach 100% penetration if it were to continue growing at its historical rate.
Of course, it would be unreasonable to assume that solar PV will continue to grow at its historical rate for the next two decade, unless one fully subscribes to the idea of Kurzweilian exponential growth. Regardless, it would not be a stretch to imagine that solar PV will continue to follow an exponential growth path, albeit at a much lower growth rate. Given the semiconductor-based nature of solar PV technology, a continued exponential growth path is completely plausible. This official 1% figure shows that the solar PV industry is at a deceptive advanced point of its development, making solar PV companies like First Solar (NASDAQ:FSLR), SunPower (NASDAQ:SPWR), Trina Solar (NYSE:TSL), etc, extremely attractive investment opportunities.
Horribly Mispriced
A continued exponential growth path for solar PV at 1% of electricity penetration has huge implications. Even changing long-term annual growth assumptions by a few percentage point makes an enormous impact on current solar PV company valuations. For instance, a mere 3.5% difference in annual growth over the time span of two decades translates into a two-fold difference. Given solar PV's historical growth rate of 30-40%, a 3.5% difference of opinion in annual growth is rather insignificant in this regard.
This brings up the point that current public solar PV companies are likely horribly mispriced based on how the reality will actually play out. While one knows how the solar PV industry will ultimately play out with any certainty, it is safe to say that the industry is undervalued at current valuations. This becomes more apparent when examining the financials of solar PV standout First Solar and fossil fuel standout Exxon (NYSE:XOM), which are apt choices for comparison given that they are both leaders in their respective industries. When comparing P/E ratios, First Solar currently stands at 23, whereas Exxon stands at 13.
Despite the fact that First Solar's P/E ratio is about two time larger than that of Exxon's, First Solar's P/E ratio is still much lower than it should be. These figures imply that the solar PV's energy production to fossil fuel's energy production ratio will only double for the foreseeable future, which is ridiculous given that fossil fuels do not have much more room for growth as they already make up for the majority of energy production. While the comparison between these two individual companies is not a perfect analogy for the solar PV and fossil fuels industries, the general principle stands.
The average current P/E ratios of leading solar companies suggests that solar PV will plateau at some point under 4% of total electricity penetration for the foreseeable future, which is ludicrous in light of the industry's current growth momentum. In fact, the solar PV industry is slated to grow at approximately 30% yet again in 2015, suggesting that the industry is still following its historical growth rates. Only if the solar PV industry completely stagnates after a few more years of such growth are current solar PV industry valuations even remotely justified. Currently, the solar PV industry has nowhere to go but up due to severely depressed valuations.
Financial Health Of Solar Companies Are Rapidly Recovering
Admittedly, much of the solar PV industry's depressed valuations have to do with investor skepticism over the long-term margins of solar companies. Amazingly, the Guggenheim Solar ETF (NYSEARCA:TAN) traded at about 7.5 times its current valuation back in 2009, which is seemingly paradoxical given that the solar PV industry has completely shattered growth expectations since then. Of course, this crash in the solar PV industry has been almost completely related to shaky financials as opposed to reduced growth expectations.
Here is a look at Guggenheim Solar ETF's valuations over the past few years. Clearly, investor confidence in the solar PV industry has declined drastically since 2008.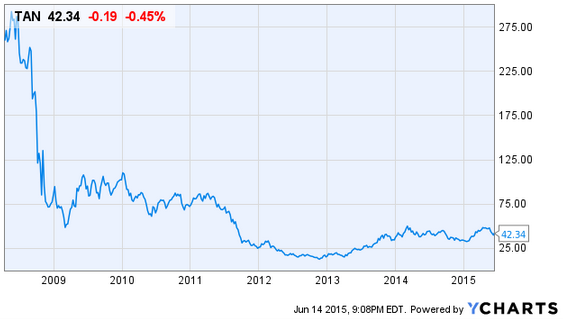 As a result of Chinese solar module manufacturers flooding the market, the margins (and thus prospects) of the vast majority of solar companies have been destroyed. As such, the investment thesis on the solar industry completely changed, which has resulted in plummeting valuations over the past few years. While such plummeting valuations are certainly justified to some extent in light of this, investors today are largely overlooking the fact that the solar PV industry is rapidly recovering.
Even many leading Chinese solar companies such as JinkoSolar (NYSE:JKS) or JA Solar (NASDAQ:JASO) have started to experience healthy gross margins above 15%, which would have been unheard of just a few years ago. With the solar PV industry largely stabilized since its crash, investors still seem to be viewing the industry in an overly pessimistic manner. With solar PV industry financials still undeniably improving and its growth rate momentum experiencing no signs of a slowdown, the solar PV market is one of the most undervalued sectors today.
Conclusion
The solar PV industry's 1% electricity production figure is a huge milestone after decades of nearly nonexistent contribution to electricity production. If the industry continues to grow at anywhere even remotely close to its historical rate, this 1% figure will rapidly balloon. As such, investors are still vastly underestimating the potential of the solar PV industry, which will likely explode in the coming years. With constant technological advancements and rapidly increasing political support of solar PV, the industry will likely take center stage in the energy landscape much faster than most expect.
Disclosure: I/we have no positions in any stocks mentioned, and no plans to initiate any positions within the next 72 hours. I wrote this article myself, and it expresses my own opinions. I am not receiving compensation for it (other than from Seeking Alpha). I have no business relationship with any company whose stock is mentioned in this article.