Back in December 2014 I introduced my 4% dividend rate portfolio here on Seeking Alpha. It included 17 different stocks and was set to deliver a 5% Dividend Growth Rate (DGR) on average in the coming years. During the recent quarter I reinvested some of the dividend flow to purchase my 18th stock in the portfolio: National Health Investors (NYSE:NHI). I wrote about my rationale for this move in this article.
The portfolio includes stocks from diversified sectors. It includes: Avista Corp (NYSE:AVA), Baxter International Inc. (NYSE:BAX), BHP Billiton (NYSE:BBL), Cracker Barrel Old Country Store, Inc. (NASDAQ:CBRL), Chevron Corporation (NYSE:CVX), ConocoPhillips (NYSE:COP), Deere & Company (NYSE:DE), Eaton (NYSE:ETN), HCP (NYSE:HCP), National Health Investors, Realty Income (NYSE:O), Omega Healthcare Investors Inc. (NYSE:OHI), Philip Morris International (NYSE:PM), AT&T (NYSE:T), Unilever (NYSE:UL), Universal Corporation (NYSE:UVV), Ventas Inc. (NYSE:VTR) and Wisconsin Energy (NYSE:WEC).
In the Q1 performance summary I shared my expectations of seeing lower volatility towards the second half of 2015, as part of the realization and digesting process of the approaching interest rate increase.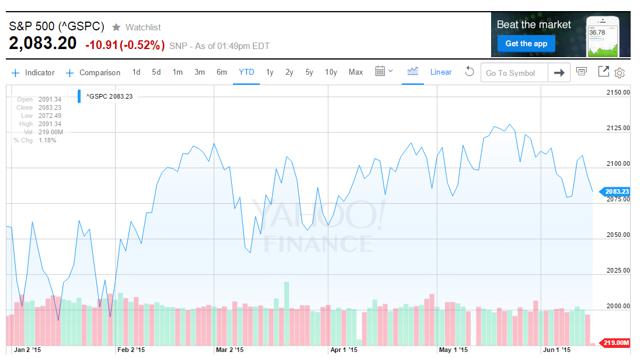 When looking at the S&P500 chart (taken from Yahoo Finance) we do see the index's behavior since April moving through a narrow tunnel, from 2,060 points to 2,130 points. Still, the uncertainty is not over. The FED's declaration on Wednesday that the interest rate will not change in June, but it expects it to be higher by end of 2015, will give the markets more confidence. As even if the rate will be 0.6% by end of 2015, and 1.6 by end of 2016, it will still be low compared to historical levels.
A rising interest rate situation should be a sign of economic strength, and a slow pace should allow businesses to continue growing as the cost of money is still cheap.
Q2 performance
While the stock market hardly moved, my holdings were highly impacted following the drop in bond prices which led to a similar reaction in the REIT and Utilities sectors. The portfolio value nowadays is ~2% lower than the original investment back in Dec'14.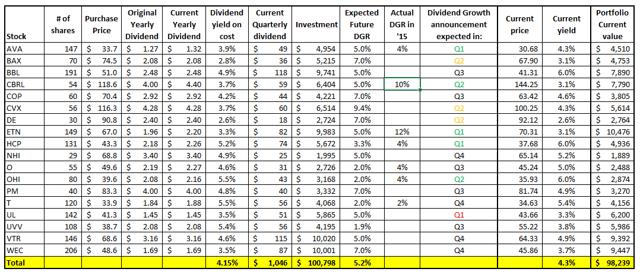 In my previous report I shared my expectations regarding the dividend raises I expect from my holdings. I can honestly state that I was more disappointed than thrilled this quarter. Three out of five expected raises did not happen, though it was their time of the year. Here are the three:
The first one was BAX, which did not increase the dividend due to the expected spin off of Baxalta. The 1:3 Baxalta shares that I will receive can count for a dividend, but surely BAX value will drop at the size of the spin off, so there is no real dividend here. I will wait for the official spin off announcement to decide whether to maintain it as a dividend growth holding.
The second one was CVX. This one was expected and I wrote about it in the past, with its long history of 27 years of growing its dividend. I expect oil price to climb back towards the end of year, hence I will be patient with CVX.
The third one was DE. The company is in the middle of a long downturn and it might take longer than usual to return to growth. The dividend payout this quarter was very close to the upper limit of the Dividend/EPS range, hence it might be held flat in the coming quarters as well. Here again I will try to be patient and hope to see a sign of recovery, at least in the form of a dividend increase.
The two bright spots this quarter were CBRL and OHI.
OHI finalized the Aviv merger and increased the dividend by 4%, which was double my expected 2%.
CBRL delivered a 10% increase which is also double the growth compared to my expectations.
Q3 expectations
In Q3 I suspect that the challenges will be as tough as Q2, or maybe even tougher.
Originally I expected five of the holdings to raise their dividend next quarter. The five are: BBL, PM, COP, O and UVV. Each with its own challenging environment.
BBL and COP will need to mitigate the low commodities prices. UVV and PM will need to mitigate the slow demand for tobacco, and as for O, I am less concerned about this monthly dividend payer, but the dividend increases have been very small lately.
As mentioned earlier, the portfolio's value went down by about 2% during the quarter. The relatively high weight of both REIT stocks as well as Utilities took its toll.
As I am focused on the dividends I am less concerned about the theoretical capital losses. I do expect though that as the uncertainty regarding the interest rate diminishes, both sectors will outperform and regain the capital losses. My assumption is that even after a couple of basis points increase, the interest rate will still remain in historical low territory and therefore money will look for high yielding stocks.
Due to the price drops, the current dividend yield of the portfolio is 4.3%. The softness in some of the sectors, whether Oil and Gas, REITs or Utilities, should be seen as an opportunity to create a long-term position that is aligned with the personal risk tolerance profile. This could be an interesting entry point to achieve long-term goals.
As always, I appreciate your input.
Disclosure: I am/we are long AVA, DE, BBL, UL, HCP, VTR, T, WEC, O, OHI, NHI, COP, CVX, PM, CBRL, ETN, UVV.
I wrote this article myself, and it expresses my own opinions. I am not receiving compensation for it (other than from Seeking Alpha). I have no business relationship with any company whose stock is mentioned in this article.
Additional disclosure: The opinions of the author are not recommendations to either buy or sell any security. Please do your own research prior to making any investment decision.