What exactly are quantum dots? And, why should you care?
According to Wikipedia, a quantum dot ("QD") "is a nanocrystal made of semiconductor materials that's small enough to exhibit quantum mechanical properties." Hence the name. But, frankly, with my limited engineering background, that definition does little for me. So, I'll try to give more of a layman's understanding of what they are: incredibly tiny (like how many millions fit on the head of a pin?) sized particles of active material that, when excited, can transform energy. They can change light to electrons (think solar), change electrons to light (a cool thing called electroluminescence that creates your car's instrument panel), or change high-efficient light (LEDS) to a specific, custom light color.
Quantum dots have very many unique characteristics that make them interesting in multiple applications. For this article, however, I'll focus on the near term opportunity that exists to use QDs in LCD monitors. And you should care about this not only because they will give your next television a sharper, more realistic picture with lower energy usage but because, as an investor, there's a great opportunity to get ahead of the curve and make some money here.
QDs in LCDs
The display market is in a state of continual evolution. LCDs are the current standard for the average TV set or monitor. This evolution, besides creating ongoing revenue for manufacturers, is a result of efforts to achieve clarity of picture and a broader light spectrum than previously possible - monitors to date only hit about 80% of the color spectrum that a human eye can detect.
For a while it has appeared that OLEDs were set to be the next standard due to the quality of picture possible with their use. However, it appears that OLEDs might forever be the "next" big thing as manufacturers haven't been able to deploy their technology at a low enough price point to justify bringing them to market on a broad basis.
This has created an opportunity for the quantum dot. When a thin layer of quantum dots is applied to an LCD monitor, it's possible to achieve a much broader spectrum of light and increased clarity. This is a direct result of the color generation available from QDs which alleviates a lot of the filtering that's currently used to produce different colors from LCDs.
A good presentation is available here. This presentation, given by Nanosys' CEO Jason Hartlove, discusses the qualities inherent in quantum dots and benefits achievable with their usage in monitors. Besides the technical improvements over current LCD monitors, QDs have a distinct advantage over OLEDs as well - they achieve close to parity on performance at a significant reduction in price.
It is this combination of performance at a cost that consumers will tolerate that's going to lead to the adoption of QDs in LCD monitors. Where do we stand in this process? It's starting now and set to accelerate going forward. According to this article here, "TVs with "quantum dots" were everywhere at CES 2015…we will explore quantum dots and explain what it means for your TV."
Most major manufacturers have plans to introduce or are currently introducing TVs with quantum dots. The three largest producers of LCD televisions in 2014 were, in order, Samsung (OTC:SSNLF), LG Electronics (OTC:LGEPF) and Sony (NYSE:SNE). Together they have a combined market share of over 40%. They are all in the process of rolling out their QD LCDs now.
Samsung: quoting from The Wall Street Journal blog at CES, "The revamped LCD technology, which uses nanocrystals that emit different colors and is referred to as "quantum dot," was the center of focus at Samsung's TV booth outlining the company's mainstream products for the year ahead…Samsung claimed that its new array of ultra high-definition LCD TVs, branded as SUHD TVs, based on quantum dot, encompasses the advantages of OLED TVs while improving their flaws."
LG Electronics: quoting from an LG press release, "LG Electronics (LG) will unveil a new 4K ULTRA HD TV with quantum dot technology as part of its expanded TV line-up at the 2015 International CES, Jan. 6-9 in Las Vegas. LG's 4K ULTRA HD TVs with quantum dot technology will offer a wider color palette and improved color saturation than conventional LCD TVs and will be available in 2015…"
Sony: available today in their well reviewed Triluminous brand.
Quantum Dots: from zero to multi billion
With most every large monitor manufacturer rolling out QD enhanced displays, the market for quantum dots is rapidly expanding. Basically, use of quantum dots is going from non-existent to wide usage in a very short time.
According to Jennifer Colegrove, PhD, who is the founder of Touch Display Research, "the quantum dot display and lighting component market will surpass $2 billion by 2016 and reach $10.6 billion by 2025." Her article, found here, is worth a read to understand the size of the opportunity in front of QD manufacturers. Also, a picture is worth a thousand words…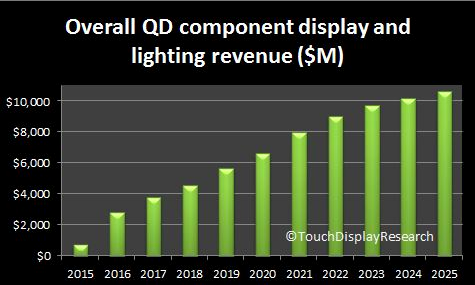 As the picture shows, this industry is set to expand rapidly in dollar volume of production. But, these are nanoparticles and you might be surprised at just how little of the physical goods need to be produced to satisfy industry demand. According to some sources, 2,000 kilograms would be enough to supply one of the largest producers of QD LCD monitors. So, the total industry is looking to be only about 10 metric tonnes of quantum dots per annum in the next few years.
Thus, while this is going to be big business financially, it's not overwhelming in scale. On a per tonne basis, QDs are pretty darn expensive. This is due to the difficulty inherent in producing quality, consistent, product in scale at a nano level.
Production of Quantum Dots
There are four companies that I have found which are working on producing quantum dots for the television and monitor marketplace. They consist of two private companies, Nanosys and QD Vision, and two public ones, Quantum Materials (OTCQB:QTMM) and Nanoco (OTCPK:NNOCF).
These companies appear to be having varied degrees of success. I won't focus much on the privates except to say that QD Vision appears to be a very strong company with over $75M in venture financing and a supply agreement with Sony.
Nanoco has a $400M market cap, research coverage from Canaccord and is the more well-known public entrant in the space. Nanoco also has entered into a joint venture with Dow Chemical (NYSE:DOW) to build a production facility in South Korea. This team has subsequently signed an agreement with LG Electronics to supply them with quantum dots. The total investment to date in the facility is rumored to be around $220M, which is reportedly meant to produce around 1,000 kilograms per annum of dots, a very expensive facility for not much production. And, word is that there are delays in manufacturing.
The other public company in the QD space is Quantum Materials Corp. I find this to be the most intriguing of the lot. While they have not signed any agreements with manufacturers, their products are being tested by most of the large LCD producers.
The company claims that their products meet the specifications of the monitor manufacturers. But, perhaps more importantly, their products appear to be better than the competition when it comes to heat and moisture resistance. As per this press release, here, QTMM's cadmium free QDs can withstand temperature which their competitors start to exhibit a high failure rate.
Another positive for QTMM is their production capability. While it appears that competitors are struggling to achieve consistent production in scale, QTMM claims to be able to produce 2 metric tonnes from current capacity. This is a scale not achieved (in public statements at least) by their competition. And they are able to accomplish this volume at a fraction of the upfront plant and equipment costs being seen by their competitors - not to mention the ability to re-scale this capacity in very short time frames.
So, if the numbers tell the story, Quantum Materials has plant and equipment costs less than 10% of their competitors and can repeat scale-up to meet additional market demand and uses for quantum dots.
QTMM shares are poised to follow the market for quantum dots
The current market cap of Quantum Materials is $40M. This is 10% of the market cap of Nanoco, the only public comp for QTMM. Nanoco has a partnership with Dow and a contract to supply quantum dots to LG Electronics. They deserve their market cap.
QTMM, on the other hand, has nothing, except potentially the lowest cost production in the market and a product that's being tested by every major LCD manufacturer. Will QTMM gain product design wins? All indications seem to indicate this (including the CFO investing $100,000 into the last round of financing done by the company). If it happens, the stock should go to a level on par with Nanoco at a minimum. And, if they can truly execute to the level that's indicated in their press releases, the sky's the limit here.
I'm a believer in quantum dots. I think they will take over the LCD marketplace in short order. When you have an industry undergoing dramatic change and phenomenal growth, the best way to play this is with a low cost, pure-play producer. QTMM has, by all indications, what it takes to be the best play on the future of this industry.
Disclosure: I am/we are long QTMM. I wrote this article myself, and it expresses my own opinions. I am not receiving compensation for it (other than from Seeking Alpha). I have no business relationship with any company whose stock is mentioned in this article.
Additional disclosure: I am not a registered investment advisor and this is not a formal investment recommendation. I am not telling you to go buy or sell this stock. I'm telling you that I recommend that you research the stock to see if it is a good fit in a well-diversified portfolio. I recommend that you do as much research as possible on every stock you purchase or sell prior to any action. I recommend that you consult your investment advisor or broker prior to any action. I am not liable for any transactions you make after reading this article. Do your own due diligence prior to making any investment decision. This article includes forward-looking statements and the investment is subject to uncertainty. This author explicitly disclaims any liability that may arise from this article, and all commentary in the chat area after the article.
Editor's Note: This article covers one or more microcap stocks. Please be aware of the risks associated with these stocks.