Tesla (NASDAQ:TSLA) forecasts 50% growth in sales per year indefinitely, but Panasonic (OTCPK:PCRFY) forecasts battery growth of less than a third much over the next 4 years.
On May 20, 2015, Panasonic gave a presentation to investors about its expectation for its various businesses. Included in the presentation was a page incorporating a specific forecast for its automotive battery business. The forecast gave specific revenue for the fiscal year ended March 2015, a forecast for its fiscal year ending March 2016, and forecast for its fiscal 2019 year (four years from now). The following is a reproduction of the Panasonic slide that gives this forecast: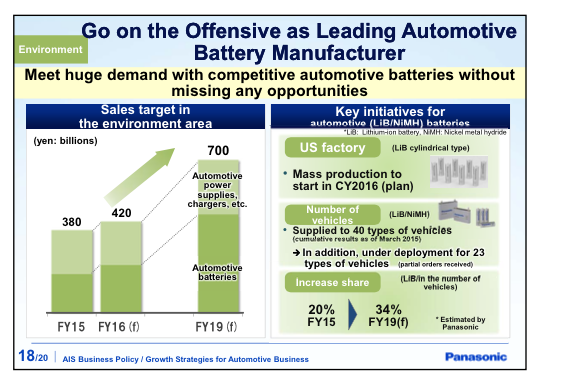 This brief forecast highlights several interesting points:
1) Despite the promised introduction of the Tesla Model X this summer, Panasonic only forecasts an 11% growth in battery revenue in the 12 months ending March 31, 2016.
2) Panasonic forecasts this limited growth, even though it is seeing many new deployments in numerous autos besides Tesla. Indeed, Panasonic has won 23 design deployments on top of 40 existing designs.
3) Panasonic expects revenues from automotive batteries and related products growing from $3 billion in FY 2015 to $5.7 billion in FY 2019, reflecting only a 16.5% CAGR.
4) To achieve even the 16.5 % revenue growth, Panasonic expects to expand its market share (based on number of different auto industry models using lithium ion batteries) from 20% to 34%.
5) Panasonic makes clear that it is keenly focused on increasing its design wins in autos both within and outside of Tesla "without missing any opportunities."
There are many variables that would go into Panasonic forecasting its automotive revenue for fiscal 2016 and for the next 4 years, some of which relate to Tesla and many of which do not. Still, it is striking that Panasonic sees so much less market growth than Tesla forecasts.
Panasonic of course has direct experience in dealing with Tesla, and in seeing Tesla's historical success rate in hitting the forecasts that TSLA has given Panasonic for its needs for batteries.
The divergence in forecasts between Tesla's advertised growth rates (to public investors) of 50% per year and Panasonic's more sober 16.5% forecast raises questions about the reasonableness of Tesla's plans and the absence of conservatism in its planning disciplines. Panasonic's forecast is only one data point, and no single data point can tell the whole story. However, the divergence is striking.
Notably, even including the fourth year of the forecast, where the Model 3 is ostensibly in full throttle, Panasonic's CAGR from current levels remains well under 20%. Panasonic's growth forecast seems inconsistent with being the sole source provider or even the largest provider of battery cells to a company that has forecast that it will sell 500,000 BEVs in 2020, the first year following the end of this forecast period.
Notably, Tesla would be well over ten times larger in units shipped than its current size, just in autos alone, yet Panasonic's battery forecast calls for revenues of only 84% greater than its shipments in FY 2015.
I look forward to a robust data-centric discussion of why the growth expectations of Panasonic and Tesla should be so divergent.
Disclosure: I am/we are short BOTH PUTS AND CALLS OF TESLA, SLIGHTLY MORE CALLS THAN PUTS.
I wrote this article myself, and it expresses my own opinions. I am not receiving compensation for it (other than from Seeking Alpha). I have no business relationship with any company whose stock is mentioned in this article.
Editor's Note: This article discusses one or more securities that do not trade on a major U.S. exchange. Please be aware of the risks associated with these stocks.