Some of the most sought-after stocks in the world are dividend aristocrats. This is well deserved considering these names have been raising their dividends every year consecutively since before the reunification of Germany. Some of these names have even been able to raise their dividends since John F. Kennedy was in the White House. According to Dividend.com there are currently 105 companies that have been able to raise their dividends every year for at least the past 25. Majority of this list continues to be extremely solid names that deserve spots in any portfolio. However, I believe any dividend driven portfolio should also allow room for the possible dividend aristocrats of tomorrow.
I really began to think of this concept when I was reading the comments section of another Seeking Alpha article. This comment section made me think of the people who bought names like Procter & Gamble (NYSE:PG) and Pepsi (NYSE:PEP) when they each only had a few years of dividend growth. It also made me think of the people who purchased shares of these names the very first year they increased their dividends. If the person managed to hold those shares all this time, they would probably be pretty pleased. Would they have been certain that both of these companies would continue to raise their dividends for the next 25+ years? No. There would have been no way to be certain. Looking at these two businesses, there are a couple things in common. In fact, there are a lot of similarities between the companies on the current dividend aristocrat list.
What I'm building to here is the search for the names that are not at the level of the dividend aristocrats yet. The names that have the potential to be on the list one day. This is a tricky area because I certainly can't say that in 25 years any company in particular will positively have continued to raise its dividend throughout that time. However, my picks are based on a few core principles. I believe these principles make up the bulk of the similarities between the current list. Looking at them, they may be pretty obvious. Really looking at them though a company needs to strongly exhibit both for consideration.
The first of these is that the company has showed recent commitment to raising the dividend. It would be difficult to say a company that has only raised its dividend for one year is going to for the next 24. One year of growth doesn't show much commitment at all. In order to show that commitment, the company will have had to raise its dividend for at least the past couple of years. In particular, I want to see that the company was able to raise its dividend through the 2008 recession.
Seeing it raised through the last recession points to business reliability. This second principle illustrates that one will not have to worry much about the company even in some of the worst of times. If the business was able to continue to perform strong through 2008, it is a good sign that it will likely be able to perform in any economic environment. The key factors when looking at reliability is to look at both sales and earnings. A company should be able to remain profitable consistently and also keep steady sales. Not only that, but the profitability should be easily predictable and on a consistent trend.
These two principles, reliability and commitment, may seem pretty straight forward. This is because they are meant to be. When Coca-Cola (NYSE:KO) hit its 20th year of dividend growth, there was probably little doubt that it could not continue the streak. Back then, it probably seemed pretty straight forward too.
A time ago, I had a commenter say that just because a company has raised its dividend for "X" amount of years that doesn't mean it will continue to. This is entirely true. The sad truth is that there is no guarantee in any investment. However, years of repeated raises should be seen as confidence and commitment. As I said above, companies that continue to raise their dividends year after year show commitment to delivering value to shareholders. Some companies even express the desire to continue to reward shareholders through dividend growth. Below are a handful of companies I believe have a good shot at one day turning into dividend aristocrats.
General Mills
General Mills (NYSE:GIS) is a company that one might have assumed was already an aristocrat. Although it doesn't have a 25-year growth streak yet, it does have a great dividend paying history. With a steak of 116 years of uninterrupted dividends, it could be considered one of the best in the market. When it comes to dividend growth, it has a current streak of 11 years.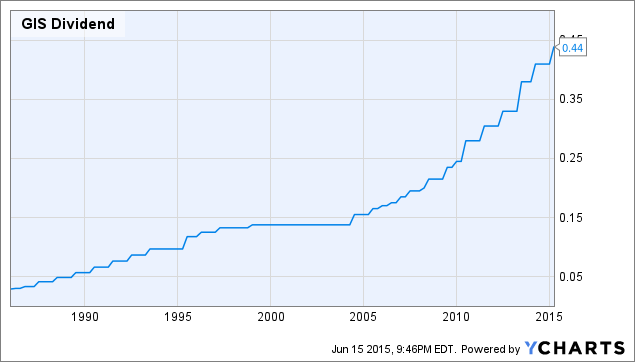 CEO Ken Powell expressed in the last dividend release a commitment to further raises to the dividend. Looking at the more recent history of the dividend, it has been raised at a compounded rate of 12% over the past five fiscal years. This is certainly one company that means business when it comes to the dividend.
The real reason I have added General Mills to this list is because I truly believe it is the best example. The company has exhibited the best commitment and financial reliability in my opinion of almost any other company. Along with that, the company continues to be able to grow its core business at a steady pace. This is a nice sight to see from a company that one would think is pretty much matured. The company continues to tap new markets, exemplified with the recent launch of Yoplait in China.
Kroger
Kroger (NYSE:KR) is another name which I believe may garner the title of aristocrat one day. I think the grocery store chain still has a ton of growth potential ahead of it, and because of that, I think it makes it a perfect dividend growth play. Among dividend growth plays, it sports a super low payout, but also a very low current yield. With this low yield, it may not seem like a great dividend growth play, but nonetheless the company still exhibits handsome dividend growth.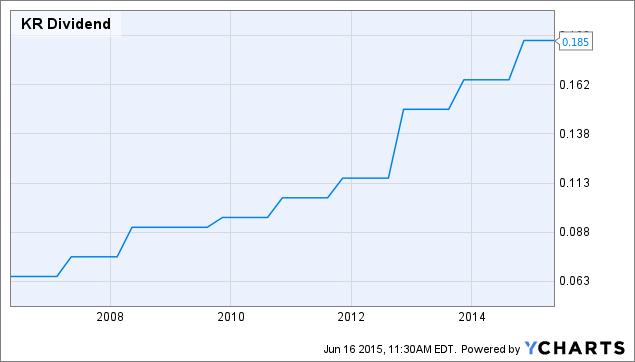 It has been able to raise its dividend for the past 9 years at a high rate. The 5-year DGR is 14% and the 3-year is 17%. With such a huge cushion in terms of payout, the company should have no issues in the foreseeable future with raising it. This is another name where the company also expresses that further raises should be expected in the future.
It's pretty obvious to state that Kroger's grocery store business is a reliable one. The real reason Kroger is worthy of being listed is that it is a higher growth name than any other on this list. The company has exploded over the past few years and it looks to continue its expansion. Down the road, I believe the company will begin to see a slowdown in growth at some point. A slowdown may force a management to raise its extremely low payout to please shareholders. Eventually Kroger may become a company that people buy more for the dividend than business growth.
J&J Snack Foods Corp.
J&J Snack Foods (NASDAQ:JJSF) is another name that sports a low yield and a low payout. The company makes the list as another reliable food-related company. Something that catches the eye about this name is that it is debt-free. Along with this, it also sports an ample cash position.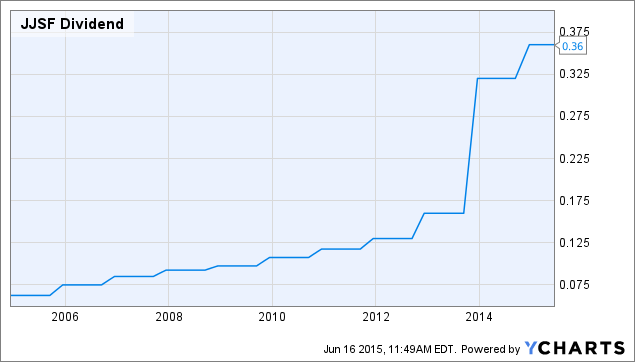 The company actually only began paying a dividend in 2005 and has raised it every year since. For the past two decades, the company has been on a nice run in terms of growth. Revenue has grown at a consistent pace and the company is nearing $1B in sales.
Cracker Barrel
Cracker Barrel (NASDAQ:CBRL) is a company that has really shown its colors in terms of dividend commitment over the past couple of years. Since 2003, the company has been able to increase its annual payout each year creating a current streak of 12 years.
Most recently the market was pleased when the company not only raised its quarterly dividend by 10%, but also announced a hefty $3.00 special dividend. The 5-year and 3-year DGR are 41% and 51% respectively. That makes this dividend the fastest growing of the bunch. With earnings growth expected to continue at double-digit levels over the next 5 years, I expect the company to continue with handsome raises.
Avista Corp.
Plenty of names in utilities sector will likely be added to the aristocrat list in due time. Utilities are notorious for being safe and boring. With most of the business being regulated, this is not an area of high growth. However, it could be argued that few things are more reliable than utilities. My favorite dividend-paying utility is Avista (NYSE:AVA). The company based in Washington is about as boring as it gets. This gem delivers year over year and also delivers solid dividend growth.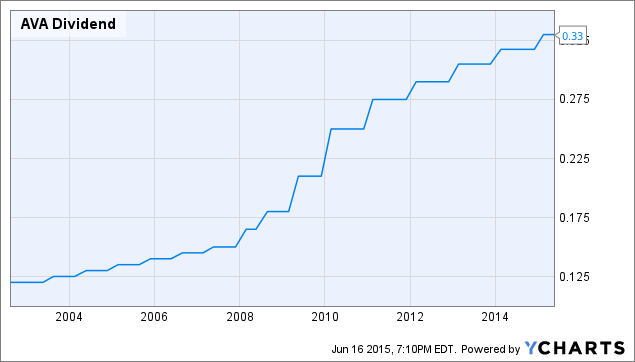 Avista has 13 years of dividend growth behind it thus far, making it about halfway to aristocrat status. As I have said above, it is great when a company makes known the intentions to continue with dividend increases. It's even better when the company outlines how much it plans on increasing it over the coming years. Avista has done this, outlining that it plans to grow its dividend 4-5% over the coming years. While this is in no way a guarantee that it will, it is a great sign that the company has outlined a plan to continue raises. Avista is also the most attractive currently when looking at the dividend considering the shares sport about a 4.1% yield.
Flowers Foods
Flowers Foods (NYSE:FLO) is another quite boring name. It's pretty difficult to get excited over bread. I think it is fairly safe to assume that people eat bread no matter what is going on in the world. This has paid off well for Flowers as it has been delivering on revenue and earnings over the past decade. It has also delivered on the dividend, raising it each of the last 9 years.
Over the past year, the company has actually been able to raise the dividend twice. In November, it raised the dividend by 10.4%. Then just this month it raised it a further 9.4%. I fully expect for this to be a company that will one day make it to aristocrat status.
Summary
These are only a few names to start with. There are actually nearly 250 companies that have been able to raise their dividend for the past 10 to 24 years in a row. However, I do not believe that all of these names necessarily meet my standards. Between now and 2030, I expect several names to fall from this list, and I also expect plenty to be added to the dividend aristocrat list. With a solid amount of history showing commitment and also steady businesses, I think the names above have a solid chance of one day making it to the aristocrat list.
Of course, this list is extremely small. I realize that many more names will more than likely make it to the aristocrat list, and I plan on doing further parts to this series. In particular, I plan on outlining some names that have far less dividend history than even those above (maybe only 5 years). I look forward, as always, to reading feedback and ideas.
Disclosure: I/we have no positions in any stocks mentioned, and no plans to initiate any positions within the next 72 hours.
I wrote this article myself, and it expresses my own opinions. I am not receiving compensation for it (other than from Seeking Alpha). I have no business relationship with any company whose stock is mentioned in this article.
Additional disclosure: Always do your own research before investing.