The British pound is rising as increasing consumer spending boosts economic activity. The U.K. currency is represented by CurrencyShares British Pound Sterling Trust (NYSE:FXB).
In May, the retail sales figure came in at an annual pace of 4.6%, unchanged from the previous month's revised reading of 4.6%, while missing estimates for 4.8%. After bottoming at -2.0% in 2012, the consumer spending measure has risen to current levels, seen below. Increased spending has been attributed to better spring weather, and low inflation.
"The prospects for retail sales and consumer spending look bright. Consumer confidence is pretty elevated, employment is high and rising, inflation is negligible and earnings growth is improving," according to BBC.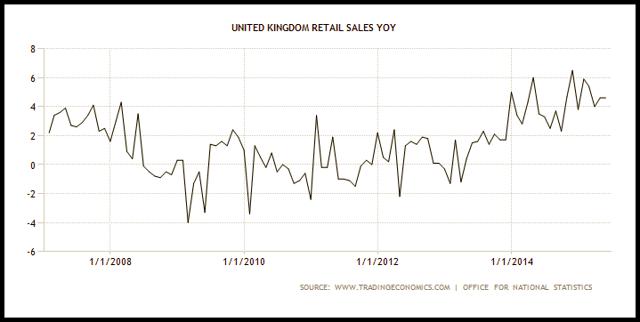 As was stated earlier, low price pressures have contributed to rising consumer spending. In May, the inflation figure came in at an annual pace of 0.1%, above the previous month's reading of -0.1%, while in line with estimates for 0.1%. Since 2011, however, the inflation measure has fallen from nearly 5%, to current levels, seen below. Suppressed transport costs continue to weigh on inflation.
"Transport prices recorded the lowest drop so far this year, falling by 1.5 percent (-2.8 percent in April), mainly due to air fares with the timing of Easter in April a likely factor in the movement," according to Trading Economics.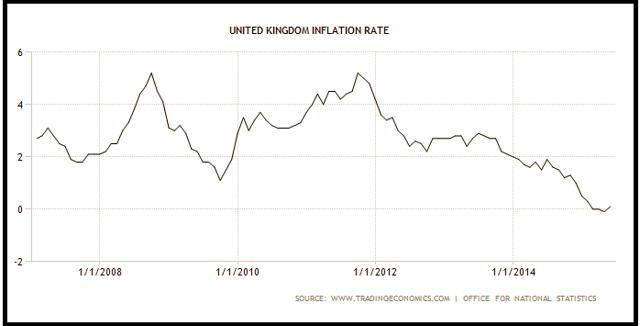 Finally, a stronger labor market is aiding household spending. In the first quarter, the employment figure came in at an annual pace of 2.21%, below the previous month's reading of 2.30%. After bottoming at -1.61% contraction in 2010, employment has significantly improved, seen below.
Stronger consumer spending in the U.K is pushing economic activity higher. The labor market is tightening, while price pressures remain suppressed. As the U.K. economy continues to expand, investor sentiment is increasing, leading its currency to strengthen in coming months.

Data provided by the OECD
Disclosure: I/we have no positions in any stocks mentioned, and no plans to initiate any positions within the next 72 hours.
I wrote this article myself, and it expresses my own opinions. I am not receiving compensation for it (other than from Seeking Alpha). I have no business relationship with any company whose stock is mentioned in this article.