Official home price data for May 2015 showed an ongoing recovery in the average prices of both new and existing homes in China. On average, the prices of a new home in China rose +0.1% MoM in May, while existing home prices were a slightly stronger +0.2% MoM. Prices were still lower than a year ago, with new home prices -6.0% vs. May 2014 and existing homes -4.8% YoY.
Similar to recent trends, there was a sharp contrast in the performance of tier-one and lower-tiered markets. New homes in large metropolitan areas like Beijing, Shanghai, Tianjin, Guangzhou, Shenzhen, Hangzhou, and Wuhan rose +1.6% MoM (-2.7% YoY), whereas existing home prices in those cities rose +2.1% MoM and were flat YoY.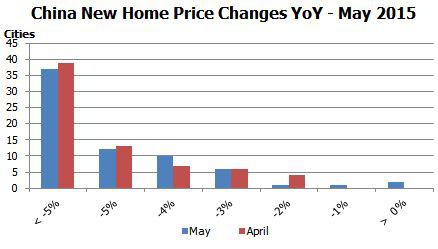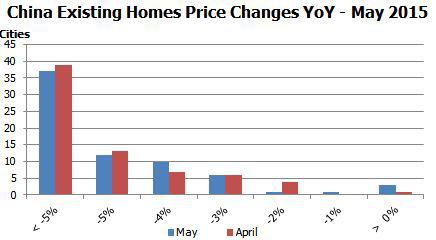 This month's data marks the third consecutive month of improving price conditions for both new and existing homes, and is the first time that both have risen MoM since prices began to roll over in May 2014.
While it remains to be seen if prices will re-inflate to earlier levels, the marginal gains are a strong positive for the entire value chain. Our earlier argument that stability was a key goal for reducing the economic threat posed by a wilting property market still stands, and this month's data suggests that policymakers' action has delivered positive results.
Major Metropolitan Price Changes
Change YoY
May-14
Jun-14
Jul-14
Aug-14
Sep-14
Oct-14
Nov-14
Dec-14
Jan-15
Feb-15
Mar-15
Apr-15
May-15
New Homes
Beijing
7.7%
6.4%
4.0%
2.1%
0.4%
-1.3%
-2.1%
-2.7%
-3.2%
-3.6%
-3.7%
-3.2%
-2.30%
Shanghai
9.6%
7.0%
4.1%
1.5%
-0.8%
-2.0%
-2.9%
-3.7%
-4.2%
-4.7%
-5.0%
-4.7%
-2.3%
Guangzhou
9.5%
7.7%
5.2%
2.1%
-0.6%
-2.7%
-3.8%
-4.7%
-5.4%
-6.0%
-6.4%
-6.1%
-4.8%
Wuhan
6.3%
5.0%
2.3%
-0.3%
-1.5%
-2.8%
-3.6%
-4.0%
-4.5%
-4.8%
-5.0%
-4.9%
-4.7%
Nanjing
6.6%
5.1%
3.5%
1.7%
0.2%
-0.9%
-1.5%
-2.1%
-2.4%
-2.8%
-3.0%
-3.2%
-3.0%
Hangzhou
3.4%
0.6%
-2.4%
-5.4%
-7.6%
-8.7%
-9.5%
-9.9%
-10.1%
-10.4%
-10.8%
-9.9%
-8.2%
Shenzhen
8.7%
6.6%
5.1%
2.5%
0.3%
-1.0%
-1.9%
-1.3%
-1.3%
-1.4%
-0.9%
0.7%
7.5%
Tianjin
4.1%
3.3%
2.1%
0.6%
-0.7%
-1.6%
-2.3%
-3.0%
-3.6%
-4.0%
-4.1%
-4.1%
-3.90%
Average
7.0%
5.2%
3.0%
0.6%
-1.3%
-2.6%
-3.5%
-3.9%
-4.3%
-4.7%
-4.9%
-4.4%
-2.7%
Existing Homes
Beijing
7.4%
4.7%
2.4%
0.4%
-2.4%
-3.2%
-3.7%
-4.1%
-4.0%
-4.1%
-3.8%
-1.6%
3.5%
Shanghai
6.8%
5.0%
3.2%
1.7%
-0.1%
-1.0%
-1.7%
-1.8%
-1.6%
-2.1%
-2.4%
-1.8%
0.6%
Guangzhou
8.7%
7.4%
5.2%
2.7%
1.0%
0.0%
-1.3%
-1.7%
-2.8%
-3.4%
-3.5%
-3.1%
-0.9%
Wuhan
5.6%
4.6%
2.4%
0.7%
-1.1%
-2.5%
-3.5%
-4.0%
-4.2%
-4.5%
-4.9%
-4.8%
-4.4%
Nanjing
5.7%
4.4%
3.0%
1.7%
0.1%
-0.7%
-0.9%
-1.3%
-1.9%
-2.0%
-2.0%
-1.9%
-2.0%
Hangzhou
-0.3%
-1.5%
-2.5%
-3.3%
-4.6%
-4.3%
-4.7%
-5.1%
-5.4%
-5.2%
-5.2%
-4.3%
-3.6%
Shenzhen
11.1%
9.1%
7.4%
5.2%
3.1%
2.2%
1.8%
1.8%
1.5%
1.0%
0.4%
2.8%
9.1%
Tianjin
4.1%
3.9%
2.8%
1.6%
0.0%
-0.7%
-1.7%
-2.2%
-2.8%
-3.3%
-3.6%
-3.8%
-3.5%
Average
6.1%
4.7%
3.0%
1.3%
-0.5%
-1.3%
-2.0%
-2.3%
-2.7%
-3.0%
-3.1%
-2.3%
-0.2%
Major Metropolitan Price Changes
Change MoM
May-14
Jun-14
Jul-14
Aug-14
Sep-14
Oct-14
Nov-14
Dec-14
Jan-15
Feb-15
Mar-15
Apr-15
May-15
New Homes
Beijing
0.2%
0.1%
-1.0%
-0.9%
-0.7%
-1.1%
-0.2%
-0.2%
-0.1%
-0.2%
0.3%
0.7%
1.1%
Shanghai
-0.3%
-0.6%
-1.2%
-1.1%
-0.9%
-0.6%
-0.4%
-0.3%
0.0%
-0.1%
0.0%
0.6%
2.2%
Guangzhou
0.0%
-0.6%
-1.3%
-1.3%
-1.4%
-1.2%
-0.4%
-0.2%
0.0%
-0.2%
-0.1%
0.4%
1.4%
Wuhan
0.0%
-0.4%
-1.7%
-1.6%
-0.8%
-0.4%
-0.3%
0.0%
-0.1%
0.0%
0.2%
0.3%
0.1%
Nanjing
0.2%
-0.5%
-0.8%
-1.0%
-0.7%
-0.4%
0.0%
-0.1%
0.0%
-0.2%
0.2%
0.2%
0.3%
Hangzhou
-1.4%
-1.7%
-2.4%
-2.0%
-1.2%
-0.4%
-0.4%
-0.3%
-0.3%
-0.3%
-0.4%
0.4%
0.5%
Shenzhen
-0.2%
-0.4%
-0.6%
-1.1%
-0.8%
-0.4%
0.0%
1.2%
0.3%
0.2%
0.7%
1.8%
6.6%
Tianjin
0.0%
-0.5%
-0.8%
-1.0%
-0.8%
-0.7%
-0.3%
-0.2%
-0.2%
-0.1%
0.1%
0.1%
0.2%
Average
-0.2%
-0.6%
-1.2%
-1.3%
-0.9%
-0.7%
-0.3%
0.0%
0.0%
-0.1%
0.1%
0.6%
1.6%
Existing Homes
Beijing
7.4%
4.7%
2.4%
0.4%
-1.4%
0.3%
0.7%
0.2%
0.0%
-0.1%
0.5%
2.1%
4.3%
Shanghai
6.8%
5.0%
3.2%
1.7%
-0.8%
0.0%
0.0%
0.4%
0.3%
0.1%
0.0%
0.6%
2.2%
Guangzhou
8.7%
7.4%
5.2%
2.7%
-1.3%
0.0%
0.0%
0.2%
-0.2%
-0.3%
0.0%
1.1%
2.3%
Wuhan
5.6%
4.6%
2.4%
0.7%
-1.0%
-0.7%
-0.5%
-0.1%
0.1%
-0.1%
-0.2%
0.1%
0.2%
Nanjing
5.7%
4.4%
3.0%
1.7%
-1.0%
-0.6%
0.1%
0.0%
0.1%
0.0%
0.5%
0.6%
0.2%
Hangzhou
-0.3%
-1.5%
-2.5%
-3.3%
-0.7%
0.3%
-0.2%
-0.3%
-0.3%
-0.2%
-0.1%
0.2%
0.3%
Shenzhen
11.1%
9.1%
7.4%
5.2%
-0.7%
0.0%
0.4%
0.7%
0.6%
0.3%
0.5%
2.4%
6.3%
Tianjin
4.1%
3.9%
2.8%
1.6%
-1.1%
-0.2%
-0.5%
-0.2%
-0.3%
-0.3%
0.1%
0.3%
0.6%
Average
6.1%
4.7%
3.0%
1.3%
-1.0%
-0.1%
0.0%
0.1%
0.0%
-0.1%
0.2%
0.9%
2.1%