The path for a peak in the Japanese yen is turning into a much more arduous one that I had hoped.
Last week, I pointed to an imminent acceleration in purchases of foreign assets and commodities and a change in trader positioning as potential signs that the yen is finally peaking. Seemingly on cue, the U.S. dollar surged against the yen - Rydex Currency Shares Japanese Yen Trust (NYSEARCA:FXY) - two days later after trade data showed, as expected, that Japan suffered its first annual trade deficit in 30 years.
The next day, the U.S. Federal Reserve extended its expectation for near-zero interest rates to 2014, and the U.S. dollar (NYSEARCA:UUP) has dropped against all major currencies ever since. In just five days, the sharp reversal has dropped the U.S. dollar to its lowest point against the yen since last November's intervention. THAT intervention came as the U.S. dollar hit multi-decade lows against the yen.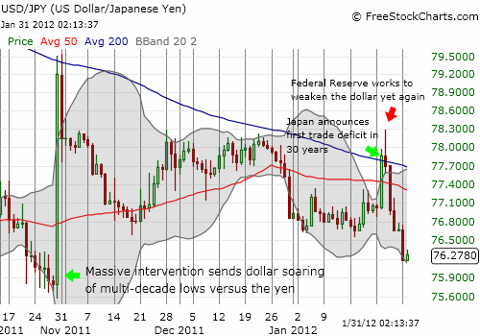 U.S. dollar plunges against the yen and almost erases its remaining post-intervention gains
I cannot help but wonder whether another intervention is around the corner given how momentum tends to feed on itself swiftly in currency markets. If the dollar breaks to new multi-decade lows, traders will likely interpret such a signal as a new turning point and a sign that Japan cannot stop a further slide. This is especially true given the price action implies that traders are shifting out of the dollar and back into the yen for "safe-keeping." If the yen does continue to strengthen, I will be looking to buy Australian dollars against the yen, not more U.S. dollars. See "Australian Dollar Hitting Critical Junctures" for more details.
Be careful out there!
Disclosure: I am net short the Japanese yen.