Talks about a market correction have sparked heated debate in SA. Several contributors have shared their view on how they are dealing (or not) with uncertainty. This article will borrow information and opinions from two great sources, Eric Parnell and Chowder. Their articles are always insightful and the comments section brings together an eclectic audience.
First of all, there's something that caught my attention right away. When investors share their views (including myself, obviously), they seldom consider diversity in terms of investor profiles. How can we address the same topic with such a diverse audience? Those authors that have thousands of readers, for instance, will have an audience comprised of graduate students, professionals, retirees, housewives, househusbands, etc. Each individual will have his or her own mindset, goals, risk tolerance, knowledge, experience and so on. Therefore, does it make sense to talk about universal truths?
One of the issues that has sparked endless (and fruitful) debate is cash (or short-term bonds). Is it better to hold a percentage of a portfolio in cash for any purpose? Is it better to be fully invested at all times? I will borrow a comment from this fantastic article and lay out my thesis.
What kind of business has close to a third of its employees sitting around waiting hoping so business will come along? Especially when there are jobs they could be doing? So why would you have your cash doing the same thing?
Part of my answer below (you can scroll down to find the entire comment).
If you were a business owner and at a certain point the only job available for your employees was to tore down walls and destroy you own property, would you put them up for the job or would you rather have them do nothing? There's certainly not only one way to invest. I'm not saying that you should hoard cash. You should do whatever feels right for you. But there's no universal truth when it comes to allocating capital.
This got me thinking. It makes sense to have your capital working for you at all times. But what if that capital is destructing itself? In the example above, I would rather send my employees home for the day if I witnessed them destroying my office. But then again, that's how someone concerned with capital gains thinks. The Dividend Growth Investing community usually disagrees with this approach. Chowder says:
Dividend growth investing, to me, isn't about investing in the market. It's about investing in high-quality companies that earn a profit and share those profits with me. I'm looking to generate profits that create cash flow without having to worry about selling shares, timing the market, or worrying about price volatility.

While share price is the roller coaster, dividends are the escalator. My dividends continued to rise during the Great Recession, and continue to rise to this day. The income stream is reliable, fairly predictable and increasing.
This is a remarkable description of dividend growth investing. Why should you care for face value or capital gains? You're in it for the income! Your income is growing above inflation, so just chill. It definitely makes sense.
Let's go back to the whole cash hoarding conundrum. Let's say that we stay fully invested at all times and that we have a growing income coming our way. We don't need to worry about stock prices, because "we ain't selling." So let me tell you something. To stay still is to act. When we refrain from choosing, we are choosing. Not selling is forfeiting the opportunity to get a better deal. I'm not saying that you should or shouldn't sell or buy, but we need to acknowledge cost of opportunity. Let me exemplify...
I have a "theoretical" DGI portfolio in SA. Most of the stocks that are discussed in SA are there. All these, plus several others. So I regularly keep track of dividend increases, price fluctuations, yields, fundamental changes in those businesses and the like. I've been thinking about buying three stocks in particular... Johnson & Johnson (NYSE:JNJ), Procter & Gamble (NYSE:PG), and Wal-Mart (NYSE:WMT). I first thought about buying these (among others) in between December 2014 and today. A diligent reader may think I'm cherry-picking stocks and time frames (and I may very well be), but the fact of the matter is that these three stocks are cheaper today than they were not long ago. I'm planning on pulling the trigger soon and will therefore get better yields and more shares for the same amount of capital. How's that a bad deal?
On the other hand, there's no reason why a long time investor should get rid of his or her stock because of price fluctuation. But we've got to acknowledge the cost of opportunity. I will bring Minsky (and Keynes) to the discussion.
When Keynes first discusses the speculative motive for holding money he describes it as being due to "the object of securing profit from knowing better than the market what the future will bring forth". [...] The world is an uncertain world because there are yesterdays, todays and tomorrows. [...] In a world with uncertainty, portfolios are of necessity speculative. The demand for money as a store of value exists because in a world where speculation cannot be avoided - where to decide is to place a bet - money is not barren. [...] Money in our world has attributes of an insurance policy, in that possession of money protects against the repercussions of particular undesirable contingencies.
I know what you might be thinking. "Sure, that's lovely, but you don't know what the future will bring forth." My answer is: neither do you. It's an uncertain world. Investing is placing a bet, and keeping cash is also making a bet. But we are back again at goals and mindsets. For a retiree that needs the income, this just doesn't make sense. Having cash available is just like "having employees sleeping at work," much like the investor quoted above said. But what if you are a bargain hunter? What if you don't feel comfortable with stretched valuations and low yields? On top of that, it's not like we are back in the 70s with rampant inflation. In a world where deflation is a real threat, who's to say that hoarding cash is not preserving capital?
So, where's do I find value?
There are two macroeconomic factors that have been all over the news: Fed rates and Dollar strength. The dollar has gained momentum against a basket of currencies, which means that commodities and international markets get punished.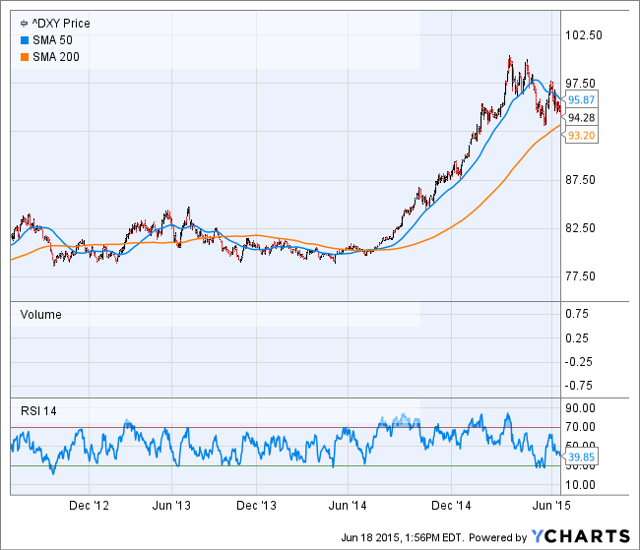 (Source: YCharts)
US Corporations that have operations around the world have seen earnings and revenue (dollar denominated) diminish as a consequence. Therefore, Janet Yellen's speech didn't come as a surprise, and we don't know what to expect in terms of rate hikes. At least for now, rates should remain close to zero, which means that international markets and Oil could be an interesting play. That's precisely where I'm focusing right now. I have diversified and placed bets on Brazilian stocks and on the Energy industry. A good way to play a Brazilian rebound is the iShares MSCI Brazil Capped ETF (NYSEARCA:EWZ). For those investors that are tolerant towards risk, Petrobras (NYSE:PBR) and Vale SA (NYSE:VALE) are interesting picks. I've written about these stocks a while ago.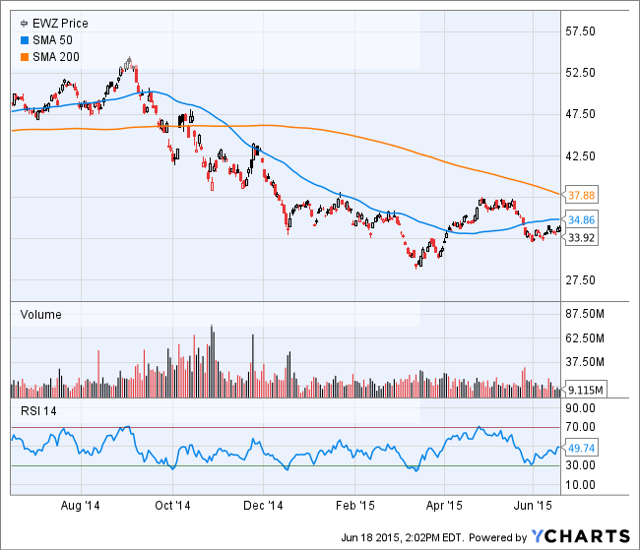 (Source: YCharts)
Conclusion
I know I have posed more questions than answers, but it was my objective all along. My goal was to try to acknowledge the cost of opportunity and the idea that to refrain from acting is an act in itself. As usual, I encourage readers and fellow contributors to share their views!
Disclosure: I am/we are long PBR, VALE.
I wrote this article myself, and it expresses my own opinions. I am not receiving compensation for it (other than from Seeking Alpha). I have no business relationship with any company whose stock is mentioned in this article.