At the risk of beating a dead horse, I'd like to compare Coca-Cola (NYSE:KO) and PepsiCo (NYSE:PEP). I know this has been done many times before, but I'd like to dig deeper into why these two companies have experienced different trends in their return on equity numbers over the last three years.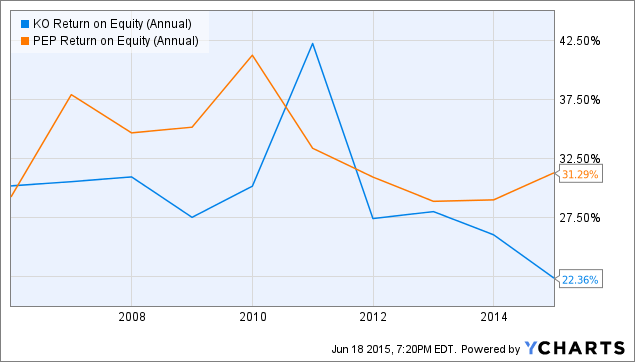 KO Return on Equity (Annual) data by YCharts
I decided to pull some numbers from the financial statements located in both firms' annual reports for full year 2014, in order to break down ROE.
Dupont analysis and the balance sheet
Pepsi boasts higher return on equity than Coke, and has also increased its ROE numbers over the last three years while Coke's numbers have sequentially declined, but why?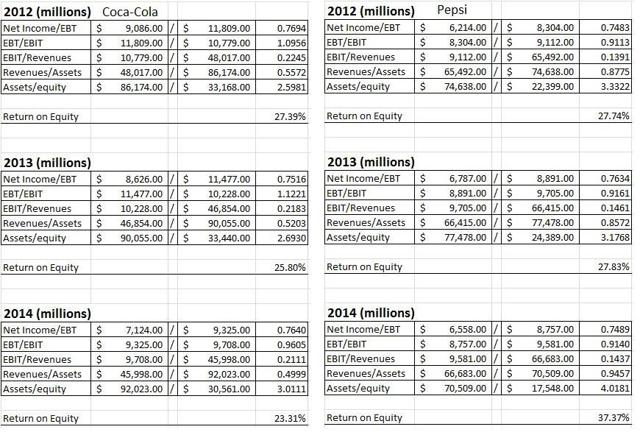 The first thing that jumps out to me is Pepsi's willingness to take on more financial leverage, which is clearly magnifying its ROE numbers. Coke has bumped up its assets/equity ratio too, but still carries less financial leverage. Coke also has superior operating and net margins than Pepsi, and for this, I give it brownie points.
Pepsi is much more superior to Coke when looking at how much it makes from its assets, however. Its asset turnover of 0.9457 is indicative of this, as Coca-Cola's asset turnover ratio has slipped for the last three years, sitting at only about half of Pepsi's. Me personally, I like companies with less leverage and higher margins. For comparison purposes, if Coke's financial leverage was equal to Pepsi's in FY2014, its ROE would be around 31%.
Glancing at the balance sheet, both companies have similar liquidity and solvency ratios: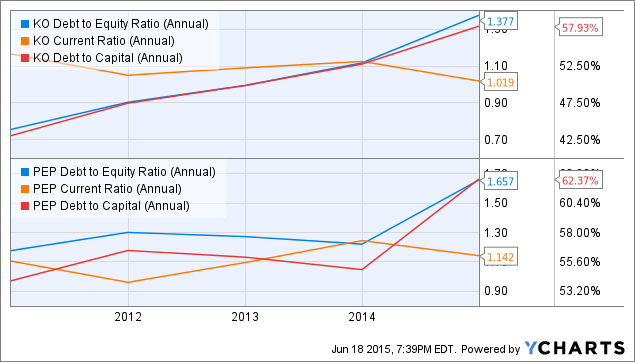 KO Debt to Equity Ratio (Annual) data by YCharts
Now looking into both company's efficiency and liquidity a little further, we can see that Pepsi's cash conversion cycle of around 16.34 days is significantly better than Coke's, which comes in around 60.67 days.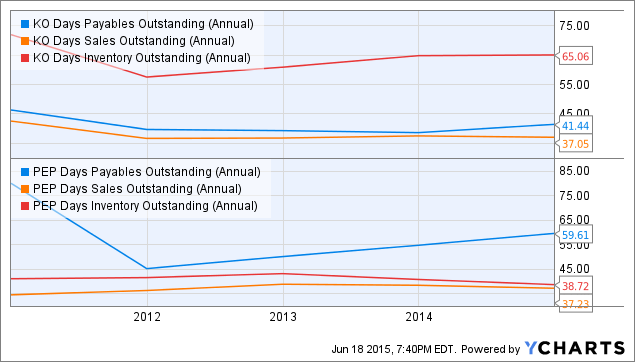 KO Days Payables Outstanding (Annual) data by YCharts
It appears Pepsi takes longer to pay suppliers, while also converting inventory quicker. It takes both companies around the same amount of days to collect receivables. I'm not exactly sure, but maybe Pepsi's snack business allows it to put more weight on its suppliers, but nevertheless, it's better at converting cash efficiently than its main competitor. I'd like to see Coke improve its CCC so it can free up capital quicker and improve liquidity.
Valuations and fundamentals
Pepsi trades at roughly 21 times 2015 earnings and 19.4 times 2016 earnings, a slight premium to shares of Coke, which trade at 20.3 and 19.08 times 2015 and 2016 earnings, respectively. Neither company has incredible growth prospects. The stronger dollar can probably be blamed as one root cause here, but Pepsi is expected to grow sales by around 4%, or twice as much as Coke, in 2016. Pepsi's expected earnings growth of around 8.65% between 2015 and 2016 also beats out Coke's, expected to come in at roughly 6.5%.
Perhaps this, coupled with the perception of better return on equity, is largely the source of the premium. Another reason for Pepsi's premium might be the diversification it has from its snack business, which accounts for a large chunk of its sales.
Personally, I prefer Coke because of its higher operating margins, slightly stronger balance sheet, and higher dividend yield (3.2% versus Pepsi's 2.95%). I'm also more of a fan of the pure-play aspect of the company, although I might be in the minority here. I understand why many investors favor Pepsi because of the snack business, but I think that as society becomes more health conscious, this strategy could backfire as sugary and salty snacks go out of favor.
Sure, Coke's sodas may be in the same boat, but there's also its healthier brands, such as: Dasani, Vitamin Water, Zico Coconut Water, and even its newest foray into dairy, Fairlife Milk (which is lactose-free). These businesses can continue to remain profitable in the future, and may even help pick up some of the slack from declining soda sales. Overall, 20 brands in Coke's portfolio currently do $1 billion in retail sales a year.
Conclusion
Coming back around to Pepsi's superior return on equity, it appears that it's largely superior to Coke's because of the magnification from its financial leverage. Pepsi's slight premium, therefore, should be chalked up to its superior growth prospects. I own Coca-Cola currently, and I'm also watching Pepsi closely, waiting for a dip. Coke seems to be more of a turnaround story than Pepsi, so it may be a longer wait for capital appreciation to come knocking. I'd be more interested in adding to my position in Coke if it could stabilize its falling margins and grow sales on par with Pepsi, but for now, I'll just hold the shares I already have and collect my dividends.
Disclosure: I am/we are long KO.
I wrote this article myself, and it expresses my own opinions. I am not receiving compensation for it (other than from Seeking Alpha). I have no business relationship with any company whose stock is mentioned in this article.
Additional disclosure: Articles I write for Seeking Alpha represent my own personal opinion and should not be taken as professional investment advice. I am not a registered financial adviser. Due diligence and/or consultation with your investment adviser should be undertaken before making any financial decisions, as these decisions are an individual's personal responsibility.