Malvern, PA-based The Vanguard Group manages approximately $1.6 trillion in assets, including $631.7 billion in 13-F assets per its latest Q4 filing with the SEC last Friday. The investment manager offers mutual funds and other financial products and services, including ETFs, individual retirement accounts, college savings accounts, variable annuities, and also personal advisory services to its clients.
Vanguard's assets are well-diversified into over 3,700 positions, with over two-thirds deployed in large-caps, another 20% in mid-caps, and the remaining 10%-15% in small-cap equities. With such a well-diversified portfolio, it is understandable that it holds a position in most large-cap U.S. traded equities; hence, looking at just its holdings, or even its largest dollar moves would not be that useful. We focused instead on relatively large positions in which it added a significant percentage to its prior quarter position or where it similarly significantly cut a prior quarter position. The following are its major buys in Q4 based on that analysis, that are also trading under-valued compared to the peers in their group (see Table):
American Capital Agency (NASDAQ:AGNC): AGNC is a mortgage REIT that invests in single-family residential mortgage pass-through securities and collateralized mortgage obligations for which the principal and interest payments are guaranteed by a U.S. Government-sponsored entity, or a U.S. Government agency. Vanguard added $45 million to its $159 million prior quarter position in Q4. AGNC trades at a current 4.5 P/E on a TTM basis, and at 1.1 P/B, compared to averages of 9.4 and 0.8 for its peers in the mortgage trust REITs group. Long-term, AGNC has been a stellar outperformer, up about 50% from its IPO in mid-2008; in comparison, the average REIT has been flat during this time period. Overall, AGNC has returned an impressive $937 million in dividends since its IPO in May 2008, and is among a select few that increased its dividend during that tumultuous period.
First Solar Inc. (NASDAQ:FSLR): FSLR manufactures and sells solar modules using a thin-film semiconductor technology for residential and commercial markets in the U.S., Europe and Asia. In addition, it also designs, constructs, and sells photovoltaic solar power systems. Vanguard added $36 million in Q4 to its $100 million prior quarter position. FSLR shares have been in a multi-year slide since their peak in 2008, now down about 85% from the highs and within striking distance of all-time lows. Its shares were down 74% just last year, earning it the ignominious merit of being the biggest loser in the S&P 500.
Generally, however, the down-trend in FSLR mirrors the general trend in the average solar stock during that period, as the average solar stock has collapsed about 90% during the same time period, based on a concern over falling prices due to over-supply in the industry as well as a cut-back in subsidies in key markets. The stock, however, maybe among the safer bets in the solar group; it trades at a respectable current 7.3 P/E on a TTM basis, and at 1.0 P/B, compared to averages of 8.5 and 0.6 for its peers in the solar group.
Kodiak Oil & Gas (NYSE:KOG): Denver-based KOG is an independent energy exploration and development company focused on exploring, developing and producing oil and natural gas in the Williston and Greater Green River Basins in the U.S. Rocky Mountains. Vanguard added $22 million in Q4 to its $78 million prior quarter position. KOG shares have rallied strongly, having almost tripled from the $3.50s lows in early October to the highs above $10 earlier in the year. However, its shares still trade at a discount 8-9 forward P/E and 3.8 P/B compared to averages of 22.2 and 5.3 for its peers in the U.S. oil & gas exploration & production group, while earnings are projected to explode from 2c in 2010 to a projected 25c in 2011 and $1.04 in 2011.
Other major buys by Vanguard in Q4 that are not under-valued based on a comparison to their peers, at least based on the typical earnings measure, include:
Antares Pharma Inc. (AIS): AIS is a developer of trans-dermal and intra-dermal therapeutic delivery systems, including needle-free and mini-needle injector systems and gel technologies. Vanguard added $10 million in Q4 to its $2 million prior quarter position. AIS shares have been in a major rally mode lately, recovering from the fall in early December when shares collapsed over negative trial results from its partner BioSante Pharmaceuticals' (BPAX) Libigel drug.
Cheniere Energy Inc. (NYSEMKT:LNG): Cheniere operates LNG receiving terminals and natural gas pipelines in the Gulf Coast of the U.S. including the Sabine Pass LNG terminal. Vanguard added $27 million in Q4 to its $48 million prior quarter position. LNG shares have almost quadrupled from the lows in early October, ignited by a landmark $8 billion deal on October 26th for the purchase of 3.5 million tons per annum (mtpa) of liquefied natural gas via its Sabine Pass terminal facility in LA.
We wrote about our bullish outlook on the stock in our article that morning of the 26th, just prior to the stock jumping from the $8.30s when the article was published to a high of $12.56 four days later. The stock has been consolidating off of those highs since, and is now once again trading back to its recent highs, helped recently by rumors that Chevron Corp. (NYSE:CVX) could be interested in acquiring the company.
Alpha Natural Resources (ANR): ANR is engaged in the production, sale, and processing of coal from mines and preparation plants in VA, WV, KY and PA. Vanguard added $58 million in Q4 to its $187 million prior quarter position. ANR shares are currently near three-year lows, down almost 70% in the past year. They trade at a premium 21-22 forward P/E, and at 0.6 P/B, compared to averages of 10.7 and 2.6 for its peers in the coal mining group.
Dendreon Corp. (NASDAQ:DNDN): DNDN develops targeted therapeutics to treat cancer using active immunotherapies, monoclonal antibodies and small molecules. Among investor circles, it is probably best known as the maker of Provenge® for Prostate Cancer. Vanguard added $17 million in Q4 to its $85 million prior quarter position. DNDN shares have rallied strongly recently, almost doubling after the company announced in early January Q4 revenues and an update on commercialization. We wrote recently about our view on DNDN's update, opining that while the risk-to-reward balance had definitively shifted in favor of the bulls, the stock was likely to consolidate as it approaches recent highs near $14, and that we would wait for a dip before buying the stock.
Other select Stocks that Vanguard is bullish on based on its moves in Q4 (see Table) include professional social networking platform provider LinkedIn Corp. (LNKD), in which it added $65 million to a $1 million prior quarter position; broadband wireless network provider Clearwire Corp. (CLWR), in which it added $22 million to a $13 million prior quarter position; and department store chain operator JC Penney Inc. (NYSE:JCP), in which it added $94 million to a $241 million prior quarter position. Additional stocks that Vanguard is bearish on based on its moves in Q4 (see Table) include ICICI Bank Ltd. (NYSE:IBN), a provider of various banking and financial services in Indian and internationally, in which Vanguard cut $19 million from a $44 million prior quarter position; oil and gas exploration, production and transmission company El Paso Corp. (EP), in which Vanguard cut $328 million from a $1.14 billion prior quarter position; and leading biotech Amgen Inc. (NASDAQ:AMGN), in which it cut $312 million from a $2.43 billion prior quarter position.
Table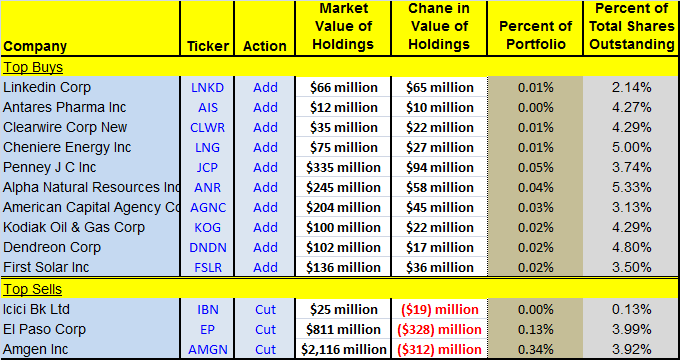 Credit: Historical fundamentals including operating metrics and stock ownership information were derived using SEC filings data, I-Metrix® by Edgar Online®, Zacks Investment Research, Thomson Reuters and Briefing.com. The information and data is believed to be accurate, but no guarantees or representations are made.
Disclosure: I have no positions in any stocks mentioned, and no plans to initiate any positions within the next 72 hours.
Disclaimer: Material presented here is for informational purposes only. Nothing in this article should be taken as a solicitation to purchase or sell securities. Before buying or selling any stock you should do your own research and reach your own conclusion. Further, these are our 'opinions' and we may be wrong. We may have positions in securities mentioned in this article. You should take this into consideration before acting on any advice given in this article. If this makes you uncomfortable, then do not listen to our thoughts and opinions. The contents of this article do not take into consideration your individual investment objectives so consult with your own financial adviser before making an investment decision. Investing includes certain risks including loss of principal.