CarMax (NYSE:KMX) is a very well-known company that operates as a retailer of used vehicles in the United States. You should know that it operates in two main segments: CarMax Sales Operations and CarMax Auto Finance. The business is quite simple. It sells vehicles that do not meet its retail standards to licensed dealers through on-site wholesale auctions, as well as sells new vehicles under franchise agreements. The company also provides customers financing alternatives through its finance operation, CarMax Auto Finance, as well as through its third-party financing providers. In addition, it offers a range of other related products and services, including the appraisal and purchase of vehicles directly from consumers, vehicle repair services and extended warranties. The business has been quite profitable with the stock up 33% in a year (figure 1). The stock has however been rather flat of late, though it was down 4% today as investors were a bit nervous about earnings. The earnings are out, and I think those who sold may have some seller's remorse when we consider the longer-term. The quarter was strong in my opinion. The company is in good shape and I think the stock is a buy on this weakness.
Figure 1. Share Price History of CarMax Over the Last 52 Weeks.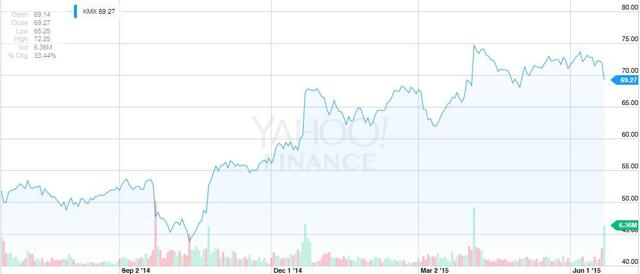 Source: Yahoo Finance!
It was another record quarter. The company saw total used vehicle unit sales grow 9.3% and comparable store used unit sales grow 4.9% versus the prior year's first-quarter. This is great growth and further this growth was on top of increases of 9.8% in total used units and 3.9% in comparable store used units in last year's first-quarter. Much of the sales growth was driven by improved customer traffic as well as successful conversion. I was also pleased to see that wholesale vehicle unit sales grew 4.7% versus Q1 2015. Wholesale unit sales benefited from increased appraisal traffic as well as the addition of new stores, but did see a slight decline in the buy rate.
So-called 'other sales' and revenues increased 14.3% year-over-year. Extended protection plan revenues (which includes extended service plans and guaranteed asset protection revenues) increased a strong 12.5% versus the prior year level reflecting growth in retail sales units. Net third-party finance fees were however essentially flat versus last year's first-quarter primarily due to the reduction in the percentage of sales financed by third-party subprime providers and an overall increase in units sold.
So overall, sales were on the rise, but what about overall profit? Well total gross profit increased 8.4% to $543.8 million in the quarter. Further, used vehicle gross profit rose 8.3%, driven by the increase in total used unit sales that I mentioned above, while used vehicle gross profit per unit remained comparable with the prior year period. Wholesale vehicle gross profit increased 3.3% versus the prior year's quarter. Strong industry wholesale pricing contributed to the strong wholesale gross profit per unit. Other gross profit rose 18.7%, reflecting the improvement in net third-party finance fees. It was really a solid quarter.
One down side is that in order to generate these sales and higher profits, expenses rose. Selling, general, and administrative expenses increased 1.6% to $349.8 million, primarily reflecting the 12% increase in the company's store base in a year's time. It should also be noted that the average sales price per vehicle was weak year-over-year and I think this may have spooked investors. Used vehicles prices were down 1.6% to $19,851 while new vehicles up 0.9% to $26,997. Wholesale vehicles were flat at $5,449. However, these lower prices and expenses were offset by the CarMax Auto Finance income. CarMax Auto Finance income increased a whopping 15.3% to $109.1 million, driven by an increase in average managed receivables. These average managed receivables grew 17.2% to $8.66 billion as CarMax Auto Finance loan originations have grown in recent years.
There is another thing that I like about this company besides it meeting analyst estimates for the most part. In addition to record sales, the company has a nice share repurchase program. During the first-quarter, the company repurchased 1.8 million shares of common stock for $119.9 million pursuant to its share repurchase program. As of May 31, 2015, it had $2.25 billion remaining available for repurchase under the program. Looking ahead, the stock sold off ahead of these earnings in folly in my opinion. With a growing store base, a decline in fuel prices and an economy that limps along but is improving, the company is in good shape to keep delivering results. The stock has pulled back but it likely ready to move higher on this news. With the used car market picking up, sales growing, the company expanding to new markets, and the share repurchase program, I think the stock could set your portfolio into high gear as it takes off. I rate shares a buy on this news and the recent pullback.
Disclosure: I/we have no positions in any stocks mentioned, and no plans to initiate any positions within the next 72 hours.
I wrote this article myself, and it expresses my own opinions. I am not receiving compensation for it (other than from Seeking Alpha). I have no business relationship with any company whose stock is mentioned in this article.