After debating about what company to write about, I came to the conclusion that it would be more beneficial to discuss several E&Ps at once and cover the most popular. The main purpose of this article is to offer advice and show how I evaluate upstream companies, but also to get feedback on my methods and generate discussion. I believe I picked a decent spread of companies, but I am willing to write another article on this topic if this one proves useful to others.
After going through my inbox with questions regarding upstream companies, I settled on the top E&Ps that span the upstream market-cap range and the ones that I get the most questions on.

The only company on this list that I will not discuss is ConocoPhillips (NYSE:COP) since I am an engineer for company. However, I included COP as part of the analysis since others invest in it.

All the financial data I used came directly from the 2014 annual reports. As for data consistency and calculations, the financial metrics are mined with a VB code rather than me manually combing the annual reports or relying on websites for "proper" financial calculations. That said, if anything appears wrong in the data or you disagree with a calculation method that I use, feel free to tell me.
When I first started investing, I would see several ratios and terms that I had no knowledge of or what they meant. Hopefully, this portion will help new investors, along with explaining how I interpret these ratios/metrics and how I apply them to upstream companies. The metrics I use fall into three categories: cash flow, reserves/assets, and debt. Those are also ordered in decreasing importance (from my point of view) as I'll explain.
Cash Flow
Cash flow is the most important category for evaluating the health of an upstream company. Cash flow determines whether or not an upstream company will survive or go under. Cash flow determines if they can service their debt, pay dividends, grow the company, etc. in a boom or bust environment.
Reserves/Assets
The assets and resources of an upstream company are their reserves, mainly reported as proved developed producing (PDPs) and proved undeveloped (PUDs). The issue with reserves being the assets and resources is they are difficult to validate. For example, reserves are used to calculate the reserve replacement ratio of a company which tells you by how much the company is growing, stabilizing, or shrinking.
One common method used by upstream companies to report an RRR is to use reserves after production and before sales. By doing this, companies can report 200% RRR, then sell half their reserve assets or resources for cash assets and end up with a true RRR that is much less, sometimes even negative, while keeping or improving their total reported future assets. Note: Reserves in the ground are not considered assets until extracted/produced.
Debt
Upstream companies take on massive capital intensive projects and carry a substantial amount of debt relative to other industries but these upstream projects often lead to huge returns relative to other industries. However, upstream companies can often finance their entire growth using debt, they may be able to generate the cash flow needed to service that debt when oil is $100/bbl but may end up getting in a tight spot when oil is $50/bbl. You have to worry both about balance sheet liabilities and off-balance sheet (OBS) liabilities.
Along with what the details of the OBS liabilities are (drilling contracts, debt, LOE's, pay period, etc.). OBSs are not included in this overview because they can distort the balance sheet if adequate information is not provided in the 10-K. Overall, debt is important and depending on the company and market environments, I can see how its importance can outweigh cash flow.
Ratios/Metrics
P/CF: Price to cash flow per share is the price of a company's stock relative to how much cash the company is generating. High P/CF means the company is trading at a higher price but is not generating enough cash to support the multiple. Low P/CF means the company is trading at a lower price but generating enough cash that is not yet considered in the share price. Be careful, though, because a low ratio could also mean that a company is significantly leveraged.
EV/DACF: Enterprise value per debt adjusted cash flow, or EV/DACF, is used in order to account for a highly leveraged company with way too much debt. A highly leveraged company will show a good P/CF while showing a not so good EV/DACF (Emerald, Halcon).
EV/EBITDA: Since EV includes the cost of paying the debt off and EBITDA records the earnings before interest, taxes, depreciation, depletion, and amortization a low value would indicate that the company is undervalued relative to its peers. However, if the company is highly leveraged, the EV/EBITDA ratio will make the company look rich.
EV/BOEPD: This is an "alright" metric to use since it evaluates a company relative to its product. As with the other EV ratios, a high multiple represents that the stock is trading at a premium and vice versa. It doesn't take into consideration reserves but is still helpful.
EV/Proved: This ratio compares the cost of operations relative to the company's resources. Using EV/proved rather than EV/2P allows you to remove some speculation from the company's reserves. You are more likely to encounter overstated probable reserves than you are proved reserves, so I don't even consider the companies Probable estimates.
Total Debt/Total Assets: Nobody should be evaluating E&P companies with more debt than assets. Obviously, this ratio should be <1 and the lower the better.
Total Liabilities/Total Assets: A very good leverage ratio that will aid in identifying high risked companies. The higher the ratio, the more leveraged the company is and the less financial flexibility it has.
Total Liabilities/Shareholder Equity: Simply tells you the portion of equity and debt used to finance its assets. The higher the ratio, the less likely the company will be able to pay the debt.
Capitalization Ratio (Long Debt/Long Debt + Shareholder Equity): Low debt and high equity, relative to the industry and peers, will give you a low ratio, therefore worthy of your money.
Net Operation Cash/Total Debt: This is hands down the best debt ratio to use; I often put this ratio with cash flow calculations. The higher the ratio, the more likely the company can carry debt through a bust.
Production/Reserves: Simply the percentage of reserves that have been produced. It's helpful to know how efficient they are at producing their resources under current capital allocations.
Reserve Life Index (RLI): At current production rates, how long will their resources last.
Organic RRR: This is the organic reserve replacement before resource or asset sales and the RRR that is always reported. >100% means you're growing. <100% means you're shrinking. =100% means you're stable.
After Sales RRR: This is the RRR that is not always reported in those fancy presentations. It takes into account production and reserve sales. This RRR is important because large resource sales will shrink the RLI and shrink production (depending on the asset sold). Everybody will divest reserves, this RRR will represent that and you will see the value of this ratio later on.
Growth and Strength
In addition to the financial metrics, we also need to consider the growth profile of the industry. The recent shale boom and the advances in hydraulic fracturing are technological advances and just like wind and solar, they experience an exponential growth phase. This growth phase allows small startups and small market cap companies to grow faster relative to their larger counterparts.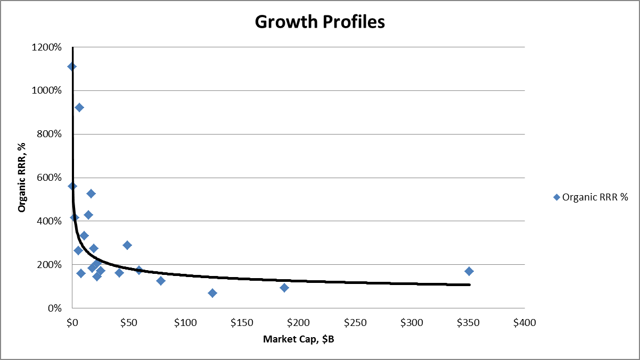 Taking into consideration the exponential growth phase of the O&G sector allows us to get an idea of where the industry is heading. As with any industry, startups and small market cap companies are going to grow using a portion of debt and equity. So we can combine the plot above with the plot below to get a holistic view of the direction of the O&G industry.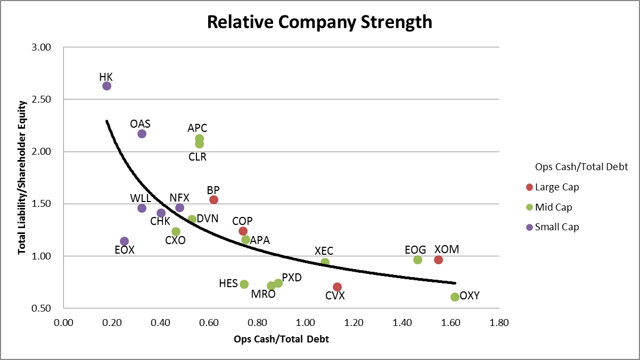 The y-axis is the ratio that tells us the portion of equity and debt that is used to finance a company's growth; the lower the ratio the better. The x-axis is the ratio that tells us how well a company will be able to carry debt through a downturn; the higher the ratio the better. Combining these two plots shows us that the exponential growth from the shale boom has led to several operators taking on significant amounts of debt, which will be difficult to handle during a downturn.
As with any analysis, always follow up a trend with the company's annual report to see what the causes are before jumping to conclusions. Just to be clear, this plot only shows how difficult it will be to carry the debt; it does not show the probability of failure. In general, these trends shouldn't surprise you but it's still worth being able to visualize them. More analysis is done for M&A that go beyond these two plots but these general trends in the industry right now adds a bit of explanation on why we shouldn't expect to see a lot of upfront M&A activity, can't predict the future though.
Company Overviews
I'm going to provide my quick interpretation based on the three categories for each company. Again, I am open for discussion and would enjoy hearing other opinions and interpretations. The ratios that use the share price is a 16-month average for the purpose of this article, and the current prices are as of the market close June 17, 2015.
Large Cap
Exxon (NYSE:XOM): XOM is trading slightly higher than its peers with a current share price of ~$84; likely because of their well-positioned refinery and upstream divisions, along with a strong balance sheet. They continue to grow reserves and minimize their debt (relative to their size) while generating ample cash for the company and the shareholders.
Chevron (NYSE:CVX): CVX is trading at a significant discount relative to their peers with a current share price of ~$99. Their large capital program, share buyback program (now suspended), and dividend program have been hurting their free cash flow. However, they have more cash and cash equivalents than XOM; they also have slightly less debt than XOM even though they are close to half the size. They continue to generate enough operating cash to service their debt and are better positioned than the market gives it credit for.
BP (NYSE:BP): BP is still feeling the effects of the Gulf spill which is resulting in an enormous amount of debt and a resulting share price of ~$41. But with 17.5 Bboe proved reserves they top XOM in terms of available resources. The debt that has piled up on BP is restricting the growth of the company as evident by their RRR.
Mid-Cap
Occidental (NYSE:OXY): OXY recently took a $5.1B after tax impairment for its reduced activity in the Bakken, US gas plays and some international assets. At a current price of ~$78, they are trading at a discount, based on their ability to grow the company with minimal debt and generate enough cash to service the debt.
EOG (NYSE:EOG): EOG is currently trading at ~$89 and will likely continue to trade at a premium relative to their peers. They have low cost, low debt, strong management and got into all the good plays early on. These characteristics are priced in to the company which is why I believe they will continue to trade higher.
Anadarko (NYSE:APC): APC is currently trading at ~$83 and is in a similar situation as OXY. Based on the ratios, they are trading at a slight premium even though their recent ~$5B Tronox settlement hit their balance sheet at the worst possible time.
Devon (NYSE:DVN): DVN is currently trading at ~$61 which is a slight premium relative to its peers. They are in the same financial position as Apache in terms of trying to service their debt during the downturn. They posted an after sale RRR of 15% since they needed the cash.
Pioneer (NYSE:PXD): PXD is trading at ~$145 which is definitely a premium to its peers. However, the premium is likely due to the low debt relative to cash flow and the small degree of leverage. I am concerned with the after sale RRR of 38% given the expensive entry point.
Apache (NYSE:APA): APA is currently trading at ~$57 which is close to what they were trading after the 2008 crash. APA took on too much debt in a boom and is now trying to service that debt during a bust. They are selling some assets and resources to generate the cash needed which resulted in an after sale RRR of (-5%), basically shrinking the company to pay off the debt used to grow it.
Hess (NYSE:HES): HES is currently trading at ~$69 with financial metrics that are average to their peers.
Marathon (NYSE:MRO): MRO is trading at ~$26 which is near their 52W low. Relative to HES and CLR, MRO has taken a beating by the market for no apparent reason. They were able to sell Angola, Norway, and other assets for around ~$6 billion over the last 2 years while also posting an after sale RRR of 116%. They have equivalent debt as Hess and CLR while also having nearly double the reserves. MRO is definitely trading at a discount relative to their peers.
Continental (NYSE:CLR): CLR is currently trading at ~$46 which is a premium relative to their peers. Especially when you take into account the debt and degree of leverage CLR has used in order to grow the company.
Concho (NYSE:CXO): CXO is currently trading at $124 which is a premium relative to their peers. Considering they are trading higher than the next closet comparable Cimarex (NYSE:XEC) but carrying twice the debt with close to the same cash flow. However, they are primarily financing with equity rather than debt.
Cimarex : XEC is trading at ~$119 which is actually at a discount compared to CXO. They are not as leveraged, posted an after sale RRR of 300% and are generating enough cash to service their debt.
Small Cap
Chesapeake (NYSE:CHK): CHK is trading at ~$12 which is a discount relative to its peers. CHK does have a large amount of debt and OBS liabilities which was racked up by the previous CEO but reduced dramatically by the current leadership. The company's reputation and balance sheet are improving but they still have more work to do. CHK is also so heavily invested in NG that it would be worth comparing them to companies with a similar portfolio as well.
Whiting (NYSE:WLL): WLL is currently trading at ~$35 which is an average relative to their peers. No one has a crystal ball and if oil would have not crashed then the WLL deal would have been a great boost to the company. However, it did; they overpaid by taking on more debt and are now overleveraged. Ironically though, WLL is not in the worst shape as far as making it through the downturn.
Newfield (NYSE:NFX): NFX is currently trading at ~$36 and is fairly comparable to WLL since the WLL/Kodiak acquisition boosted the overall size of the company. Similar to WLL, NFX will have a tough time generating enough cash throughout the downturn.
Oasis (NYSE:OAS): OAS is trading at ~$17 which is significantly lower than its peers. Being a pure Bakken operator has its benefits when oil is at $100 but they are currently ranked as one of the top over leveraged Bakken producers. They have a 45% debt to asset ratio and rely on expensive shale to generate cash flow.
Ultra-Small Cap
Halcon (HK): Just stay away from long positions in this company. I've been successful in the past shorting them but by no means can I justify a long position.
Emerald (NYSEMKT:EOX): EOX will provide some good opportunities to short as management buys back shares with debt to improve their ratios. Overall, I think EOX management is simply trying to salvage their investments.
Conclusion
With the exception of HK and EOX, I remain bullish on all these stocks. Based on the increasing debt and capital intensive shale plays, I believe there will be better entry points to come. These entry points will likely show themselves post Q2 and possibly Q3. Since, Q3 losses will bring the quarterly loss reports to a year's worth (Q4 2014 through Q3 2015) for most companies, which in turn will bring bigger discounts.
In the meantime, I recommend increasing your holdings little at a time until you find your comfortable entry price. I hope this article provided some help to other investors, new and old, along with giving a general overview of some of the most popular companies. Rather than a detail-oriented stock article, I figured I'd post the data that I used for my analysis, that way any other investor could perform their own detailed overview. Please feel free to express your opinions and ideas over my analysis, along with adding your own thoughts regarding a specific company.
Appendix
All figures, graphs, and financial data (VB code used) in the main body and the appendix are a product of my own work.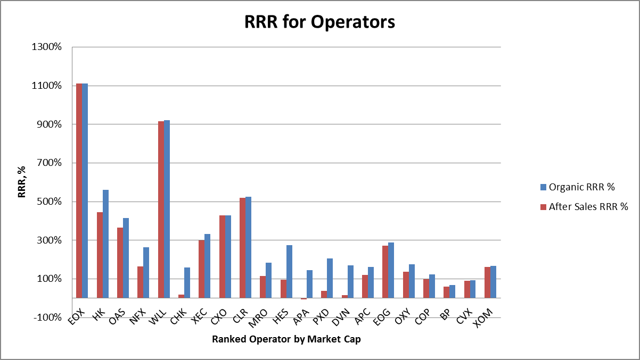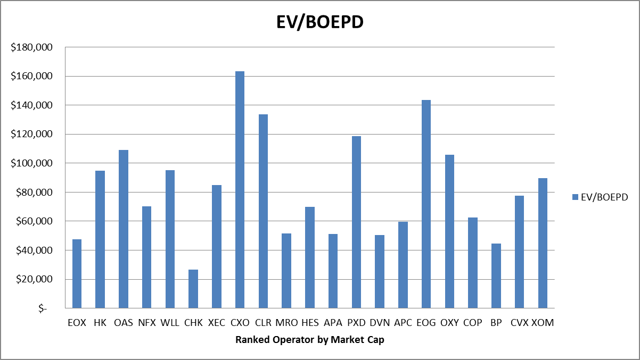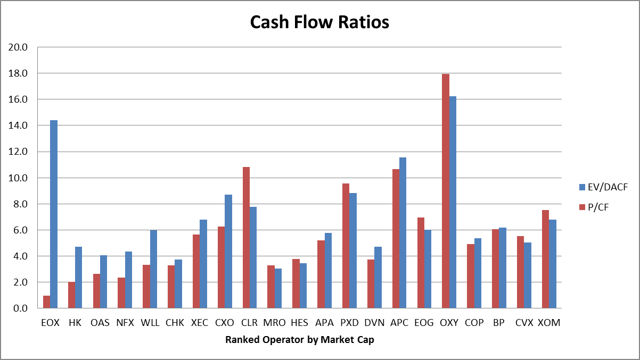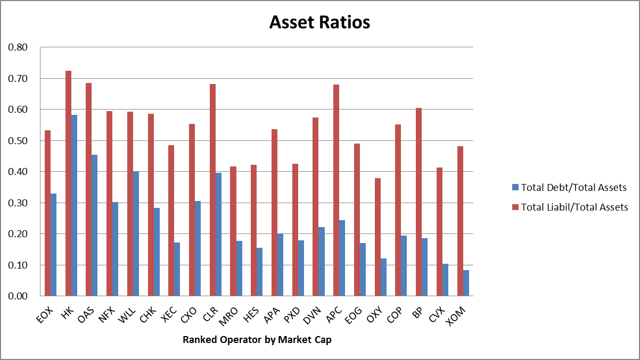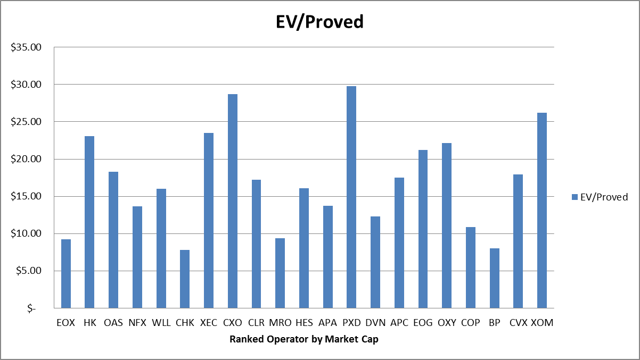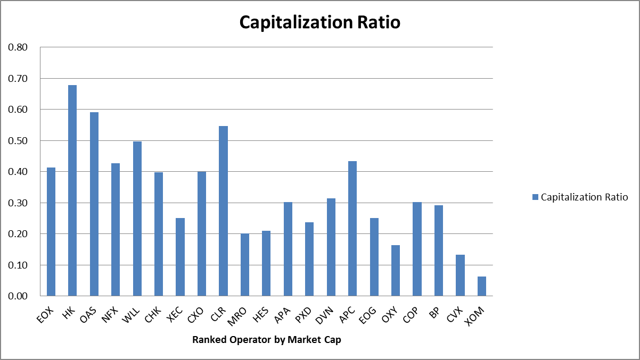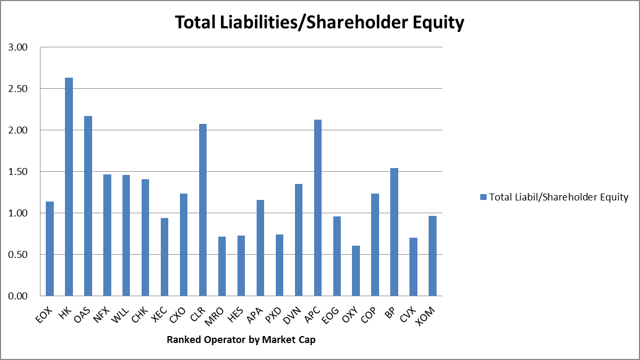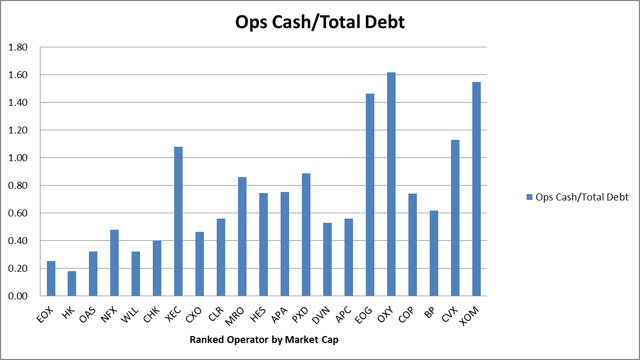 Disclosure: I am/we are long XOM, CVX, BP, COP, OXY, EOG, APC, DVN, PXD, APA, HES, MRO, CLR, CXO, XEC, CHK, WLL, NFX, AND OAS. Business relationship disclosure: I am an engineer for ConocoPhillips.
Additional disclosure: I am short HK and have no position in EOX or plan to ever establish one.
Editor's Note: This article covers one or more microcap stocks. Please be aware of the risks associated with these stocks.