The Russian ruble is weakening as a myriad of factors are weighing on consumer spending. The U.S. dollar has risen over 10% against the ruble over the past month.
In May, the retail sales figure came in at an annual pace of -9.2% contraction, above the previous month's revised reading of -9.6%, while also bettering estimates for -10%. Since peaking in 2012 at close to 10% growth, however, consumer spending has significantly declined, seen below. The confluence of rising inflation and lower employment have been major reasons for the fall of retail sales, and thus economic activity overall.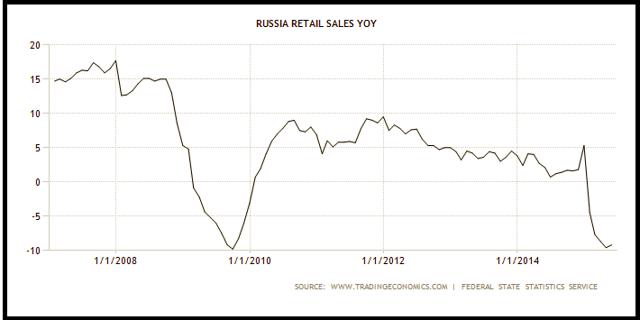 The inflation measure has slowed in its month-over-month acceleration higher, but remains at elevated levels. In May, the inflation figure came in at an annual pace of 15.8%, below the previous month's reading of 16.4%, while also bettering estimates for 15.9%. Inflation, however, has quadrupled since 2012, seen below. As prices for food and energy have significantly risen over the past year, consumers saw their purchasing power diminish.
"Year-on-year, cost of food and non-alcoholic beverages rose by 22.4 percent from 24.4 percent in the previous month.

Increase in transport prices eased to 11.9 percent (12 percent in April), recreation and culture rose at a slower 17.3 percent (from 17.7 percent) and cost of housing and utilities increased 9.7 percent, less than 10.3 percent in the previous month," according to trading Economics.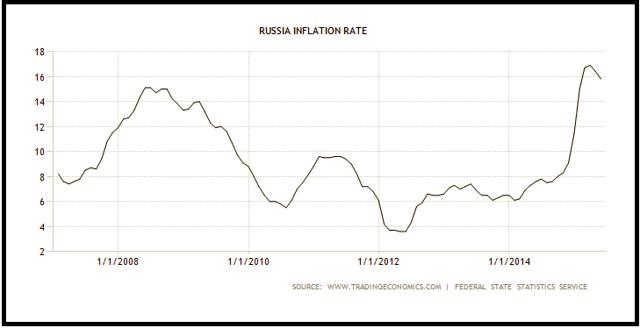 Additionally, the labor market has also weakened as economic activity began to contract. In May, the unemployment rate came in at 5.6%, below the previous month's reading of 5.8%, while also bettering estimates for 5.8%. Over the past year, the unemployment rate has risen close to 100 basis points, seen below. Economists believe that the continued decline in economic output will push unemployment even higher.
"Amid economic recession, there has been a certain increase in unemployment, which, seasonally adjusted, currently stands at 5.6 percent. The continuing drop in demand will lead to higher unemployment, which we estimate will rise to 6.5 percent by the end of the year," according to Sputnik News.
As Russia's economy has deteriorated, consumer demand significantly declined. Violence with Ukraine and sanctions from the West have severely weakened economic output, leading to increased unemployment. Moreover, as its currency fell, inflation measures spiked, diminishing consumers' purchasing power. With the amount of economic uncertainty in Russia currently, its currency is likely to weaken in coming months.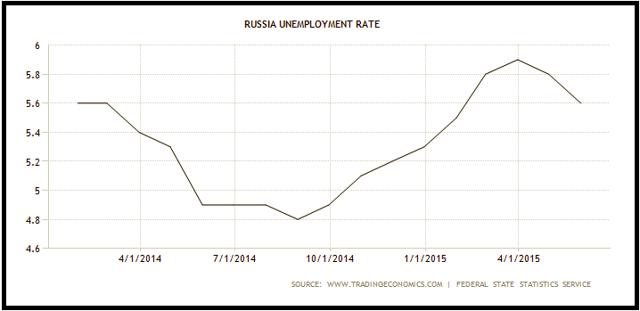 Disclosure: I/we have no positions in any stocks mentioned, and no plans to initiate any positions within the next 72 hours.
I wrote this article myself, and it expresses my own opinions. I am not receiving compensation for it (other than from Seeking Alpha). I have no business relationship with any company whose stock is mentioned in this article.