Welcome to this week's edition of Biotech Weekly! This week's edition will look to spend a few paragraphs discussing the current biotech environment and will then transition into a discussion of speculating on speculation, with emphasis on how to trade/invest based on speculation regarding conference cancellation.
Current Biotech Environment
As both the iShares NASDAQ Biotechnology Index ETF (NASDAQ:IBB) and SPDR S&P Biotech ETF (NYSEARCA:XBI) continue to motor higher, do you see any weakness?
Source: Finviz
I certainly do not. Year to date, the XBI has now yielded a total return of 35.8% while the IBB has returned a solid 24.4%. Let's review some of the themes around the biotech strength.
Hot M&A Environment: Take a look at the sampling of recent major transactions:
6/17/15 - Allergan (NYSE:AGN) buys aesthetic medicine player Kythera Biopharmaceuticals (NASDAQ:KYTH) for approximately $2.1B
5/6/15 - Alexion (NASDAQ:ALXN) buys rare diseases player Synageva BioPharma (NASDAQ:GEVA) at a premium of over 135% for approximately $8.4B
3/4/15 - AbbVie (NYSE:ABBV) buys blood cancer player Pharmacyclics (NASDAQ:PCYC) for approximately $21B
Progression of Immunotherapy: Read more on the topic through Brad Loncar's description of the Loncar Cancer Immunotherapy Index (LCINDX)
Small Caps Continue to Lead: Bull markets in their final stages are almost always led by large cap names. As I pointed out previously, the small-cap laden XBI has outperformed the IBB by over 10 percentage points. This same theme has been illustrated in the broader markets with iShares Russell 2000 Index (NYSEARCA:IWM) up more than twice as much as SPDR S&P 500 ETF (NYSEARCA:SPY) YTD: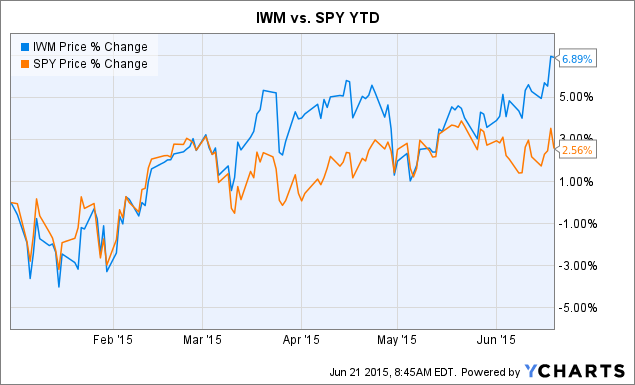 IWM data by YCharts
Does this look like an environment of a topping market? In my opinion, no, it does not.
Even with all these positive factors, the number of articles calling a biotech bubble or telling you to sell your biotech stocks continues to flow at a high rate, even just here on Seeking Alpha.
Apart from the bullish points I have made above, here are additional thoughts on proper valuation of the XBI (and its components) as well as the IBB (and its components):
Statement: XBI trades at a forward P/E of _______.
My belief: How do most analysts value small-cap biotech stocks? Typically analysts utilize some sort of net present value or peak sales sum-of-the-parts valuation methodology. Why is forward P/E not the appropriate way to value a small cap biotech ETF? Forward P/E is a valuation methodology that uses next year's earnings estimates. Many of the names in the XBI are clinical-stage biotechs that have very promising pipelines of mid-stage and late-stage assets. A number of these assets will have significant future revenues that can be measured through a net present value or peak sales multiple, but will be completely ignored by the forward P/E measurement as they will have little/no sales revenue next year.
Statement: IBB trades at a trailing P/E of _______.
My Belief: While the IBB does contain some larger cap names and can be valued with a P/E measurement, trailing P/E is not appropriate. While names in the IBB typically have products on the market, they are experiencing a high level of growth, and this growth needs to be considered in the valuation. To do this, it is more appropriate to utilize the forward P/E, which considers the forward year earnings (as opposed to the trailing twelve months earnings):

When looking at the P/E versus forward P/E for some of the major IBB holdings, you can see that the names look relatively cheaper when considering the forward P/E, which is a more logical measurement as it more properly addresses the high levels of growth. While forward P/E does work in these examples, a net present value or peak sales multiple valuation would also be very appropriate.
My concluding thoughts on this bubble talk: Biotech has seen significant gains that have been fueled by impressive innovation and big pharma demand for promising drugs to replace cash cows that have been and are going off patent. Small caps continue to lead, which is not a topping market characteristic. That being said, biotech is up significantly, and there is nothing wrong with taking profits on the way up. As the saying would go when I was a prop trader, "trim and trail" is a good policy for your winners, or, as Jim Cramer says, "play with the house's money." Protection is certainly fine too. Have long positions in the names you feel good about in the long term, but get protection on the downside. An interesting ZeroHedge post discussed Goldman's hedge advice and suggested some XBI December puts 10% out of the money. Purchasing some puts in this manner against a portfolio of trimmed long-term winners in the biotech space makes a lot of sense to me.
Speculating On Conference Cancellations Or Cancellation Rumors
In order to provide information to discuss, I collected a sample of notable conference cancellation or cancellation rumors from the past few months. I have also listed the example of Marina Biotech (OTCQB:MRNA) withdrawing its S-1 as this is a different example of speculation that is worthy of discussion that I will discuss near the end of this piece.
1. Not all conference cancellations rumors are accurate: While many bulls will automatically begin speculating about a buyout when a conference cancellation hits, it is important to realize that not all of these rumors are true. First, what is the source of the information? If it's Yahoo message boards or some random person on Twitter that runs a day trading chatroom, it's best to spend a few minutes trying to confirm the rumor. On Friday, Receptos (RCPT) ran $10 a share almost instantly after a rumor started that the company had cancelled all upcoming events. I couldn't identify the source of the information. Maybe a hedge fund was just giving the name a bit of a pop to lighten up on a position? I have no clue what happened, but my point is that it is important to be skeptical until you can identify the source of the information in order to determine its legitimacy.
2. Not all news following a conference is good: As I noted in point 1, many bulls will automatically assume a buyout is in the works when a rumor of a conference cancellation begins, but this is not necessarily the case. Even if the rumor originates from a reputable source and/or is confirmed to be true through a reputable source, the news may not be good. Acadia Pharmaceuticals (NASDAQ:ACAD) saw its stock rise more than 17% after cancelling its second straight conference in early March, yet announced on March 11 that CEO Uli Haskell was leaving and the NDA submission for Nuplazid was postponed. Another example of this is Sunshine Heart (SSH). The company cancelled its early March presentation at the Cowen investor conference and then announced on March 6 that was suspending enrollment in its phase 3 C-Pulse after 4 deaths in the first 20 patients.
3. Not all conference cancellations mean news is coming: While I do think that a confirmed conference cancellation does mean there is an increased chance of news, it is important to realize that it is by no means a guarantee of upcoming material news. My above list compiles some of the main examples I remember from recent memory, and it is most likely an example of sampling bias in terms of the view it portrays on the percent of confirmed cancellations that lead to news. Companies can cancel for a number of reasons including weather or an executive being sick (and may not tell the market this), and these are reasons that wouldn't have a correlation with material news. If someone had a lot of time on their hands and had a more complete data set, it would be very interesting to see exactly how much greater the probability of news is shortly after a conference cancellation compared to normal.
Ways To Play These Situations:
So, how should investors handle these situations? My thoughts are as follows:
1. Use The Pop To Trim: Given the uncertainty that can surround a conference cancellation (is it true or not?, is there going to be news?, will it be good news or bad news?), a pop on buyout rumors (such as the $10 pop seen by RCPT on Friday) can be a great chance to trim some stock off of your long-term position. This allows you to get improved pricing for your stock on a rumor that could lead to no news (and a decline back to pre-pop levels) or bad news (and a significant devaluation of your stock). While this could cause you to lose some upside in part of your position in the event that a buyout does indeed take place such as the example of Kythera, you will still have some of your position left, and the trim allows you to book profits (and likely reinvest in a name presenting a cheaper valuation) at a price that likely exhibits the market pricing in a buyout or good news at a higher probability than it should be given the effect of traders.
2. Consider How Options Can Be Helpful: Given that I believe that there is a higher statistical probability of news given a confirmed conference cancellation, this conference cancellation scenario seems like a great time to consider taking action in the options market. I am no options specialist, but I think a strip strangle could be an interesting strategy to implement. This involves purchasing out of the money puts and calls, but purchasing a greater number of puts than calls. This strategy allows you to relatively cheaply (given the purchase of out of the money options) play the greater probability of news if you think the market is overpricing the chance of a near-term buyout (but still gives you exposure if it does happen).
My Thoughts On The Current Marina Biotech Situation
With all this discussion on speculation, I wanted to use this edition of Biotech Weekly to lay out the current situation for Marina Biotech. For an introduction to Marina Biotech, check out this late November 2014 piece by the GeoTeam and this February 2015 piece by RNAi expert Dirk Haussecker.
Marina Biotech announced in an 8-K filed on June 17 that it filed a letter with the SEC withdrawing its S-1 registration. Many have felt that the shelf filed late last year has served as a significant overhang on the stock since it was originally filed. While this is no doubt a reason for holders to feel positive and a reason to generate investor interest (the stock traded over 570k shares on Thursday, its highest volume this year), there are a number of other details that make me excited about this opportunity that deserve attention:
1. "near-term, non-dilutive fund raising"

Short of hearing about a major partnership, there isn't anything better that shareholders could here than that the company is focusing on near-term, non-dilutive financing. The fact that the company was comfortable withdrawing its S-1 makes me think that they have made significant progress towards non-dilutive financing already. This suggests that a major near-term announcement is likely.
2. Juxtaposition of S-1 Withdrawal and BIO International Convention Presentation

With the main purpose of the Bio International Convention being to foster new partnering activities, I believe it is highly relevant to note that Marina withdrew its S-1 the day after it presented at the conference. The obviously speculation off of this juxtaposition would be that the company made significant progress towards establishing a major partnership and no longer felt it needed the S-1. Is that actually accurate? Who knows. I do know though that this is very interesting timing and that this is very worthy of mentioning.
3. Michael French
While you will find a number of investors that have negative opinions of Michael French, I feel comfortable having him at the helm. While I agree he can be slow at executing (as exhibited by the fact that MRNA has yet to finalize significant new funding as of yet), I think he is an effective negotiator and does understand how to raise funds in a method advantageous for the company and shareholders. He was instrumental in his position as Senior Business Development Officer of Sirna Therapeutics where he helped negotiate deals with Allergan, GlaxoSmithKline (NYSE:GSK), Roche (OTCQX:RHHBY), and then Merck's (NYSE:MRK) $1.1B acquisition of Sirna. For more detailed history on French, I would recommend an older spotlight on Michael French by Luke Timmerman.
4. Progress of and Valuation of Marina's Partners
The progress of Marina's partners and increased prominence in the investment community will help illustrate how Marina is undervalued at current levels. ProNai, which filed for an $86 million IPO on June 12, highlights in its S-1 how important Marina's technology is to ProNai:

No wonder Marina is mentioned 57 times in the ProNai S-1. In addition to ProNai, Marina partner Mirna Therapeutics raised approximately $42 million in a late April Series D funding round led by Baxter (NYSE:BAX) Ventures that also included both Celgene (NASDAQ:CELG) and Pfizer (NYSE:PFE).
Risk
Why is this stock not vaulting higher given everything I have highlighted? This is a high-risk investment as the company has very little cash remaining, and the company could be at risk for bankruptcy if it does not find funding soon. According to Marina's most recent 10-Q filing filed on May 14, the company only has enough cash through September 2015:

Concluding Thoughts On Marina
This is a high-risk, high-reward investment, and I am happy to be on board with it as a major holding of mine. How will it end? Who knows, but I look forward to be along for the ride. Previously mentioned Dirk Haussecker suggested over the weekend that BioMarin (NASDAQ:BMRN) may be interested:

While readers are accustomed to my lower risk biotech value picks, I want to emphasize this is not one of them. This is a high-risk/high-reward investment with not much cash remaining. Regardless, I believe Marina has very compelling technology. Emphasis on "near-term, non-dilutive" financings with the withdrawal of the S-1 is a positive development for shareholders, and I believe French's experience will allow him to orchestrate a deal that is beneficial for shareholders. Continued progress by ProNai and Mirna will bring Marina to the attention of a larger group of investors. With Marina having enough cash only for approximately 3 months and the company gunning for near-term, non-dilutive finance, it will no doubt be an eventful next few months for holders.
Overall Conclusions
This week's Biotech Weekly touches on a number of topics related to biotech investing. With a very active M&A environment, a period of substantial scientific innovation (specifically in immunotherapy), and strong performance of small cap names, I think bubble talk is heavily based on past stock performance and not likely to come to fruition. That being said, I do think it is smart to trim winners and play with the house's money. On the topic of rumors created by potential or confirmed conference cancellations, I think these offer great opportunities to reduce exposure. I also think that options strategies could be quite profitable during these periods of increased volatility that accompanies these cancellations. On the topic of speculation, I present my thoughts on the speculation surrounding Marina Biotech as it withdrew its S-1 the day after its presentation at the BIO International Convention when it has only 3 months of cash remaining.
Disclosure: I am/we are long MRNA.
I wrote this article myself, and it expresses my own opinions. I am not receiving compensation for it (other than from Seeking Alpha). I have no business relationship with any company whose stock is mentioned in this article.
Editor's Note: This article covers one or more stocks trading at less than $1 per share and/or with less than a $100 million market cap. Please be aware of the risks associated with these stocks.