The holy grail of dividend investing is finding companies that can reliably increase their dividends year in and year out like clockwork. Stocks with increasing dividends are not only important to retired investors looking for a growing income stream but are also important to investors looking for growth of capital, as dividends provide a hefty portion of the total return of stocks. Indeed, there are many funds and indexes that seek to invest in these types of dividend growth stocks.
Standard & Poor's (a division of McGraw-Hill) maintains a list of dividend paying stocks called the S&P 500 Dividend Aristocrats. It is an unmanaged index composed of every company in the S&P 500 that has increased its dividend for the last 25 consecutive years. Each company is given equal weight in the index. There is also an alternate version called the S&P High Yield Dividend Aristocrats Index which contains only the 50 highest yielding stocks that have increased their dividends for the last 25 consecutive years. Other companies have their own versions of dividend growth indexes such as the NASDAQ US Dividend Achievers Select Index which is composed of companies that have paid annual increasing dividends for at least 10 years. Many popular mutual funds and ETFs have sprung up which follow these indexes such as the Vanguard Dividend Appreciation Index Fund (MUTF:VDAIX) or the SPDR Dividend ETF (NYSEARCA:SDY).
While this methodology for selecting dividend stocks may sound good on the surface, there is one glaring flaw in both the indexes and by extension the funds that follow them. The methodology only looks backwards and assumes the future will be the same as the past. The index makes no attempt to look at the company's current financial situation and determine whether it is likely to continue paying dividends in the future, a critical oversight.
Investors should focus on a stock's payout ratio, not dividend history when assessing suitability as a dividend growth stock.
Look to the Payout Ratio Not Dividend History
A stock's payout ratio refers to the proportion of net income the company pays out as dividends. The payout ratio tells you how much of a company's income is being paid out as dividends and how much is left over to fund expansion of the business, acquisitions, share buybacks, or to stash away for a rainy day.
The payout ratio can be used to weed out companies whose dividends are safe, whose dividend are in jeopardy, and who have room to increase their dividend. In competitive market based economies, all companies will have struggles from time to time. It's important for investors to know when to throw in the towel and when issues are either transient or fixable and a company's dividend is safe. The payout ratio can answer this question.
Compared to a company's dividend history, the payout ratio has much more predictive power and tells us a lot more about the financial health of a company. Take for instance the case of Pitney Bowes Inc. (NYSE:PBI), a former member of the S&P 500 Dividend Aristocrats. By looking at the payout ratio rather than the company's dividend history, investors should have been able to spot problems with Pitney Bowes before the dividend cut came.
The table below shows Pitney Bowes' revenue and dividend payout ratio over the past decade. I've highlighted 2013 which was the year the dividend was cut.
| | | | | | | | | | | |
| --- | --- | --- | --- | --- | --- | --- | --- | --- | --- | --- |
| | 2005 | 2006 | 2007 | 2008 | 2009 | 2010 | 2011 | 2012 | 2013 | 2014 |
| Revenue (in $M) | 5,492 | 5,730 | 6,130 | 6,262 | 5,569 | 5,425 | 5,278 | 4,904 | 3,869 | 3,822 |
| Payout Ratio | 54.6% | 51% | 81% | 65.7% | 69.2% | 97.3% | 85.6% | 69.4% | 62.9% | 51% |
The first thing to notice is that Pitney Bowes has always paid out a substantial portion of net income as dividends. The payout ratio prior to the recession was above 50%. After the recession hits, Pitney Bowes' business starts to decline and the payout ratio reaches a high of 97%! Some time in the 2010-2011 time period dividend investors should have been running for the exits and selling the stock. With a business model (postal mailing equipment) that was under threat, management would likely need to reinvest what profits remained into the business in an attempt to innovate and branch out into new product lines rather than continue to return cash to shareholders.
Tesco plc (OTCPK:TSCDY) is another example, this time of a foreign company, of a former dividend champion sent to the penalty box. The table below shows Tesco's revenue and payout ratio since FY2008. I've highlighted FY2014 when Tesco slashed the dividend by 75% and FY2015 when the company cut the dividend completely.
FY2008

FY2009

FY2010

FY2011

FY2012

FY2013

FY2014

FY2015

Revenue
(in £M)

47,298

53,898

56,910

60,455

64,539

64,826

63,557

62,284

Payout Ratio

35.1%

37.7%

41.7%

36.2%

36.6%

78.4%

58.7%

NaN[1]
With Tesco, we see revenue growth flat lining and the dividend payout ratio starting to creep up to 78.4%.
In contrast to Pitney Bowes and Tesco, let's look at a company that also experienced declining revenue but was never in danger of cutting the dividend. Defense contractor Northrop Grumman Corp. (NYSE:NOC), despite facing headwinds from a declining defense budget and spinning off Huntington Ingalls Industries (a large subsidiary) in 2011, was never in danger of cutting its dividend. Below is the table showing revenue and the dividend payout ratio for Northrop Grumman over the past decade. Note that the revenue drop in 2011 (highlighted) was due to the spin off of Huntington Ingalls.
| | | | | | | | | | | |
| --- | --- | --- | --- | --- | --- | --- | --- | --- | --- | --- |
| | 2005 | 2006 | 2007 | 2008 | 2009 | 2010 | 2011 | 2012 | 2013 | 2014 |
| Revenue (in $M) | 30,721 | 30,148 | 32,018 | 33,887 | 33,755 | 34,757 | 26,412 | 25,218 | 24,661 | 23,979 |
| Payout Ratio | 26.5% | 26.1% | 28.7% | NaN[2] | 34.7% | 27.2% | 26.6% | 27.5% | 28.5% | 27.8% |
As you can see, Northrop Grumman had dividend payout ratios in the 20% to 30% range during the entire time period. With a low payout ratio, Northrop Grumman could afford to continue paying and even increase its dividend despite stagnant sales.
It's also worth noting that in some industries a high payout ratio is not necessarily a problem. For example, the table below shows the payout ratio for Altria (NYSE:MO) post the Philip Morris International (NYSE:PM) spinoff.
| | | | | | | |
| --- | --- | --- | --- | --- | --- | --- |
| | FY2009 | FY2010 | FY2011 | FY2012 | FY2013 | FY2014 |
| Revenue (in $M) | $16,824 | $16,892 | $16,619 | $17,500 | $17,663 | $17,945 |
| Payout Ratio | 85.7% | 78.1% | 92.6% | 82.3% | 70% | 89.9% |
While the payout ratios are very high, investors shouldn't be alarmed since this is the norm for the tobacco industry. The tobacco industry requires very little in the way of capital investment and growth is limited so companies simply use their profits to buy back shares and pay dividends.
What investors should do is focus on times when a company's payout ratio rises significantly above its historical level or begins to greatly exceed average industry levels. When either of those things happen a dividend cut may be coming.
Focusing on the Payout Ratio Can Also Lead to Greater Returns
In addition to providing investors a warning of an impending dividend cut, focusing on the payout ratio can also lead to higher returns.
A study on S&P 500 stocks by Credit Suisse found that from 1980 to 2006 the highest yielding dividend stocks did not perform the best. The best performing stocks were actually the decile with the 3rd highest (out of 10) dividend yields.
Shown below is a chart from that study, with the performance of each decile of stocks.
In a different study of S&P 500 stocks, from 1990 to 2006, Credit Suisse found that stocks with a high yield and low payout ratio performed the best.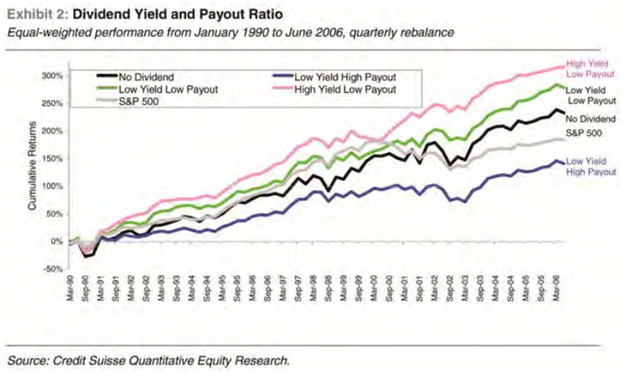 In short, focusing on a stock's dividend payout ratio rather than dividend history can not only help you avoid stocks that are about to cut their dividend but may also lead to higher returns than the traditional "dividend aristocrats" approach.
[1] Tesco reported a loss for FY2015
[2] Northrop Grumman reported a loss for FY2008.
Disclosure: I am/we are long NOC, MO, PM.
I wrote this article myself, and it expresses my own opinions. I am not receiving compensation for it (other than from Seeking Alpha). I have no business relationship with any company whose stock is mentioned in this article.