One of the most essential and frequent acts of any dividend income or dividend growth investor is dividend reinvestment. As many studies have shown, the lion's share of total return on long-term stock investment is generated by the compounding effect of reinvested dividends rather than share price movement. A nice illustration of this is provided by the following two charts excerpted from Lowell Miller's seminal 2006 work The Single Best Investment: Creating Wealth with Dividend Growth (second edition, p .41 and p. 43). Pay special attention to the equity portfolio numbers on the top left and bottom right axes.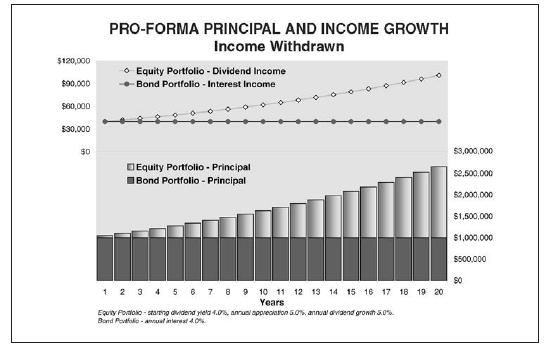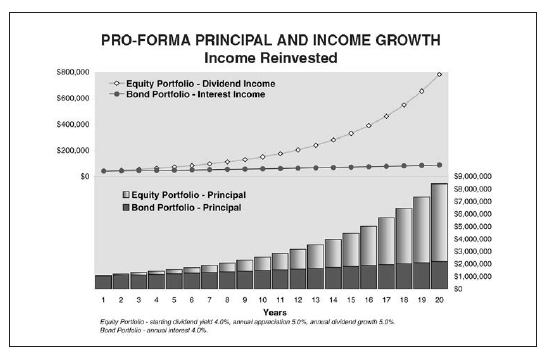 Share prices can go all over the place, even if strong dividend yield and growth does tend to pull them higher over the long term, but reinvesting dividends means the number of shares earning those payouts always increases, as does the payout per share if we have chosen very well.
Because dividend reinvestment is key, it follows that doing it optimally is also of crucial importance, and that's where the complications set in. There are many different approaches, ranging from the strict application of each arriving payment to the stock that generated it, through to combining a month's worth of income in the purchase of the most beaten-down holding, or using dividends to swell the cash balance in hopes of a correction. The key factors in this choice appear to be:
Yield. Should we favor reinvestment in our higher yielding stocks, or at least those yielding as much as the source, in order to avoid reducing overall portfolio returns?
Valuation. Should we favor the holdings that currently have the cheapest valuation relative to average purchase price, allowing us to average down or at least enhance our chances of future capital gain?
Risk. Should we favor reasonably-valued blue chip stocks and dividend champions, even if the yield is relatively low and will drag down overall portfolio yield, in the name of risk reduction?
I have been faced with precisely these issues in managing my hybrid dividend income portfolio. The portfolio includes five companies with relatively high yields and consistent monthly payouts, the latter helping to smooth the swings of dividend income from month to month that are caused by the quarterly schedule of most firms. The five companies are the real estate investment trusts STAG Industrial (NYSE:STAG) and Dream Office REIT (OTC:DRETF) (better bought in Toronto as D.UN), the business development companies Gladstone Investment Corporation (NASDAQ:GAIN) and Main Street Capital (NYSE:MAIN), and the Global X Superdividend ETF (NYSEARCA:SDIV). The average yield of these five is about 7.9%, if you include Main Street Capital special dividends that seem to be becoming a fixture, with STAG and SDIV on around 6% and the others clustered around 9%.
The portfolio also includes the UBS Etracs Monthly Pay 2xLeveraged Mortgage REIT ETN (NYSEARCA:MORL), which doesn't help smooth dividend payout fluctuations, since many of the underlying REITs pay quarterly, but does offer an annualised yield of around 24%. The price of that yield, of course, is high risk: this ETN takes a group of highly leveraged and often interest-rate sensitive companies and then doubles the leverage, so high volatility is certain and considerable capital wipe-out is possible.
So, how to optimally reinvest dividends from these two sources? The first five stocks listed generate a total of about $135 per month, and rather than make five very small purchases incurring five $1 commissions, I prefer to group the dividends for a single purchase, often hesitating between yield and valuation. Sometimes, the cheapest option carries a lower yield (STAG, SDIV), so I'm tempted to prefer one of the others. Ultimately, I have decided to give most emphasis to yield, given my income-focused objectives, but this is not an absolute position -- I won't ignore a 6% yielder trading 15% below cost and at multi-year lows just for a few more points of yield elsewhere, but if the undervaluation is not striking, I'll prefer yield.
Risk is not a distinguishing factor here, since the four monthly-pay stocks are all risky by the nature of BDC and REIT activity, and the ETF, while relatively diversified, is vulnerable to interest rate increases that would favor asset classes carrying much less risk than the underlying stocks. While I do have non-monthly payers with better credit ratings, the risk differential is not so great that I would be prepared to forego considerable yield, given my portfolio objectives.
The mortgage REIT ETN, MORL, is treated on a standalone basis due to its very high risk and commensurate yield, but the same questions apply -- should its dividends be reinvested in an equivalent yield (meaning reinvested in MORL, as there is nothing like it), in an undervalued holding, or in a much lower-risk security even with much lower return?
Here, I focus on risk, and seek to offset the high risk of MORL's phenomenal yield with the safety of blue chip stocks, starting with reinvestment in Coca-Cola (NYSE:KO) and its 3.3% payout. That way, even if MORL is suddenly wiped out by price collapse or excessive volatility, I'll still have some dividend champions to show for it. Their yield may be comparatively low, but I would have had none at all were it not for MORL -- it's bonus yield, so I can compromise on the rate to offset MORL risk. Coca-Cola is also being purchased with my Seeking Alpha contributor income (see Making Dividend Champions Buyable Despite Inflated Valuations). In the case of MORL or other ultra-high-yield and high risk products, an unusually cheap value play may also be a legitimate target for dividend reinvestment, depending on the investor time horizon.
My conclusion is that dividend income investors should emphasize reinvestment in their higher-yielding positions, while remaining open to genuinely striking value opportunities. The exception to this is ultra-high-yield (say, 12%+), high risk stocks -- for these, reinvestment in similar stocks to maintain yield should be avoided in favor of lower-yield, safer names that secure the dividend. Blue chip dividend champions should be considered a separate class and their dividends reinvested within that class to maintain a low-risk base in the portfolio.
Disclosure: I am/we are long STAG, DRETF, MAIN, GAIN, SDIV, MORL, KO.
I wrote this article myself, and it expresses my own opinions. I am not receiving compensation for it (other than from Seeking Alpha). I have no business relationship with any company whose stock is mentioned in this article.
Editor's Note: This article discusses one or more securities that do not trade on a major U.S. exchange. Please be aware of the risks associated with these stocks.