Box (NYSE:BOX) is out with huge news Wednesday morning in regards to a comprehensive integration with IBM (IBM). This integration, which is just 8 days after Box announced a similarly huge integration with Microsoft (MSFT) for its Microsoft Office 365, further confirms my speculation that Box is "on the block" as an acquisition target.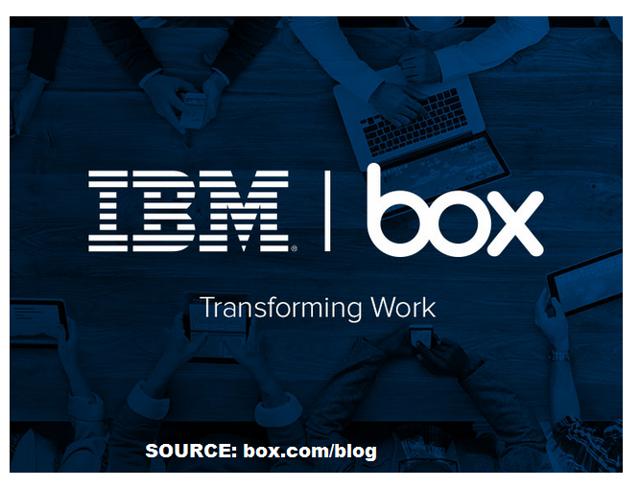 I recently opined that Box, the polarizing ECC platform provider, could be being looked at as a potential platform addition for Microsoft in that Microsoft's integration signals a concession of OneDrive market share. It should also be noted, which wasn't mentioned in my article, that Microsoft also has a substantially similar integration with Box competitor Dropbox. That said, I believe this to only underline my speculation that Microsoft has conceded its OneDrive market share. Also, that Microsoft is instead trying to first promote the take rate of its productivity suite while secondarily building a "wish list" for cloud storage and collaboration providers.
Now, how is this summary relevant to the Box/IBM partnership?
With the Box/IBM partnership bringing the benefits of IBM's Analytics, Social, and Security tech to Box customer's existing and new as well as the new ability to choose local, in-region data storage on IBM's cloud platforms for international enterprise customers I believe Box is now significantly more attractive as an overall acquisition. Along with these benefits the IBM partnership also will allow builders and developers to integrate Box API's into enterprise apps and web services tethered to IBM's platform and existing Box customers will now be able to utilize Watson Analytics for contents stored via Box.
Again, this materially changes the reach and use case capacity of Box and that is a very, very enticing combination for a company the size of IBM and/or Microsoft - both with agendas much larger than cloud storage and collaboration to push. Adding this capacity via M&A, at what is currently a discount to IPO pricing, just makes sense.
With Box now having the ability to offer the entire Microsoft/Box customer base something that at least is competitive with what Dropbox is offering the Microsoft/Dropbox customer base and now being paired with IBM either Microsoft or IBM stands to be in-line for substantial cross selling with a purchase of Box, using Box as the "middle man". Box should have no problem retaining both associated customer bases that it has crossover with as a result of the deep integrations with both companies.
Put simply, the more deep integrations that Box can execute on the more attractive it becomes as a takeover. It also, if immediate term market reaction to both the Microsoft and the IBM announcements is an indication, become a more expensive takeover target.
If either player is serious about taking a leadership role in the space and/or leveraging a massive cross sell opportunity I anticipate rumors of a Box takeover circulating in the mid-term at the latest.
Good luck everybody.