Novartis (NYSE:NVS) is currently trading at $54.41, which is pretty close to the stock's 52-week low price of $51.60. The pharmaceutical company lost 15% of its market value since May, however year to year it's only down by 3%. This is because the company had a major rally before experiencing its plunge. Many times, analysts will rate a stock "valuable" or a "buy" simply because it went through a plunge. While I believe that overselling caused by panic often creates good buying opportunities for value investors, this is not always the case. Let's look at Novartis and find out whether it offers investors a good value.
Novartis has a trailing P/E ratio of 12.82 and a forward P/E ratio of 9.61. This number is not bad at all, especially compared with the main competitors of Novartis. For example, Johnson & Johnson (NYSE:JNJ) has a trailing P/E ratio of 18.79 and a forward P/E ratio of 12.01. Similarly, another competitor of Novartis, Merck & Company, Inc. (NYSE:MRK) has a trailing P/E ratio of 28.16 and a forward P/E ratio of 10.06. Abbott Laboratories (NYSE:ABT) also has higher P/E ratio than Novartis with a trailing P/E ratio of 18.98 and forward P/E ratio of 10.28.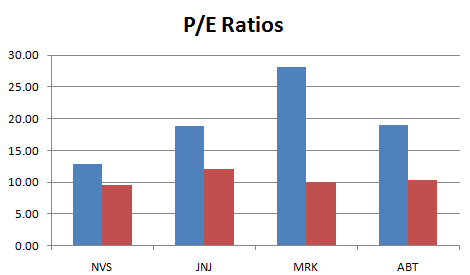 Another good way to look at a company's valuation is to check its price-to-book ratio. Novartis has a price-to-book ratio of 2.00. Is it a good or bad number? The only way to find out is to examine the competitors' price-to-book ratios. It seems like Novartis has a great valuation in this metric as well. All three competitors of Novartis have a higher price-to-book ratio than Novartis.
Another important thing to look at when examining a stock's valuation is dividend yields. While it is common practice for large drug companies to pay regular dividends, some have better yields than others. Novartis currently pays a dividend yielding 4.30%, which is attractive and higher than its main competitors.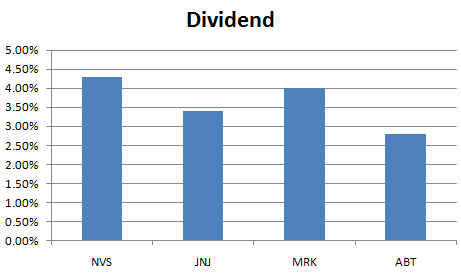 Finally we will look at the company's payout ratio. A company's payout ratio can tell a lot of things about the company. If a company distributes all of its earnings to stockholders, it may make the investors happy in the short term, but it may hurt the company's future growth opportunities. The payout ratio of Novartis is 47%, which seems like a high number, but it is still less than the competitors.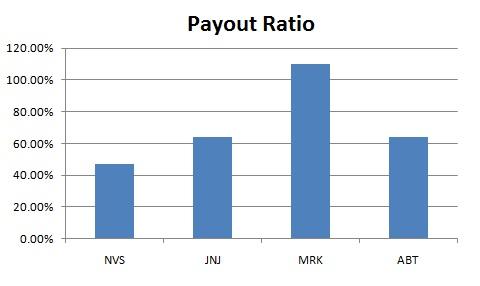 This is great news. Not only does Novartis pay highest dividend in terms of yield, but also the company keeps most of its earnings for operations compared with the competition. At this great valuation I rate Novartis as a buy for both short-term traders and long-term investors. I would consider adding it to my dividend portfolio in the next year or so.
Source: All the numbers were gathered from Yahoo Finance.
Disclosure: I have no positions in any stocks mentioned, and no plans to initiate any positions within the next 72 hours.