Over the past few quarters, we have been witnessing volatility in the business and economic environment. On a fall in oil and gas prices, entire energy sector is struggling. In addition, metal and mineral industry is facing depressed commodity prices due to imbalance in supply and demand. On the other hand, slow business environment is declining industrial, construction and manufacturing activities all over the world. IMF has already lowered its outlook for this year to 3.5%, relative to earlier estimate of 3.8%. Strengthening of dollar is one more risk that is negatively impacting financial performance of multinational companies.
This situation is forcing these companies to adopt defensive strategies and lower their capital investments. This strategy is impacting several other industries, which are offering supporting products and services. In this article, I picked two companies, which are open to these headwinds and likely to remain mild on uncertain environment. Terex Corporation (NYSE:TEX) is open to several headwinds in a current economic environment due its business model and extensive foot-prints. It is engaged in providing commercial applications including construction, infrastructure, quarrying, mining & manufacturing, among others.
In the most recent quarter, the company posted negative sales growth of 9.6% to $1.5B, relative to the past year quarter. Slowdown in AWP businesses and negative foreign exchange translations declined its overall sales growth in the latest quarter. Its AWP business, which is the largest revenue contributing segment, declined 13% due to delayed shipments, instability in oil & gas prices, cold and snowy weather and the impact of port labor issues. In addition, negative currency translations impacted sales by 10% in the first quarter of fiscal 2015.
On the other hand, its construction business also reported negative sales growth of 12% on a constant currency basis. However, its other three businesses generated positive sales growth on constant currency basis. In the latest quarter, its Crane, MHPS and MP businesses reported sales growth of 11%, 4% and 7%, respectively. Despite growth in these businesses, Terex Corporation posted a loss from continuing operations of $2.1 million, compared with income of $32.6 million in the prior year quarter.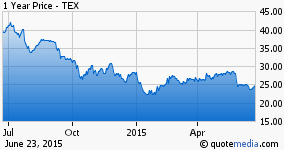 Its share price is also falling on fall in sales and earnings. Over the past twelve months, investors are showing concerns on strengthening of dollar and poor market environment for its businesses. Its share price declined almost 38% in the past twelve months. However, on the positive side, the company's all five business segments presented improved outlook compared to the final quarter of last fiscal year. The company looks optimistic about its annual outlook for earnings per share in the range of $2.00 and $2.30 on net sales around $6.2B to $6.6B.
Where does the other player stand?
On the other hand, Joy Global (NYSE:JOY) is a manufacturer and a services provider to the mining and minerals companies. Therefore, its revenue and earnings are directly correlated with the growth of mining and minerals industry. At present, entire industry is facing an imbalance in supply and demand for key products, including potash, phosphate, coal, copper, iron and others. Joy is making 60% of overall revenue from coal markets, which are falling on increased domestic production. The price of Australian steelmaking coal has declined 23% in this year to around $86 a metric ton.
On the other hand, the company is making 20% of revenue from copper market, which is also under pressure on a weaker global growth outlook. On the positive side, the company is trying to align its business model with the depressed business environment. It is investing on its businesses to respond more efficiently and quickly to its customers along with optimization of its global footprints. However, in the latest quarter, its net sales declined 13% to $810 million, relative to the past year quarter. On earnings announcement, its CEO blamed continued oversupplied conditions and declining commodity prices for poor sales. In addition, the company booked lower orders in the second quarter, as customers reduced capital expenditures and deferred maintenance on their mining equipment fleets on U.S. coal and global copper markets.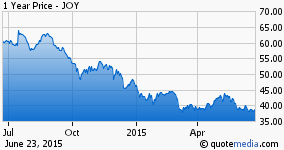 Its share price is also falling on concerns related to poor financial performance and muted market environment. Since September 2014, I have been advising defensive investors to sell, or stay away from this stock. In my recent articles, I had predicted that the company may lose sales on a dramatic fall in commodity prices. Its latest results, declining share price and muted business environment validated my opinion.
In Conclusion
Terex Corporation experienced significant headwinds in the recent quarters, but trends are stabilizing over the past couple of months. Oil & gas prices are stabilizing over the past two months and analysts are expecting improved economic trends for the second half of this year.
Joy is likely to post lower results, as bookings are declining over the past few quarters. In addition, market fundamentals are not improving and commodity prices are expected to remain volatile in the coming months. Based on Wall Street Journal, China's imports of coking coal plunged more than 40% in April from a year earlier to 3.75 million tons. In the recent weeks, copper price also touched the lowest level in the past six years. In addition, on a conference call, its CEO predicted mining customers to post a double digit decline in Capex through 2017. Therefore, I do not advise defensive investors to buy this stock on muted outlook.
Disclosure: I/we have no positions in any stocks mentioned, and no plans to initiate any positions within the next 72 hours.
I wrote this article myself, and it expresses my own opinions. I am not receiving compensation for it (other than from Seeking Alpha). I have no business relationship with any company whose stock is mentioned in this article.