By Tim Maverick
Since hitting a three-year peak last September, cocoa prices fell nearly 20% to about $2,700 per metric ton.
Wall Street was singing their typical commodities song: Don't worry, there will be plenty of supply.
Then on May 29, the International Cocoa Organization (ICCO) downgraded its forecast for global cocoa output this crop year by 64,000 metric tons (mt) to 4.17 million mt.
In fact, it said the world would face a cocoa deficit of 38,000 mt this year.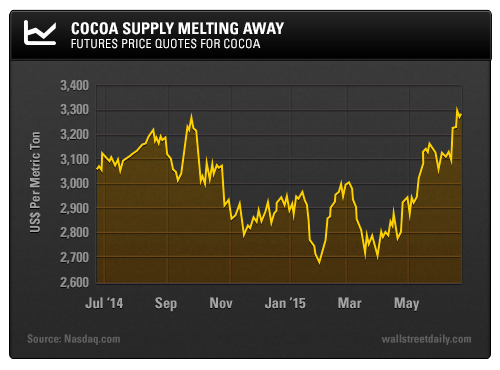 The main culprit behind the downward revision in the cocoa crop was the forecasted steep drop in output by the world's No. 2 cocoa producer - Ghana.
The ICCO slashed its estimate of cocoa output from Ghana by 114,000 mt to 696,000 mt. That's a major drop of 22% from last year's production of 897,000 mt.
Production Takes a Dive
The ICCO cited several reasons for the steep drop in Ghana's cocoa output.
One is simply that low prices have led some farmers to simply give up and sell their land for mining or other uses. Many of these farmers are living in poverty and can't afford to employ the latest farming methods. Nor replace their aged cocoa trees.
There was also a very late fertilizer application that was sparse in some cases. Plus a government spraying program to combat pests and diseases just ended.
The ICCO also noted inadequate rainfall and a strong Harmattan wind. The Harmattan is a dry and dusty wind that blows from the Sahara Desert from November to March.
This forecast was followed by a downgrade of 100,000 mt by Ghana's government itself, confirming what the ICCO had reported.
This alone was enough to send cocoa prices to an eight-month high, north of $3,100 per mt.
But conditions may get worse for Ghana and the neighboring Ivory Coast - the world's largest producer of cocoa.
El Niño will be blowing in soon, and it's sure to send even more unfavorable weather through the region.
The One-Two Punch
During a typical El Niño, western Africa experiences abnormally warm and dry conditions. But the effects may be even worse this time around.
Professor Adam Scaife, of the United Kingdom's Met Office, told The Guardian that West Africa's normal risk of drought during El Niño is exacerbated this year by cooling in the North Atlantic.
Scaife explained that, so far, conditions are similar to the devastating drought of 1972. That drought severely affected the Sahel, which is just north of the Ivory Coast and Ghana.
The current already-parched conditions, combined with further warming and drying from El Niño, would be a "double whammy" to the region, according to Scaife.
As reports from around the world continue to come in, it's becoming more certain that this unpredictable event will be a severe one.
On June 10, Japan's Meteorological Agency (JMA) added its voice to both the Australian Bureau of Meteorology and the U.S. National Oceanic and Atmospheric Administration by saying this year's El Niño is growing stronger.
Tamaki Yasuda of the JMA said their models are now showing scenarios where this year's event will be stronger than the 1997-1998 El Niño, which is the strongest on record. This is based on the fact that temperatures in that region of the Pacific Ocean are already higher than they were at this stage in 1997.
Of course, there's always the possibility that the most extreme fears about this year's El Niño are all for nothing.
But the long-term problems plaguing cocoa production in West Africa, including poverty and the extreme age of the trees, mean cocoa output will be an iffy proposition for years to come.